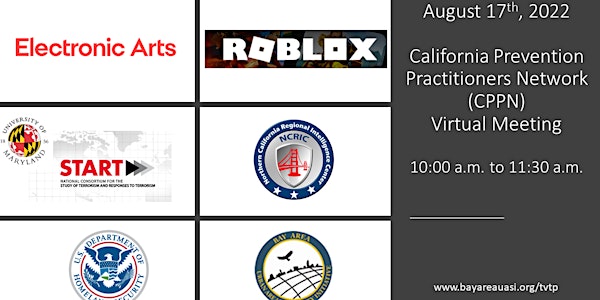 California Targeted Violence Prevention Practitioners Workgroup Meeting
Join to share knowledge, resources, and best practices with California statewide violence and terrorism prevention practitioners.
About this event
Agenda
Jodi Traversaro, CPPN Chair, Bay Area UASI - No Cost/Grant Funded Training and Leg Update
Noel Lipana, DHS Center for Prevention Programs and Partnerships (CP3)- National Prevention Resources
Lloyd Shand, Bay Area UASI - Community Outreach / Opening Remarks
Kerry Hopkins, Senior Vice President Legal and Government Affairs, Electronic Arts
Jess Johnson, Sr. Director Law Enforcement Engagement at Roblox
Bill Braniff, Director at from the University of Maryland, National Consortium for the Study of Terrorism and Responses to Terrorism (START)
DESCRIPTION: This meeting will feature online gaming and esports platform industry leaders from Electronic Arts (EA) and Roblox who will discuss what they are doing to create positive social experiences in online games. EA and Roblox provide millions of people across the globe with entertainment. They bring the world together through play and enable anyone to imagine, create, and have fun with friends as they explore millions of immersive 3D experiences. They provide education programs and initiatives that foster a culture of inclusion while building on-line communities. They serve as critical outlets to mitigate social isolation while preventing and protecting players against disruptive behavior and potential harms.
We will also feature William Braniff, Director of the Study of Terrorism and Responses to Terrorism (START) provide an overview of resources available through START for prevention practitioners.
Announcements
SAVE THE DATE: Next Meeting Date: Nov 16th, 2022, 10:00 a.m. to 11:30 a.m.