Description
California Nonprofit Technology Festival, Los Angeles

---
Join us and fellow nonprofit staff, community organizers, activists, students, and tech capacity builders on July 10-11 in Los Angeles, CA, for the California Nonprofit Technology Festival.
If you're interested in participating but need support getting there, please get in touch with us. We have sliding scale registration and limited travel stipends for those who need it. Want to play a bigger role in making the event happen? Contact us about volunteer and community partner opportunities. Email us at catechfest2019@aspirationtech.org.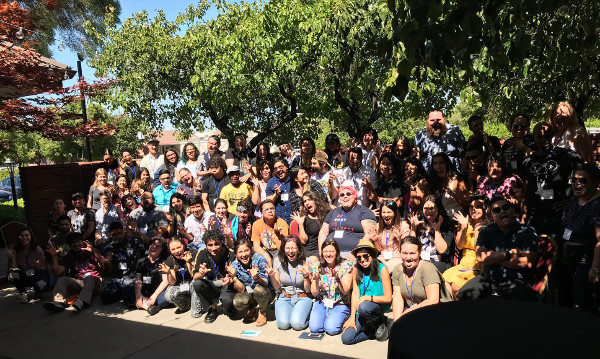 What is #CATechFest?

The CA Nonprofit Technology Festival is Aspiration's state-wide, participant-driven gathering designed to bring together nonprofit staff, community organizers, social justice techies, activists, students, and tech capacity builders to share knowledge, build leadership, and leverage technology to power our movements in just and sustainable ways.

#CATechFest is envisioned as a safe and collaborative space for emerging leaders to collaborate with experienced practitioners and share their thoughts, engage in critical conversations, and build lasting connections across communities and networks. The agenda is designed with folks who want to grow their technology skills and strategic knowledge while connecting with others who are passionate about building and organizing across the state.
Things you can learn at CA Tech Fest
Much of the agenda will be co-created with participants in the time leading up to the event. Topics that are likely to be on the agenda include:
Technology strategy and planning: processes and practices for richly integrating technology into programs, campaigns, and other community efforts.
Best practices for online communications, including coordinating messaging and online channels as well as using analytics to measure reach and engagement.
Practical digital security: what steps you can take to better protect organizational data and utilize more sustainable practices.
Paying for technology: how to limit costs while also finding ways to pay for essential tools and services.
Managing and protecting your organization's online identity, from domain names to contact information to security certificates and other elements of online identity.
Managing technology projects, both in terms of scoping deliverables and roles to actually seeing things through to completion.
Facilitative leadership: developing collaborative, open processes to address tech needs, co-design solutions and campaigns, and mutually empower collective outcomes.
Sessions at past events have been led in English and Spanish, on topics including digital storytelling, video production, data visualization, online and offline communications strategies, website maintenance, text and email encryption, protecting organizational data, and activist self-care.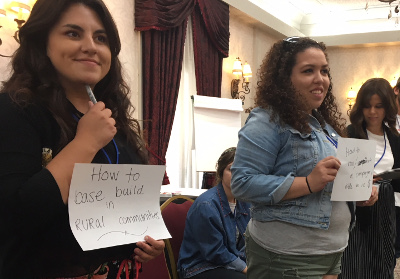 Co-creating the Agenda
The CA Tech Fest agenda is participant-driven and collaboratively designed as a combination of planned sessions and participant-led discussions. Conversations are movement diverse and designed to uplift local and collective knowledge, wisdom, and experiences.
To make sure the topics reflect the needs, passions, experiences, and talents of the people in the room, agenda topics are based on input contributed by participants both before and during the event.

If there is a session or discussion you would like to help facilitate or if you have an idea for the agenda, let us know. Email us at catechfest2019@aspirationtech.org.
We encourage you to bring your stories, ideas, questions, and knowledge to share!
Help us co-create safe and accessible spaces
We strive to host accessible events that maximize the opportunity of all individuals to participate and engage wholly in all spaces and activities, in full respect of cultural and linguistic identities, care needs, and abilities.
The direct entrance to their space is located through the large black gate on Venice Blvd. Their Hope Street entrance is wheelchair accessible. You can check out a map with entrance details here.
For inquiries about accessibility or accommodation requests, please get in touch with us. Feel free to email us or give us a call at 415-839-6456.
Co-Conveners and Community Partners

We are honored and excited to co-organize CA Tech Fest in Los Angeles with an inspiring group of co-conveners and community partners.
Co-conveners: LA Coop Lab, Advancing Justice Los Angeles, Information Ecology, Eastside LEADS and Central California Environmental Justice Network.
Community Partners: The Everett Program, Media Justice and Creative Commons.
We always welcome new collaborations with organizations and partners across the state. Please get in touch to start the conversation!
Let us help you get there
If you're passionate about social justice and technology and want to participate but need support getting there, please let us know. We would love to have you there and want to find a way to make it work. We have sliding scale registration, registration scholarships, and limited travel stipends for those who need them. Please get in touch with us to discuss options.
Reach out to us if you want to connect or have any questions about attending. We look forward to seeing you in July!
Organizer of California Nonprofit Technology Festival, Los Angeles