California Investor Forum and Expo - Indoor/Outdoor Network + BREAKFAST! Celebrate Realty411. Your Local and National Magazine!

Saturday, October 15, 2016 from 9:00 AM to 5:00 PM (PDT)
Who's Going

Loading your connections...
3 of your friends are going.
Share it to get more people on board!
Share

Sara Haughty
San Francisco, California

Luke Picard
London, United Kingdom

Rick Vespucio
Florence, Italy
Event Details
Join Us Beach-side Early for Complimentary Breakfast
& Networking on a Fabulous Outdoor Patio
The Early Birds Benefit in Our Industry.
Guests Receive Our California-based magazine published locally!
Meet Local Leaders & Industry Giants & California + National Investors
Influential Real Estate Agents/Brokers & Business Owners Attending!
Find Potential Partners, New Friends, Build Your Circle of Influence.
OUR SPEAKERS HAVE CLOSED OVER $6 MILLION IN SALES SINCE OUR LAST CONFERENCE IN MARINA DEL REY ON JULY 2ND OF THIS YEAR!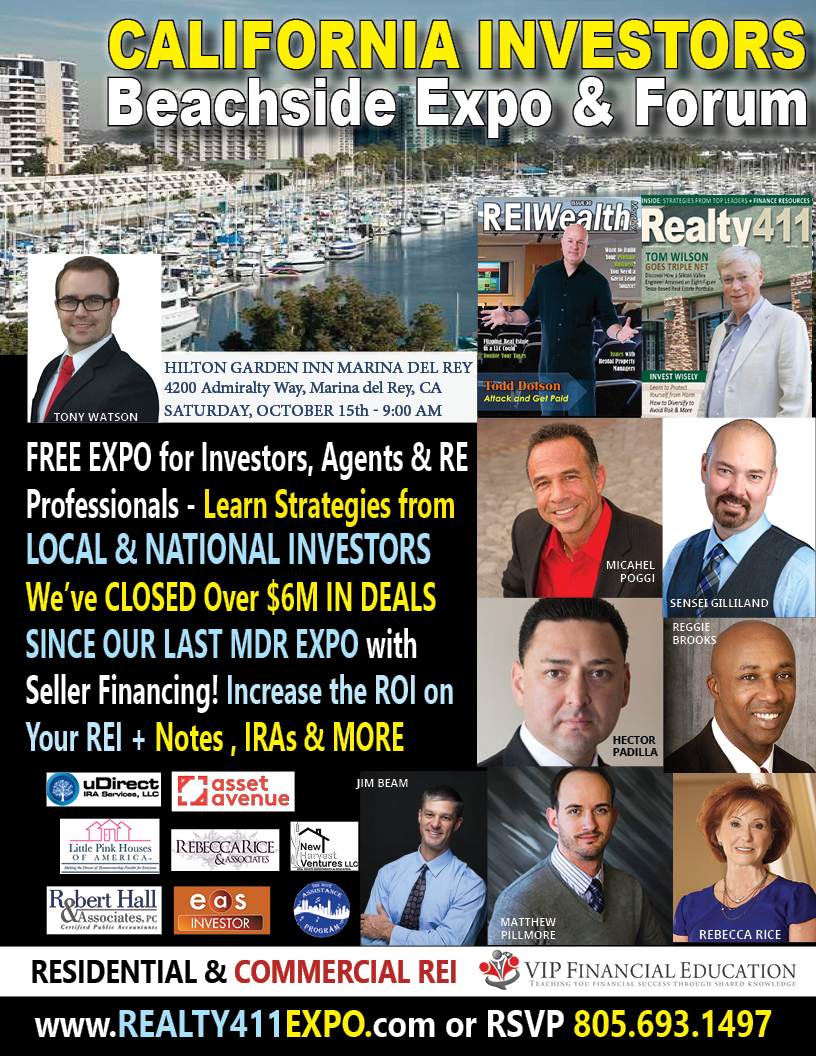 WE HAVE CLOSED OVER $6 MILLION IN REAL ESTATE SINCE OUR LAST EXPO IN MARINA DEL REY - FIND OUT WHAT WE PURCHASED & WHERE!
We want to see if you are TRULY motivated about EXPANDING your WEALTH - remember those who take ACTION benefit, enjoy a savory breakfast and network with amazing people who are truly MOTIVATED about their SUCCESS.
Pencil this event in your calendar and enjoy beautiful Marina del Rey. The idea for Realty411 began while browsing through magazines enjoying the beautiful view of the harbor from the Lloyd Taber-Marina del Rey Public Library, located on the same street. Mr. Taber was a local real estate investor who bequeathed an endowment to the library where the publisher spent her free time.
Join investors Beachside for Realty411's California Investor Forum and Expo and meet LOCAL LEADERS who are CLOSING MILLIONS IN DEALS NOW.
PLUS, Realty411 will provide a coastal forum uniting companies from around the country with investors and realty professionals... so be sure to stop by our Indoor & Outdoor Expo with plenty of business card on hand.
WE KNOW YOUR NET WORTH IS EQUAL TO YOUR NETWORK
We are hosting this COMPLIMENTARY expo to help increase your contacts and to further your potential in this industry, so don't miss out!
HEAR UPDATED TIPS, STRATEGIES & LESSONS
DISCOVER UNCONVENTIONAL REAL ESTATE
FEATURED TOPIC: LEARN ABOUT SELLER FINANCING
And, no, we don't mean convincing a seller to carry a note back on a little, tiny house in the middle of nowhere - How long will it take for you to grow your wealth that way? Our Seller-Financing speaker, Hector Padilla, knows you can do more.
We want you to TAKE MASSIVE ACTION and Buy a MULTI-MILLION Dollar Commercial Building in the BEST AREA of So Cal with SELLER FINANCING.
Hector Padilla, a Westside Accredited Investor, Broker/GRI just did that. He JUST CLOSED on his own Personal Transaction a few weeks ago. The Deal Was Sweet... He purchased a $6 Million Multi-Family property in Los Angeles. Learn from an ALL NEW presentation on how we structured this deal.
Open Your Eyes and Ears and Learn How to Put Together Deals Like This...
~~~~~~~~~~~~~~~~~~
TERMS OF THE TRANSACTION
Price: $6 Million
Downpayment: 20%
  ( Funded by a Partner with 3.5% Interest-Only payments )
80% Seller financing fixed for 4.5 years!
~~~~~~~~~~~~~~~~~~
LEARN HOW TO STRUCTURE DEALS LIKE THIS TODAY!
HOW WOULD YOU LIKE TO DO DEALS LIKE THIS?
IN CALIFORNIA, THE GOLDEN STATE...
Folks, this is the state where you can make it BIG in one transaction!
Don't you think you need to FOCUS and learn from MASTERS who are REALLY making it happen in your own backyard? Meet the real estate masters here...
MASTERS who are GENERATIONAL investors... We didn't just get "Lucky", this is a LIFESTYLE, a way of LIFE, a Purpose and Passion to Pass On...
SPECIAL FINANCE SPEAKER: ASSET AVENUE
Learn all about Asset-BASED Lending from a LOCAL LEADER in our real estate finance industry. Learn all about securing the funding needed for your deals.
GROW YOUR PIG FARM (PASSIVE INCOME GENERATORS)
Learn from Hector Padilla who mentored the publisher of Realty411 magazine when she started as an agent in real estate 16 years ago. Hector has personally purchased nearly $72,000,000 worth of real estate; and as a GRI Broker has successfully closed over 1,000 transactions.
Another one of his PRIZED DEALS: He flipped a PARKING LOT in Los Angeles, which he purchased for $75K. He made $1.3 Million in 13 months --  with no tenants nor no rehab.
Matthew Pilmore - VIP FINANCIAL EDUCATION
Matthew Pillmore built a successful wholesale residential mortgage company in 2000.  During that time he began investing in real estate. At age 23 he hired a creator of the original FICO score and the Nation's leading credit attorney to build the 760 Club.   
One year later, he discovered a revolutionary cash flow formula which allows real estate investors to own real estate free and clear far more quickly & safely by turning the banks' rules against themselves.
Today, Mr. Pillmore has been featured on hundreds of radio and television programs and is considered the foremost leading expert on the subjects of cash flow, debt, and both personal & business credit. He has a unique ability to accelerate nearly anybody's financial goals, using a simple 3 step recipe. 
DON'T WAIT PREPARE FOR NEXT YEAR'S TAXES TODAY...
Don't wait to learn the INFORMATION you need to Avoid Paying Excessive Tax.
Learn from Your LOCAL Leaders by the Beach in Marina del Rey.
Tony Watson from Robert Hall & Associates
Have a Tax Question or Issue? We have the experts right here to answer your questions! Introducing Tony Watson from Robert Hall & Associates in Glendale, CA
Tony Watson graduated from Chapman University with a Bachelor of Science in Business Administration. As an Enrolled Agent, Tony started working for Robert Hall & Associates in 2005 and has quickly become one of their leading tax consultants. In addition to servicing a full roster of clients, Tony has taken on the role of public speaker for Robert Hall & Associates and has spoken at over 100 businesses, associations, and real estate offices in the Los Angeles area.
Most recently, Tony landed the coveted position of keynote speaker for the Apartment Owners Association and spoke throughout the state of California on taxation and incorporating. For over 40 years, Robert Hall & Associates has specialized in tax preparation and incorporating for small business owners and entrepreneurs.
Be sure to get your hands on our new release of Realty411 Magazine, Private Money411 and CashFlow Express by picking up a free copy at one of our events!
Michael Poggi - The Millionaires Investment Group
Michael Poggi is a nationally recognized public speaker, established author, and professional investor, with nearly two decades of experience. Michael speaks on advanced wealth strategies and how to invest in Real Estate and Businesses the right way .He presents topics such as: house flipping, purchasing apartment buildings, and building new construction homes, development projects, purchasing vacant lots in fast growing areas and buying businesses in your IRA or your old 401K plan. He teaches people how to make their IRA self-directed in the true sense, so you can use it for real estate. He also teaches people and mentors students on how to make their IRA cash flow monthly tax-free as well as how to invest properly.
In addition, Michael is the president and founder of The Millionaires Investment Group, based in Ft. Lauderdale, Florida. There are 10,000 members of the Millionaires Investment Group and 2500 Active Investors. The Millionaires Investment Group holds a meeting on a monthly basis to network and partner on real estate ventures, and businesses. Michael's company specializes in many aspects of commercial real estate, vacant land, development projects, new construction home projects and businesses. The group attracts top notch speakers from all around the country, who are featured monthly to provide additional education.
Michael is often a featured guest on the Money Talk radio show. His company, Build Wealth with Land, LLC, is one of the largest land providers in the U.S., providing hundreds of vacant lots to investors and builders yearly. Michael has bought and sold over 1000 vacant lots and houses in the last 10 years, TAX FREE!
Thank you to Our Pink Sponsor: Little Pink Houses of America
LEARN EXCELLENT REAL ESTATE EDUCATION HERE
Mike Mathe - Little Pink Houses of America
Michael Mathe is a native of Columbus, Ohio and a serial entrepreneur who has started and sold 2 separate businesses in multiple industries before turning 40. He has over 20 years of experience in business start-up/scaling, direct marketing, sales, sales training/speaking and has done about every type of traditional and non-traditional real estate deal out there. His most recent venture is as Co-Founder of Little Pink Houses of America, a real estate investment firm based in Jacksonville, FL with offices in over 20 markets nationally in less than 3 years.
They specialize in Executive Lease Purchases that match sellers that can't go to the bank with a retail based seller (typically a FSBO) that is willing to sell on terms in order to make more money than selling traditionally. Their strategy targets higher dollar homes ($150-500K+ depending on the market), therefore giving investors the ability to make money on houses that were never considered a lead before. Investors that utilize this strategy make a minimum of $10,000-$25,000+ per transaction without using any money or credit and don't have the fierce competition that exists in today's wholesale and fix/flip market.
Little Pink Houses of America also has affiliate opportunities available in markets around the country and they will be discussing that at the upcoming event for those investors that want the support and branding of a corporate office in order to achieve greater success. These partnerswork for themselves but not by themselves.
Learn from a Local Leader...Reggie Brooks

Reggie   Brooks   has   achieved   what   many   people   consider   to   be impossible. He went from making $36,000 per year at the local telephone company,  to  making  over $40,000  per  month  in  his  real  estate  business.
Starting out with very little money, Reggie began his investment career in 1986.  After taking  several  real  estate  investment  courses  he  began investing  in  rental  properties  in  Los  Angeles.  By  educating  himself  about  hidden  opportunities  in  real estate and making well placed investments, he has become a multi-millionaire.

Reggie  is  an  international  speaker/lecturer,  an  author,  and  an  active  real  estate investor.  Reggie  has spoken  on  programs  with  such  notables  as  Donald  Trump,  Magic  Johnson,  Suze  Orman,  Anthony Robbins,  George  Foreman,  Rudy  Giuliani,  Dr.  Albert  Lowry,  Alan  Greenspan,  David  Bach  and  Russell Simmons, to name a few. "It's very simple when you take the time to learn how", Reggie says.  Over the years, Reggie has developed his Success Systems that consistently turn marginal $15,000 to $20,000 real
estate  deals  into  $50,000  to  $75,000  deals.  Reggie  teaches  his Success  Systems
all  over  America.  His students  say  that  the  combination  of  his  insightful  knowledge  with  a  sheer  joy  for  teaching  makes  the learning process pleasurable.

Reggie   has   earned   the  respect   of  the  real  estate  investment   community  as  well  as  the  seminar community because of his many investment accomplishments and his ability to teach them in a seminar or classroom  setting.  Of  his  many  successful  students  Reggie  is  most  proud  of  his  two  kids,  Keith and Arlett.  Through  his mentoring  they  have  both  become  successful,  full  time  millionaire  real  estate
investor.
EXCLUSIVE THOUGHT-PROVOKING EDUCATION! PLUS AMAZING NETWORKING.
This is your chance to gain insight into the local real estate market as well as gain perspective of some of the top areas around the country to invest in. All guests receive TOP Investment publications.
Vital industry "Insider" information will also be shared at this event, such as:
1. Where can local investors acquire Private Funds and Hard Money Loans for Investing?
2. What are some Prime Areas to invest in the Local Market?
3. Where are Savvy Investors going to find top Cash Flow markets Out of State?
4. What's going on at the Local Courthouse and with the Foreclosure Market?
5. Who are the TOP brokers and agents in Our Area and how can they help Investors find, secure and acquire those deals.
6. Learn about other Industry Events happening in California and Out of State that are important to attend - We will share news about important industry events where hundreds of like-minded individuals unite for networking.
7. Meet the publisher of Realty411, who is an active real estate investor. Many of her CA transactions appreciated over $250K in less than two years.* ( *results NOT typical )
8. What areas are being scoped out by Local Investors? DISCOVER IT HERE!

Meet Local Leaders & Industry Giants - We are California Investors
Influential Real Estate People & Business Owners Attending!
Find Potential Partners, New Friends, Build Your Circle of Influence.
 
YOUR NET WORTH IS EQUAL TO YOUR NETWORK

We are hosting this event to help increase your contacts and to further your potential in this industry, so don't miss out!
~~~~~~~~~~~~~~~~~~~~~~~~~~~~~~~~~~~~~~~~~~~~~~~~~
* Plus, enjoy viewing REI Wealth Monthly, our fully-interactive digital publication
developed for Apple enthusiasts by an investor from San Diego, California
* Learn Tips and Strategies on TOP Real Estate Niches:
Fix 'n' Flip, Wholesaling, Crowdfunding, Buy & Hold,
Local & Out-of-State, Private Lending, Commercial & Residential                     

Save
Save
Save
Save
Save
Save
Save
Save
When & Where

Hilton Garden Inn Marina Del Rey
4200 Admiralty Way
Marina del Rey, CA 90292


Saturday, October 15, 2016 from 9:00 AM to 5:00 PM (PDT)
Add to my calendar
Organizer
Realty411 Magazine & Marketing

* Event Organized by Realty411 *
Based in Santa Barbara County, Calif., Realty411 publishes online and print magazines, e-newsletters, produces expos, and mixers around the United States. Their mission to educate and empower everyone from all walks of life to invest in real estate. The media/marketing company is owned by a real estate investor and licensed California real estate sales agent. Realty411 currently reaches more personal investors around the nation with their in-house expos and events than any other realty investor publication in the world. Many expos are charity events where awareness and donations are raised for numerous worthwhile organizations, which focus on children, assisting the homeless, victims of domestic violence, and animal welfare.
For information, call: 805.693.1497 or visit http://realty411guide.com/events or
our new expo website: http://realty411expo.com
To contact us directly, call: 805.693.1497 or realty411magazine@hotmail.com
Save
California Investor Forum and Expo - Indoor/Outdoor Network + BREAKFAST! Celebrate Realty411. Your Local and National Magazine!