The third concert in New Spire Arts 2021-2022 Concert Series is California Guitar Trio w/ Trace Bundy has unique and dazzling arrangements!
About this event
The universe of guitar knows no boundaries for The California Guitar Trio. Since 1991, the group has enthralled listeners with a singular sound that fearlessly crisscrosses genres. The trio's questing spirit drives it to explore the intersections between rock, jazz, classical, and world music. It even throws in the occasional surf or spaghetti Western tune for good measure.
Comprised of Bert Lams, Hideyo Moriya and Paul Richards, the group has established a unique, personal connection with audiences. In addition to dazzling musicianship and interplay, The California Guitar Trio's (CGT) shows are full of captivating stories and humor that enable concertgoers to feel like they're part of the music, not just spectators. In fact, the group's goal is to transcend their instruments, so people focus on the music first, and its considerable technical prowess a distant second.
CGT's lineup is truly the sum of its distinct parts: A Utah native now residing in Los Angeles, Paul Richards immersed himself in rock, blues, jazz, and folk during his early days and while attending The University of Utah's jazz guitar program. Bert Lams, originally from Belgium, graduated from the prestigious Royal Conservatory of Music in Brussels, specializing in classical guitar. Tokyo-born Hideyo Moriya began his guitar journey with surf music and British rock, before relocating to Boston to study at Berklee.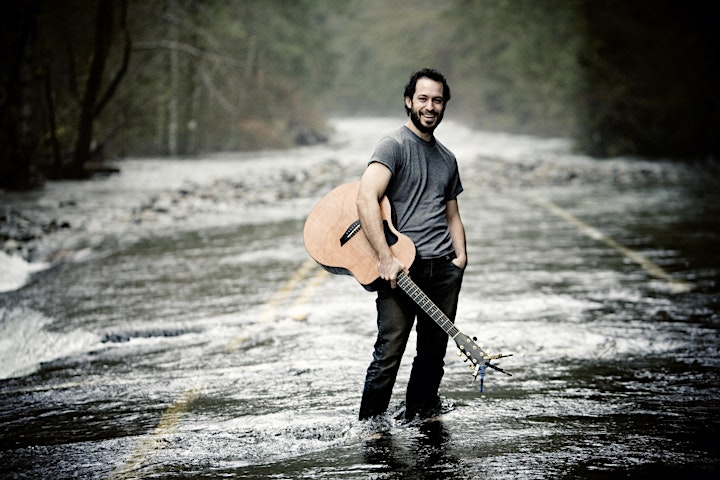 Internationally-acclaimed guitar virtuoso Trace Bundy must be seen, not just heard. His music is poetry in motion, using harmonics, looping, multiple capos, and his unique banter and stage presence to deliver an unforgettable live concert experience. Listening to his intricate arrangements is one thing, but seeing the fan-dubbed "Acoustic Ninja" play live confounds even the most accomplished music lovers as to how one person can do all that with just two hands and ten fingers.
Bundy's unique career has brought him across the world, with concerts in 28 countries and counting-from high-tech performance halls in South Korea and Italy, to remote villages in Zimbabwe and Guatemala. He has independently sold over 125,000 albums on his record label, Honest Ninja Music. His video clips circulate virally at astonishing speed, with over 40 million YouTube views to date.
Jimmy Leslie at Guitar Player Magazine blogs "It was easy to see why Bundy plays bigger venues on each tour. In his hands, the acoustic guitar is an imagination station, and there was no telling where he is going take the audience at any given turn. Thrilling stuff."
Audiocast Magazine from Austin, TX agrees: "Bundy's live show is without a doubt an event that needs to be witnessed rather than told about. With such a jaw-dropping performance, Bundy's live concert is a slap in the face that would leave a palm print on the memory of everyone in the audience
New Spire Arts has a policy change for New Spire Arts sponsored events. Effective 10/1/2021:
PROOF OF VACCINATION OR NEGATIVE COVID TEST
Patrons must present a photo ID and proof they meet the CDC definition of being fully vaccinated at the time of entry into our theater. For those unable to be vaccinated due to certain medical conditions, age or closely held religious beliefs, proof of a negative COVID-19 test within the last 72 hours on the day of the performance is required to be admitted. Children under 2 are exempt and for children ages 2 to 12, the only requirement is to wear a mask.
Patrons who are unable to provide proof of vaccination or a negative COVID -19 test at the door will not be admitted.
MASK REQUIREMENT
Masks will be required for all audience members, staff and volunteers regardless of vaccination status and no concessions will be sold during this time to encourage patrons to remain masked.
The vaccination and mask requirements will be in effect until October 31, 2021 and are subject to change. We are actively monitoring conditions and recommendations from national, state, local and CDC officials and will continue to update our policies as circumstances require.
Organizer of California Guitar Trio & Trace Bundy (in person)