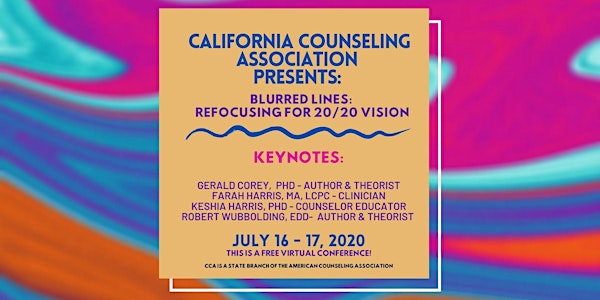 California Counseling Association Professional Development Conference
Sales Have Ended
Registrations are closed
Thank you for your interest in the California Counseling Association Professional Development Conference. Ticket sales have ended.
The Professional Development Conference is a free event offering sessions addressing current events, mental health and professional growth.
About this event
The California Counseling Association Virtual Professional Development Conference will offer engaging and informative breakout sessions, keynote addresses by noteworthy theorists, trauma specialists, and pioneers in the counseling profession and provide tools for working toward a 20/20 vision of mental health and wellness. The conference is free and will offer opportunities to practice self-care throughout the conference. You can earn up to 15 contact hours. We look forward to connecting with you!
ATTENTION: If you need an American Sign Language Interpreter please email after registering to let us know and we will work to make arrangements for you.
Keynote Sneak Peek:
Dr. Gerald Corey, Professor Emeritus of Human Services & Counseling at California State University at Fullerton will present his Keynote address titled: Personal Reflections on Counseling.
Dr. Corey will share lessons learned from a 60-year career on a broad range of topics such as creating one's professional path, mentoring, changes in the counseling profession, personal therapy, self-care and wellness, managing value conflicts in counseling, becoming a multiculturally-competent counselor, coping with the imposter syndrome, understanding and working effectively with difficult clients, becoming a writer, and getting the most from supervision.
About Dr. Gerald Corey
Gerald Corey, EdD, ABPP, is professor emeritus of Human Services and Counseling at California State University at Fullerton. He received his doctorate in counseling from the University of Southern California. He was awarded an honorary doctorate in Humane Letters in 1992 from National Louis University. He is a Diplomate in Counseling Psychology, American Board of Professional Psychology; a licensed psychologist in California; and a National Certified Counselor. He is a Fellow of the American Psychological Association (Division 17, Counseling Psychology; and Division 49, Group Psychotherapy); a Fellow of the American Counseling Association; and a Fellow of the Association for Specialists in Group Work. He also holds memberships in the American Group Psychotherapy Association; the Association for Counselor Education and Supervision; the Western Association of Counselor Education and Supervision; and the National Organization for Human Services. He received the Lifetime Achievement Award from the American Mental Health Counselors Association in 2011, the Eminent Career Award from ASGW in 2001, and the Outstanding Professor of the Year Award from California State University at Fullerton in 1991.
He teaches courses in group counseling and ethics in counseling. He is the author or coauthor of 16 textbooks in counseling currently in print, along with more than 70 journal articles and numerous book chapters. His book, Theory and Practice of Counseling and Psychotherapy, has been translated into Arabic, Indonesian, Portuguese, Turkish, Korean, and Chinese. Theory and Practice of Group Counseling has been translated into Korean, Chinese, Spanish, and Russian. Issues and Ethics in the Helping Professions has been translated into Korean, Japanese, and Chinese. With his colleagues, he has conducted workshops in the United States, Germany, Ireland, Belgium, Scotland, Mexico, Canada, China, and Korea—with a special focus on training in group counseling. He has presented workshops for professional organizations and special intensive courses at various universities.
Gerald Corey has seven books that are published by the American Counseling Association: He is coauthor (with Robert Haynes, Patrice Moulton, and Michelle Muratori) of Clinical Supervision in the Helping Professions: A Practical Guide, Third Edition (2021); Personal Reflections on Counseling (2020); The Art of Integrative Counseling (2019); he is coauthor (with Michelle Muratori, Jude Austin, and Julius Austin) of Counselor Self-Care (2018); he is coauthor (with Barbara Herlihy) of Boundary Issues in Counseling: Multiple Roles and Responsibilities, Third Edition (2015); and ACA Ethical Standards Casebook, Seventh Edition (2015); and he is the author of Creating Your Professional Path: Lessons from My Journey (2010).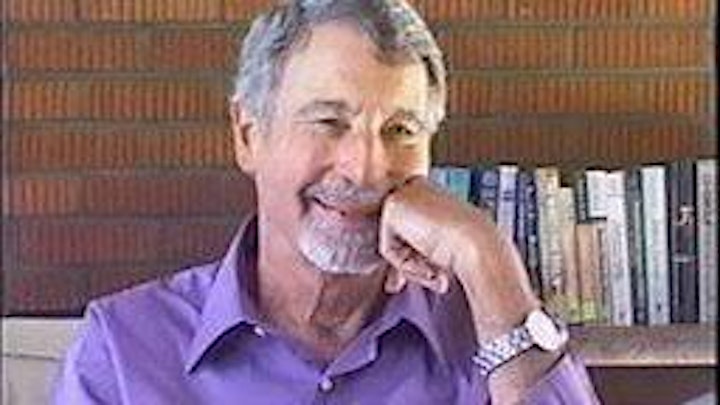 Notable Speaker Sneak Peek:
Dr. S. Kent Butler, Interim Chief Equity, Inclusion and Diversity Officer and Professor at University of Central Florida, will present Humanizing Diversity: Refocusing the Blur as our opening session on Friday, July 17th. To learn more, please read the program description below
While people who hold certain privileges should not be "blamed" for every advantage enjoyed, they should at the very least be held accountable for their behaviors while relishing in them. Showing responsibility in how they use said power & privilege; seeking to eliminate inequality and taking care to promote equity. Equity is important in every dimension of life; intimately connected to sex, gender, and diversity, profoundly affecting health and well-being. The presenter will use his personal life story to speak to the effects of privilege on his own mental wellness and resolve and share best practices for removing culturally biased barriers. The interactive session will also showcase how to successfully balance counseling with social justice advocacy. This presentation will also provide counselors with insights that help them to ascertain whether intervening on an individual or community wide scale is appropriate.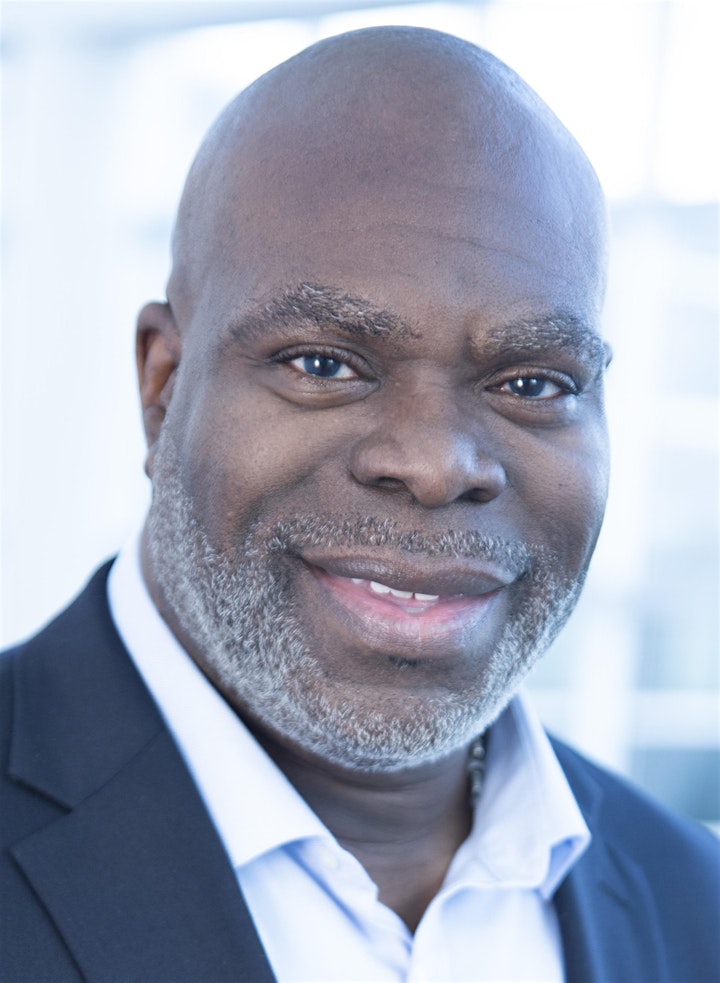 Keynote Sneak Peek Two:
Dr. Keshia Harris, PhD, Researcher at American Institutes for Research and Farah Harris, LCPC of WorkingWell Daily, LLC will present a Keynote presentation titled, A Look into Traumatic Stress During Intertwined Pandemics
Their presentation will cover how racial and environmental trauma impacts the workplace and academia. We will illustrate how to understand vicarious trauma from COVID-19 and the witnessing of public killings of Black people while professional and personal boundaries are blurred amidst stay-at-home orders. Our presentation will provide self-care strategies to help maintain wellness during an unforeseen 2020.
About Dr. Keshia Harris
Keshia L. Harris, PhD is a developmental psychologist who specializes in mixed methods research on colorism and cross-cultural education studies among youth in the U.S. and Latin America. She is currently a Researcher in the Youth Development and Supportive Learning practice area of the Research and Evaluation Division, at the American Institutes for Research (AIR). Dr. Harris has published in leading scientific journals and books such as American Behavioral Scientist, the Handbook of the Cultural Foundations of Learning, and the Handbook of Culturally Responsive School Mental Health: Advancing Research, Training, Practice, and Policy. Dr. Harris holds a Ph.D. in Comparative Human Development from the University of Chicago, is the recipient of the Fulbright Hays Doctoral Dissertation Research Abroad fellowship, and has 10 plus years of experience teaching, counseling, and conducting research in public schools in the U.S., South Africa, and multiple Latin American countries. She holds a Master of Arts in Counseling Psychology from Columbia University, Teachers College and a Bachelor of Arts in Psychology from Spelman College.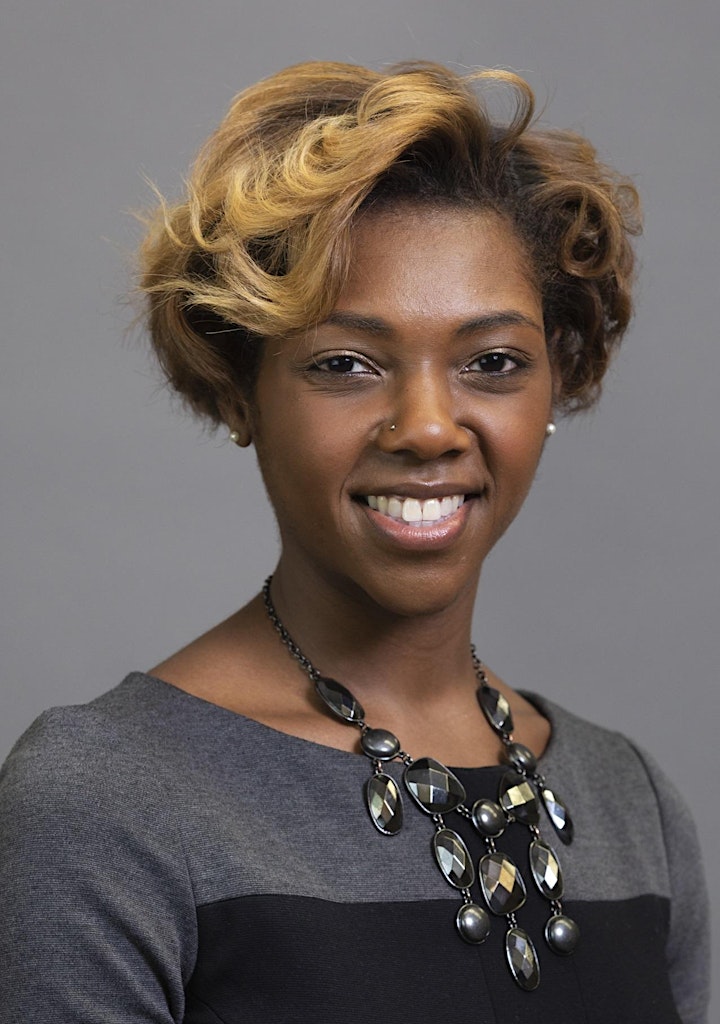 About Farah Harris
Farah Harris is a licensed therapist in private practice and a workplace wellness champion dedicated to disrupting toxic work environments. She is the owner of WorkingWell Daily, LLC a company committed to addressing work-life alignment and mental wellness. Her personal mission is to help individuals and organizations decrease symptoms of stress and burnout, elevate their emotional intelligence, and improve morale by implementing strategies to create healthier work culture. Clients and audiences walk away equipped with the tools needed to improve decision making, be more productive, boost confidence, and increase personal well-being.
Farah is a sought after expert on topics related to mental health, workplace wellness, and self-care. Her work has been featured in media and podcast platforms such as: Essence, Bustle, Inside Edition, Martha Stewart, Thrive Global, and Therapy for Black Girls. Clients served include CISCO, CIBC Bank USA and the National Oceanic and Atmospheric Association.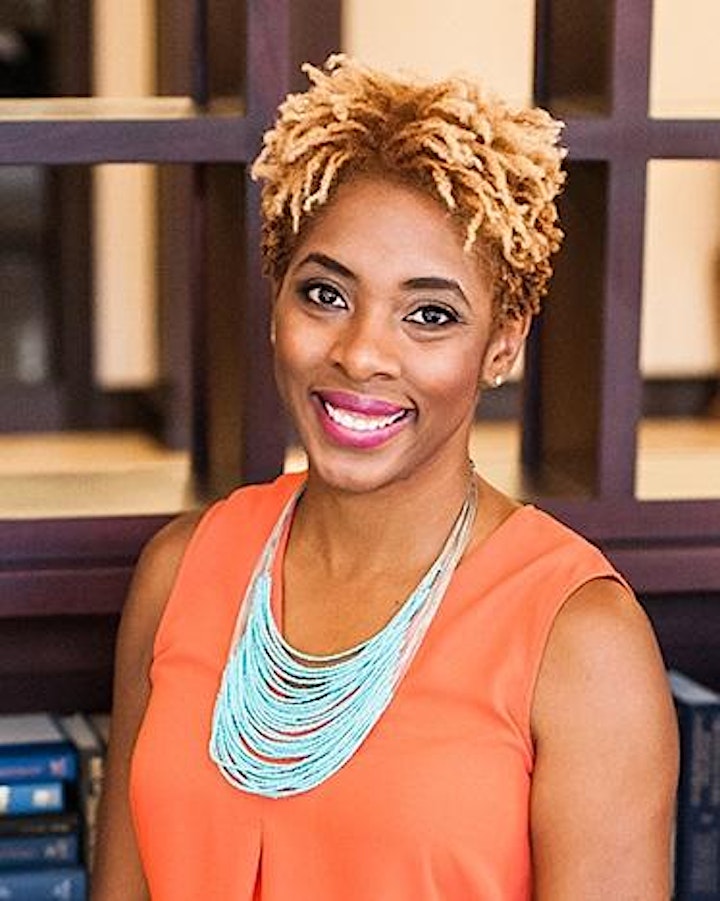 Keynote Sneak Peek Three:
Dr. Robert Wubbolding,EdD, NCC, BCC, Director of the Center for Reality Therapy will present a Keynote address titled The Hitch-Hiker's Guide to Reality Therapy
A hitch-hiker stands at a fork in the road, unclear about which path to take. The reality therapist points out that the hitch-hiker can take either road and helps in the decision by implementing such principles as:
1. One road is Happiness Highway and the other road is Tragic Turnpike.
2. Which road will help you and which road will harm you? You have an existential decision to make.
3. What steps do you need to take today?
This session includes a demonstration of counseling a client who faces this dilemma, "which way will I go?" It also emphasizes a re-evaluation of several conventional reality therapy principles such as emphasizing current behavior. The presenter will explain how this principle applies to trauma and other past experiences as well as the significance of the client's perceived locus of control.
About Dr. Robert Wubbolding
Bob Wubbolding has written 18 books and over 40 textbook chapters on reality therapy. Because of these contributions reality therapy/choice theory is now recognized in the professional world as a mainstream theory and practice. His 35-year mission has been to preserve the integrity of Dr. Glasser's legacy, to apply it, and to extend it. This successful effort includes publishing with respected publishers, teaching at 4 Universities including 32 years at Xavier University, lecturing on reality therapy from Singapore to Sussex and maintaining a private counseling practice. He has incorporated other theoretical ideas, usable skills and techniques that coincide with the theory and practice of reality therapy. He believes that people learning reality therapy, even in brief instruction, can implement the ideas immediately in their professional and personal lives. "He is one of my closest and most trusted associates. I couldn't recommend anyone more highly" William Glasser, MD.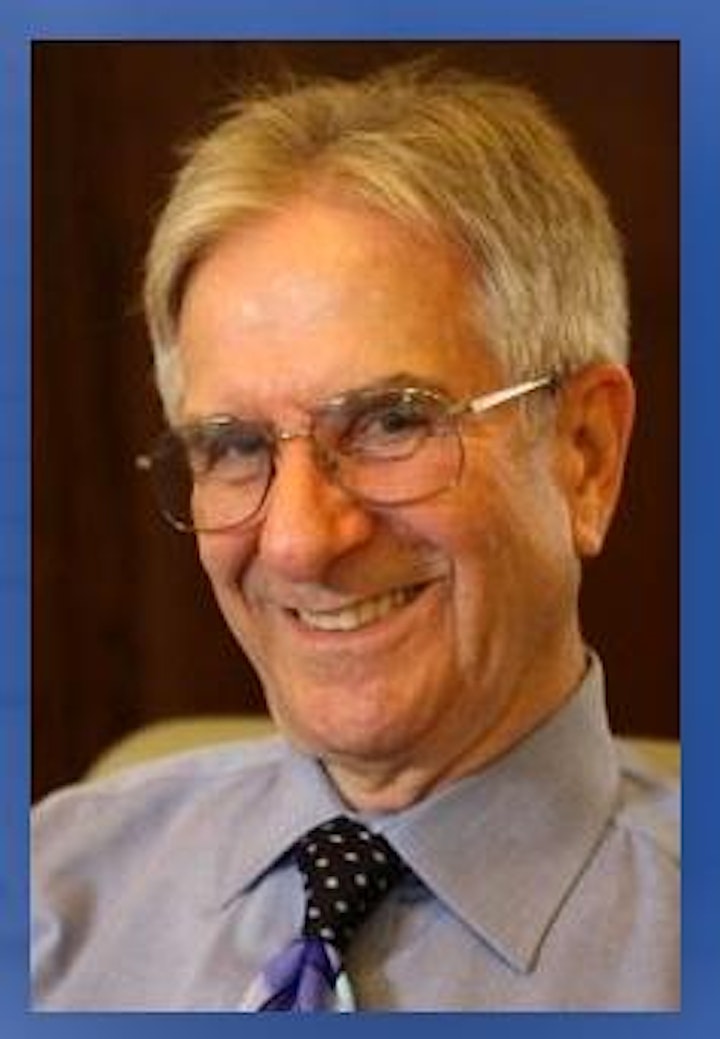 Friday, July 17 – Presentations Zoom Links
From here you may have to copy and paste the link into your web browser.
CCA Announcements and Kent Butler – Humanizing Diversity: Refocusing the Blur - https://us02web.zoom.us/j/83279929883pwd=U1JaZEY3bTBWMnlNSWNZUWZvWTkzUT09
Noreal Armstrong - "You Don't Have to Lay Your Values Aside": Helping Graduate Students Navigate Ethics and Religious Beliefs - https://us02web.zoom.us/j/85393769495pwd=RFU5MkhhcnNQd21uMnNYajNXNGJVZz09
Ashlei Rabess - "It Didn't Start With You": An Exploration of Generational Trauma in the African American Community -
https://us02web.zoom.us/j/82948936207pwd=SUJmVC9uV3BsNXZ3NjA5dFR5anBhUT09
Kimberly Frazier – Professional Wellness and Self-care - https://us02web.zoom.us/j/83649124058?pwd=Z2lCUFh5SENybDdhMlpkeElwd2RpZz09
Gabriel Valenzuela – Overview: Latino Civil Rights and Education -
https://us02web.zoom.us/j/84045068952?pwd=ZlZPZGQvVkkxTnVvZ3pKNkpSbEtnQT09
Noreal Armstrong - When Prayer Alone is Not Enough: Tips for Connecting Faith, Mental Health, and Minority Communities -
https://us02web.zoom.us/j/89643977633?pwd=ekpXaE5oWFQ1OTBRTEdYeU9leXVvdz09
Darlene Willis – REVEALED: True Testimonials and Lessons Learned on Covert and Blatant Racial Experiences -
https://us02web.zoom.us/j/84256118266?pwd=NDhBNzZsdHJZcUc0dmN1U3lTR2VFZz09
Gerald Corey – Keynote -
https://us02web.zoom.us/j/88609579070pwd=amZiMW13Y1pEVk9kbnlHVDBPVUFOUT09
Saba Gebre - Giving the Problem Back: Supporting Black Students in the Face of White Supremacy -
https://us02web.zoom.us/j/87616913645pwd=QmNROUZXS3RGT1IwZko0SmRXbm5NZz09
Jasmyne Riley and Maleyah McCoy - Triggered: Understanding & Developing Your EIQ For Effective Leadership And Counseling Practices -
https://us02web.zoom.us/j/89619491566?pwd=THRERzI3S1RiMjI5RnRabkhnMDZNZz09
Liliana Burciaga – Mentoring Counselors in Training for Social Justice - https://us02web.zoom.us/j/84277150020?pwd=ZGx2a2hsU2QvZzdSYjRWT0NCUXg4Zz09
Dominique Hammonds – Telemental Health Counseling: Rising To Meet A Challenge of Pandemic-Sized Proportions -
https://us02web.zoom.us/j/88417573216?pwd=SGdBRU1DTUdQZEtITFFraWVEeEttUT09
Jeff D. Wolfgang - Reframing In Times of Crisis: Social Justice and Community - https://us02web.zoom.us/j/82117103097?pwd=a2xJSEFQM2s3TDhUVWF5eFBZYlpFQT09
MC Ellis - Trauma, ACE's, and the Nervous System: The Double Burden within the African American Nervous System -
https://us02web.zoom.us/j/84731061529?pwd=QnpXSGpKQjRJc2YreWROMWpMSU4zZz09