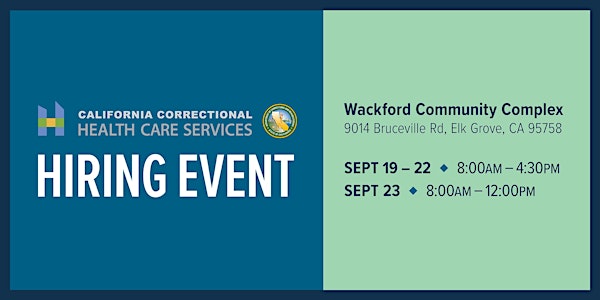 California Correctional Health Care Services - Elk Grove Hiring Event
California Correctional Health Care Services invites you to the Elk Grove Hiring Event
When and where
Location
Barbara Morse Wackford Community & Aquatic Complex 9014 Bruceville Road Elk Grove, CA 95758
About this event
Are you ready to start your career with a state agency that promotes diversity, career growth, and great benefits? At the California Correctional Health Care Services' Hiring Event, you will have an opportunity to speak with recruiters, apply for jobs, interview, and receive a potential job offer all in the same day! Come visit us at the Wackford Community Complex in Elk Grove on Sept 19 – 22 8:00AM – 4:30PM and Sept 23 8:00AM – 12:00PM. We look forward to seeing you there!
Endless career possibilities! Familiarize yourself with the schedule and classifications:
Administrative Careers: (Monday, Tuesday, Thursday, Friday)
• Clerical Support, Specialists, Analysts, Managers
Program Careers: (Wednesday)
• Health Care Data Professionals
Data Analysts, Specialists, Managers
• Information Technology
Project Management, Acquisition Specialists
• Nutrition Professionals
Dietary Specialists, Registered Dietitians
• Staff Development
Training Specialists
Highlight:
Representatives from CalPIA and CDCR will also be available on Thursday, Sept 22 to share their information.
Parking:
Free Parking is available at the Wackford Community Complex. Arriving by public transportation? Elk Grove Transit Services Southbound Bus E116 stops in front of the event venue.