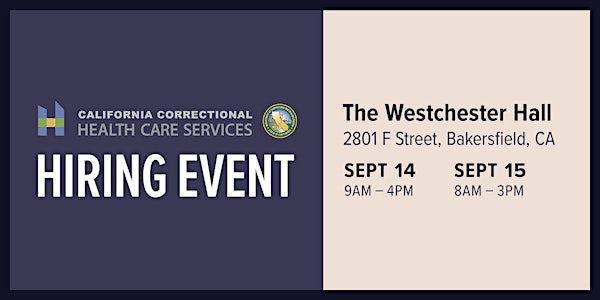 California Correctional Health Care Services - Bakersfield Hiring Event
California Correctional Health Care Services invites you to our Bakersfield Hiring Event for job opportunities.
When and where
Location
The Westchester Downtown 2801 F Street Bakersfield, CA 93301
About this event
Are you ready to start your career with a state agency that promotes diversity, career growth, and great benefits? At the California Correctional Health Care Services Hiring Event you will have an opportunity to speak with a recruiter, apply for jobs, interview and receive a potential job offer all in the same day! Interviews will be conducted for clinical social workers, laboratory assistants, medical assistants, nurses, office technicians, psychiatric technicians, psychologists, and recreational therapists.
Join us and learn about our diverse career paths:
Administrative Support
Allied Health
Health Care
Information Technology
Nutrition Services
Employment opportunities for this event are located at:
California City Correctional Facility, California City, CA
California Correctional Institution, Tehachapi, CA
California State Prison, LA County, Lancaster, CA
Kern Valley State Prison, Delano, CA
North Kern State Prison, Delano, CA
Wasco State Prison, Wasco, CA
Visit us at The Westchester Hall, 2801 F Street, Bakersfield, CA on September 14th from 9:00 AM to 4:00 PM and September 15th from 8:00 AM to 3:00 PM.
We look forward to seeing you there!
EOE