California Corks with Cade at the Dante Robere Vineyard

Saturday, September 15, 2018 from 6:00 PM to 9:00 PM (PDT)
Event Details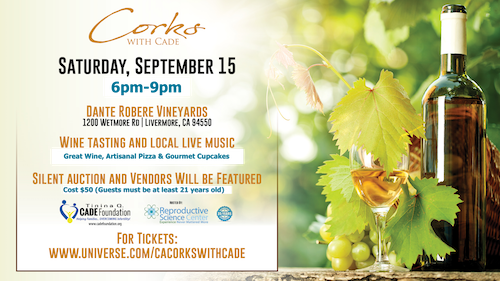 Come join us for an afternoon of live music and wine at 1st California  "Corks with Cade!"
Saturday September 15th, 2018 at the Dante Robere Vineyard
Event Description: Join us as we celebrate the 35th anniversary of the RSC of the San Francisco Bay Area! Enjoy an evening out sampling 4 different wines, great music, gourmet pizza and a silent auction at one of California's most incredible wineries. All proceeds will help support the Cade Foundation's Family Building Grants which assist families with costs associated with fertility treatment or adoption. 
General Admission Tickets Every regular ticket includes a commemorative stemless wine glass, four wine tastings and 4 slices of gourmet pizza. We will provide tables and chairs for your use as you enjoy the outdoor concert while you sample some of the best wines of California!  
Food:  For your dining pleasure - we will provide all attendees with 4 slices of gourmet pizza (complimentary) and cupcakes to celebrate 35 years of RSC of the San Francisco Bay Area OVERCOMING infertility!
About the Tinina Q Cade Foundation:  The Tinina Q. Cade Foundation (TQCF) is a nonprofit organization that serves the needs of families battling infertility. Through education and outreach, we support families struggling with infertility, and strive to educate outside communities about relevant and related issues. In addition, the TQCF also provides financial assistance to families pursuing infertility treatment or domestic adoption through the Tinina Q. Cade Foundation Family Building Grant. For more information please visit us online at www.cadefoundation.org and follow us on Facebook, Twitter and Instagram. 
Sponsors:
PRESENTING:  

SILVER:  

Bronze:    Drs. Jason and Camille Hammond,     Drs Ronald and Tinina Q Cade
Upcoming Events:
Join us on Saturday, November 3rd  at the French Embassy for the 2018 Tinina Q. Cade Foundation Family Building Gala. Tickets can be purchased at https://2018cadegala.eventbrite.com. 
When & Where

Dante Robere Vineyard
1200 Wetmore Rd
Livermore, CA 94550


Saturday, September 15, 2018 from 6:00 PM to 9:00 PM (PDT)
Add to my calendar
Organizer
The Tinina Q Cade Foundation is a 501c3 tax exempt non profit organization that provides information and financial support to help families OVERCOME infertility!  The Cade Foundation provides grants up to $10,000 to assist with costs of adoption and fertility treatment.  For more information, visit www.cadefoundation.org.  Together- we are OVERCOMING infertility!