California Cognitive Science Conference 2011

Saturday, April 30, 2011 at 8:00 AM (PDT)
Event Details
NOTE: This page is for last year's 2011 California Cognitive Science Conference. To learn more about and register for the upcoming 2012 California Cognitive Science Conference, please visit: http://ccsc2012.eventbrite.com.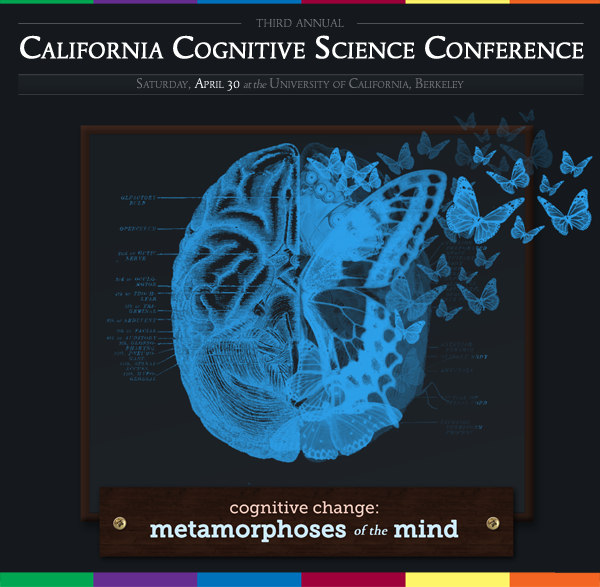 UPDATE:  We have official closed pre-registration for the California Cognitve Science Conference.  We have also closed breakout sign-ups.  If you have not yet registered or have not yet signed up for a breakout, you will be able to during the conference, but we will have limited spots.
The 3rd Annual California Cognitive Science Conference at UC Berkeley will bring together students, faculty and researchers from all over the world for a day of featured talks, research presentations and fascinating workshops and demos. It will provide a look at cutting edge research and future challenges in the science of thinking.
The conference engages attendees with an interdisciplinary glimpse into the latest research in all the fields that comprise Cognitive Science, including but not limited to Neuroscience, Computer Science/Artificial Intelligence, Psychology, Social Science, Linguistics and Philosophy.
Our keynote speakers are Patricia Churchland, a MacArthur fellow and author of the upcoming critically acclaimed neurophilosophy book, Braintrust, and Michael Merzenich, a world famous pioneer in the field of brain plasticity for over three decades.
Additionally, we are hosting four lightning talks (30-minute immersion sessions) headed by Lera Boroditsky, Terrence Deacon, Stephen Palmer and Michael Silver. Breakout sessions led by Professor Tom Griffiths; Homayoon Kazerouni, the developer of e-legs; and Bradley Voytek. Additional workshops include the popular "Feel Dead Brains" demonstration, presented by Bryan Alvarez from UC Berkeley.
Register early for access to a limited registration post-conference dinner with an open bar.
We look forward to seeing you at the conference!
When & Where

UC Berkeley
MLK Student Union
2516 Bancroft Way
Berkeley, CA 94720


Saturday, April 30, 2011 at 8:00 AM (PDT)
Add to my calendar
Organizer
The Cognitive Science Student Association at the University of California, Berkeley is pleased to be hosting the 3rd annual California Cognitive Science Conference. The CSSA is a group of undergraduates who strive to raise awareness of Cognitive Science as well as foster a community in which students and faculty can share research and engage in discussion about the field. We host discussions, presentations, and a wide variety of events throughout the year. The California Cognitive Science Conference is our foremost event of the year drawing hundreds of students, faculty, and researchers.