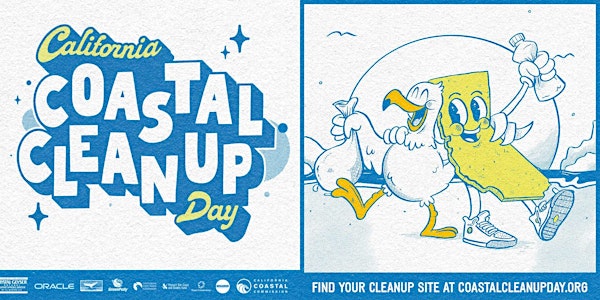 California Coastal Cleanup Day at Kirker Creek in Pittsburg
Participate in a state wide movement to cleanup waterways and beaches by joining us to cleanup Thomas Kirker Creek!
When and where
Location
Thomas Kirker Creek 5755 Nortonville Road Pittsburg, CA 94565
About this event
California Coastal Cleanup Day at Thomas Kirker Creek
Each year, volunteers gather at creeks, rivers, beaches, drainages and all types of waterways around California to clean up trash and protect precious natural spaces. In 2020, more than 20,000 volunteers picked up more than 900,000 pounds of trash from beaches and waterways throughout the state.
At our site, activities include walking or climbing up steep creek banks and working along roadsides to remove trash and debris. We will pick up trash on our stretch of Kirker Creek and tally what we collect to add up our impact in our watershed, which empties out to Suisun Bay before entering the Pacific Ocean!
Participants will be notified in the event of cancellation due to extreme weather conditions. Restrooms are not available.
Leader:  Haley Sutton, Land Stewardship Associate, Save Mount Diablo
Meet: Thomas Kirker Creek, 5755 Nortonville Road, Pittsburg, CA 94565
Directions: Follow the address to Thomas Home Ranch. When you turn onto Nortonville Rd, keep an eye for our meeting spot on the left side of the road where parking is available (the address takes you farther down the road than necessary). Parking at this site is limited- if you plan to carpool with others please let Haley know as we could increase participation.
What to Bring: Water bottle, sturdy shoes, comfy long work pants, sun protection (i.e. hat, sunscreen), face covering, work gloves and a trash collection bucket if you have them. Wear a blue shirt in celebration of Coastal Cleanup Day if you'd like!
***Our Policy on Volunteers under the Age of 18
As we continue to strive to bridge the gap between youth and nature, we encourage families and youth groups to participate in our stewardship workdays. We have outlined our policy on volunteers under the age of 18 in order to create the best environment for everyone involved. Please note, our stewardship workdays are not drop-off programs.
Young volunteers under the age of 18 must have a waiver signed by a parent or guardian. In addition, they should meet one of the following requirements before participating on our stewardship workdays:
Be accompanied by their adult guardian/parent/chaperone throughout the duration of the workday
Be a part of a recognized organization (such as a school group, youth group, etc.) with their authorized chaperone/teacher/leader present at the workday
If you have any questions or accessibility concerns, you can reach our Diablo Restoration Team leader, Haley Sutton, at hsutton@savemountdiablo.org.