California Climate & Agriculture Summit - March 4 & 5, 2019
Description
The 6th California Climate & Agriculture Summit is a two-day event featuring farm tours, a day-long conference and an evening celebration of 10 years of CalCAN's advocacy and leadership.
Join us at the Summit to:
learn about the latest science, policy and practice of climate-friendly farming in California

network with a diverse group including growers, researchers, policymakers, agricultural professionals and advocates

find out about farming-focused ways to play a constructive role in responding to the climate crisis
Program:
Monday, March 4th
Farm Tours: 9:00 AM - 4:30 PM
Tours will showcase several innovative operations using climate-friendly practices.
Tuesday, March 5th
Conference: 8:00 AM - 5:30 PM
CalCAN's 10th Birthday Celebration: 6:30 - 9:00 PM
(Tickets sold separately)
Join us at UC Davis for a day of workshops and poster presentations, followed by a festive evening to celebrate CalCAN's 10th birthday with live music and dancing, a snack buffet and drinks.
Ticket Options and Prices:
*Earlybird registration ends Jan. 15, 2019.*
Note: Select and purchase separate tickets for the farm tours, conference and/or evening celebration or buy the full package.
FULL PACKAGE = FARM TOURS, CONFERENCE & CELEBRATION:
*A very limited number of these tickets are available and will likely sell out well in advance of Earlybird period closing Jan. 15.*
Earlybird - $90 savings! - $120
Farmer/rancher - $50
Student - $50
---Tickets are also sold separately for each of the following:
FARM TOURS * includes lunch:
Earlybird - $10 savings!- $50
Regular (begins Jan. 16) - $60
Farmer/rancher - $30
Student - $30
CONFERENCE *includes an organic breakfast and lunch:
Earlybird - $30 savings! - $100
Regular (begins Jan. 16) - $130
Farmer/Rancher - $50
Student - $50
CalCAN's 10th BIRTHDAY CELEBRATION *includes live music, a snack buffet and one free beverage:
For more information on the Summit program, travel, and lodging, please visit the Summit website: http://calclimateag.org/calcan-summit/
Many thanks to our Summit sponsors: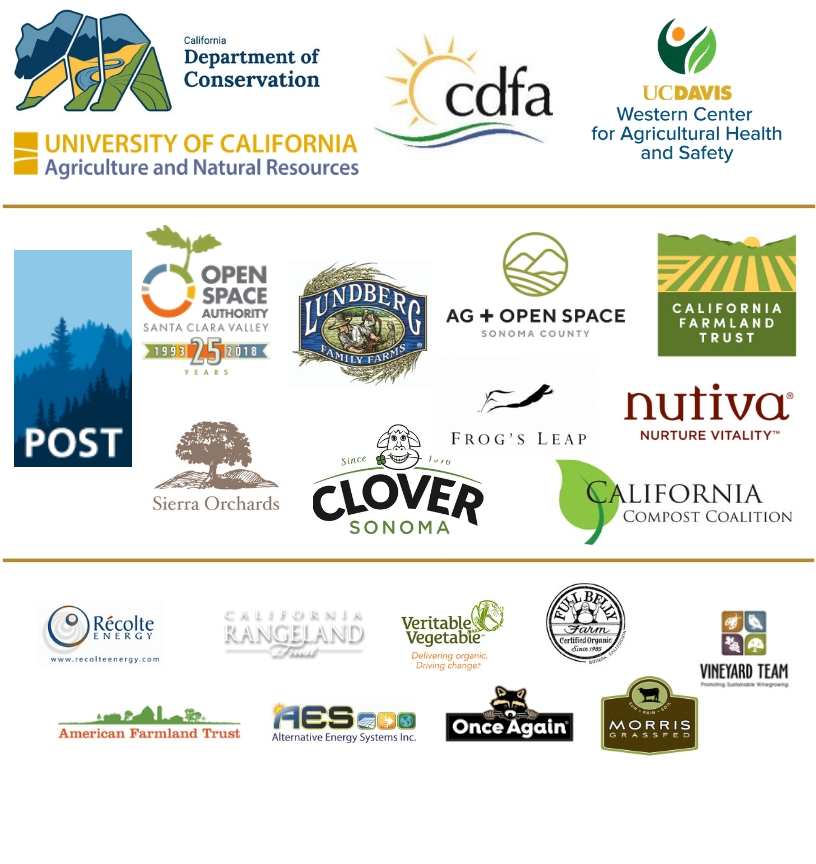 Refund Policy: The deadline for requesting a full refund is February 4th, and you will be eligible for a full refund minus a $15 handling charge. Between February 4th and 25th, you will be eligible for a 50% refund (unless we can fill your space from a waitlist). No refunds will be available if you cancel after February 25th. Please email summit@calclimateag.org with your refund request.