CALIFORNIA CBCD LOVE, PEACE & UNITY INTERNATIONAL BLACK & WHITE BALL 2019
Description


The Royal Affair, an Interantional Ball featuring the Black Caucus' most fabulous movers and shakers from celebrities to business professionals; international, government, corporate, and nonprofit leaders to the grown and sexy from across the nation--dancing to the lights and sounds of DJ Julian Tucker. An upscale event where heads turn adoring the sophisticated and debonair.
"California Knows How to Party!"
Many have tried to duplicate magical allure of the California CBC Delegation's annual International Ball and failed. The gala's success is due in part to the love poured into every aspect of the event by the organizing staff, and their desire to bring the best of California to the East Coast!
Lights! Camera! Action! The party is wherever the California Delegation is. Thank you for celebrating with us. We love you because you are our Family.
California Party "A Royal Affair" GENERAL ADMISSION Ticket EARLY BIRD TICKETS -$40.00 in INDEPENDENT BALLROOM!!
GET YOUR EARLY BIRD TICKETS NOW CELEBRATE WITH LOVE, PEACE & UNITY!!!!
WEST COAST IS BRIDGING THE GAP TO THE EAST COAST, TO THE NORTH, AND TO THE SOUTH AND THROUGHOUT THE DIASPORA of AFRICA.....SO PLEASE TELL ONE AND TELL ALL THAT THEY NEED TO CELEBRATE AT THE 2019 LOVE, PEACE & UNITY INTERNATIONAL BLACK AND WHITE BALL!!
California Party "A Royal Affair" - VIP EARLY BIRD TICKETS - $125.00 in Rooftop Terrace
VIP Ticket includes- Preferred Entry, Private Hors D'oeuvres Selection, Red Carpet, VIP Wrist Band, VIP Seating in main ballroom and VIP Reception! (Advance purchase only for discount) You will have a VIP Reception Room with food and live entertainment and access to the Main Ballroom from 10 pm-2 am with DJ Julian! Limited Tickets Available, Price subject to change at the door.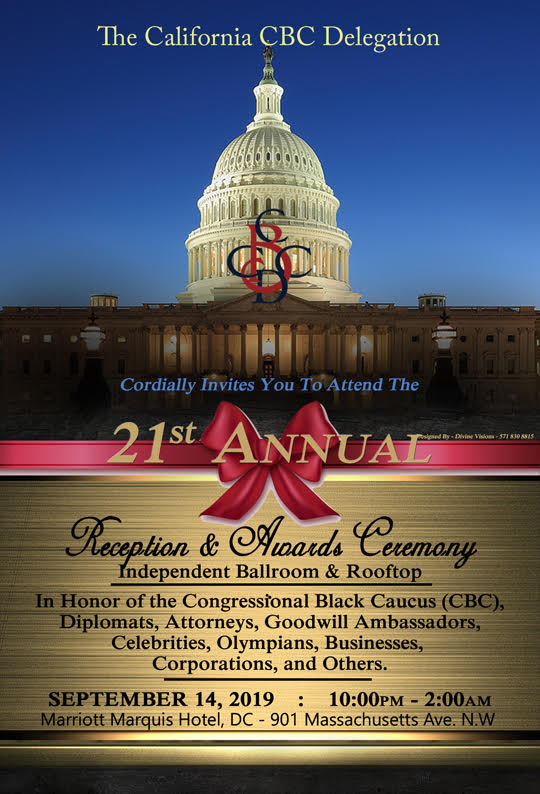 California CBC Delegation "SOULMATE CONNECTION NETWORK" at 7pm-9pm in MONUMENT ROOM at *Marriott Marquis Convention Hotel, Washington, DC -EARLY BIRD TICKETS $25.00
________________________________________________
California CBC Delegation Vendor Space Ticket - $200.00
FASHION EXHIBIT SPACE TICKETS -$500.00
The California CBC Delegation cordially invites you to increase and top off your CBC earnings by showcasing your goods and services at this extraordinary event. Trust us, this is an event that you do not want to miss ! Come and be a part of this "Royal Affair" at the fabulous Marriott Marquis and purchase your "Vendor Ticket" today!