Description
DO YOU KNOW WHAT'S CAUSING YOUR 'STUCKNESS'?
Chronic Negative Emotions? Mental Blocks? Financial Burdens? Poor Health or Relationship issues? Unfulfilled Potential, Dreams, Goals?...
Chances are, you may identify with the story below...
STORY OF THE CHAINED ELEPHANT
A man saw a captive elephant behind a circus tent. He was confused that this huge creature was being held by only a small rope tied to its front leg. It was obvious that the big elephant could break away from this rope, but for some reason, it did not. He asked a trainer nearby why it made no attempt to get away. "Well," the trainer said, "when it was young and much smaller we use the same rope to tie its leg. At that age, it was enough to hold him. As he grew up, he was
CONDITIONED
to believe the rope can still hold him, so it never tried to break free."
Amazing, the elephant could break free any time! But because it BELIEVED it couldn't, he was stuck right where he was.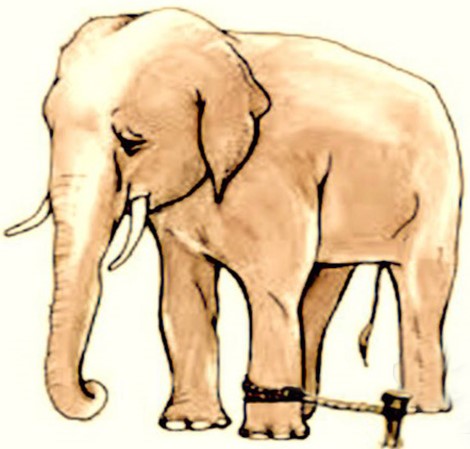 How many of us go through life with limiting beliefs due to our past experiences? And we become conditioned or PROGRAMMED about what we can or cannot do. Isn't it about time to break those chains that hold us back to live out our potential?
YOU ARE THAT ELEPHANT
Just like that elephant, whenever u fail to achieve something, it has very little to do with your circumstances or lack of opportunities! It has everything to do with your MINDSET, and the way it has been conditioned! Henry Ford famously said: "Whether you think you can, or you think you can't, you are right!"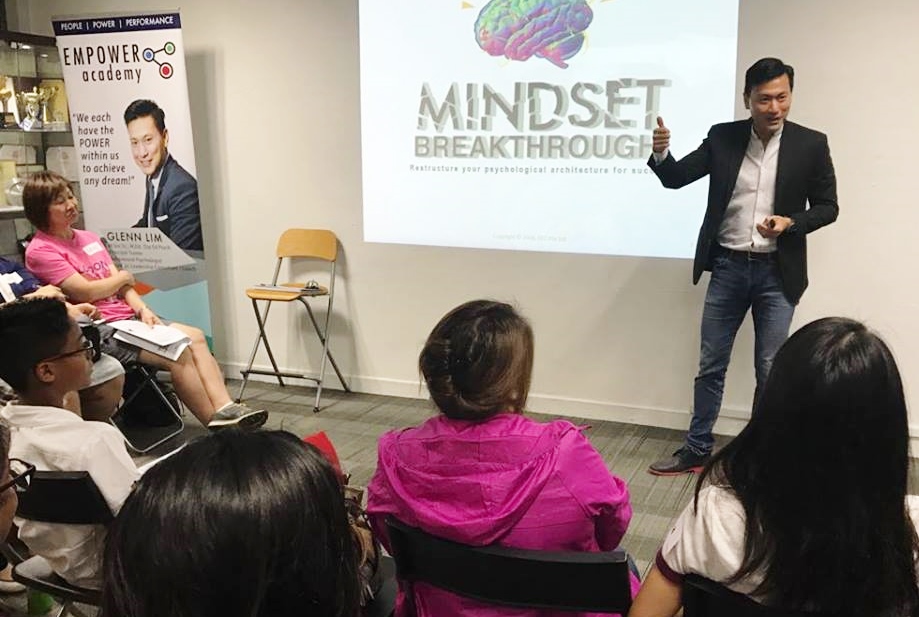 YOU CAN BREAK FREE FROM YOUR PAST PROGRAMMING, NOW
Register for this Free Seminar & learn how your self-sabotaging behaviours are limiting your potential. Discover what is really preventing u from achieving your wealth potential, enjoying quality relationships, experiencing emotional freedom, & living your fullest potential. And learn to release & heal your past wounds & memories! You can step out of your shadows of defeat & finally take charge of your life.
At this seminar, you will...
✔ Discover your 4 Self-Sabotages that hinder your progress
✔ Identify your Auto-Response Patterns / Negative Commands that prevent u from achieving success
✔ Harness the hidden power of your Subconscious Programming to construct your desired future
✔ Learn the science behind neuro-psycho-energy to breakthrough your limitations & start achieving your success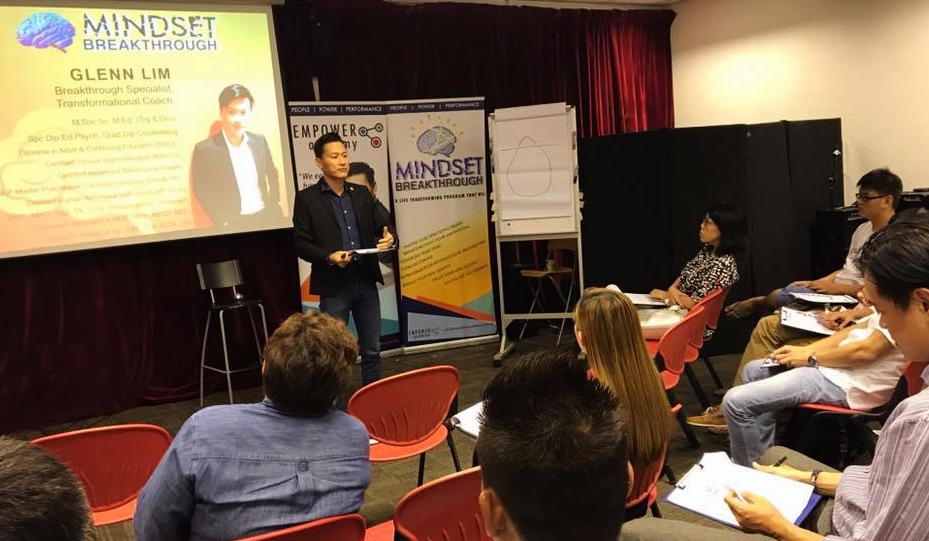 ABOUT THE TRAINER
GLENN LIM (M.Soc.Sc., M.Ed, Dip Ed. Psych, DACE) is a Breakthrough Specialist, Transformational Psychologist & Coach. Since 2006, he has worked with clients stucked in emotional, mental, relationship problems, as well as those struggling in their personal career & finances. Without fail, Glenn observes a common pattern in all his clients - All the resources needed to overcome their issues lie within their minds. And the individual who can successfully calibrate his mind begins to tap into his potential for personal breakthroughs! But in order to do so, one must first understand how his mind works.
HEAR HOW STUDENTS HAVE BENEFFITED FROM THIS PROGRAM
"Powerful, powerful mindset program...that broke my past limiting scripts so that I can pursue my dreams today!..." L. Wei Sian (GM, Finance Industry)
"It's been a liberating journey so far...a lot of removal of emotional baggages that stop me from achieving my potential..." - Jane K. (former Lawyer / Educational leader)
"This is a LIFE-TRANSFORMING program!..." - Alice P. (Assoc Dir / Senior Realtor)
"I'm able to formulate my vision, goals, what I want to achieve...and even find my business partner (all within) 2 days after the program!...all through reprogramming my mindset!" - Peter R. (Entrepreneur)
"I'm impressed with Glenn's dedication to help participants breakthrough their issues systematically...I recommend this to those whose lives are stuck in a rut, not improving, need more confidence, & Breakthru...!" - Doreen W. (Entrepreneur)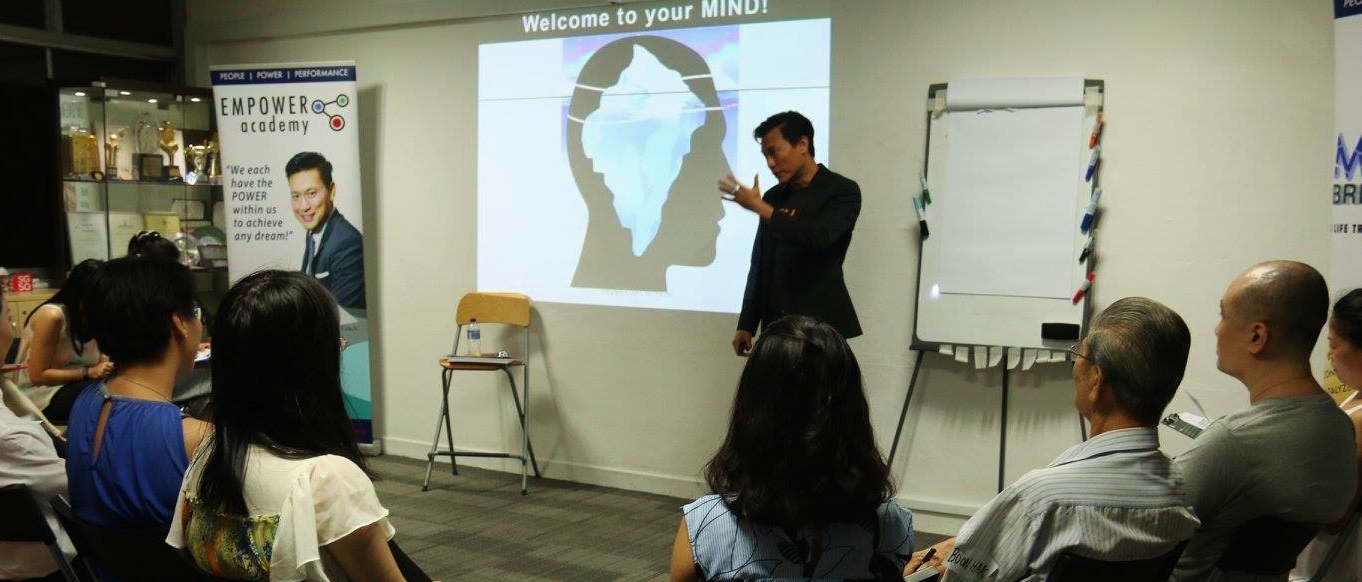 VERY LIMITED SEATS!
Register early to avoid disappointment
We also ask that you please register responsibly i.e. If you sign up, please show up. Otherwise you will be taking a seat from someone else who was able to attend. We seek your kind understanding.
Please text / call 9299-4148 for queries.