Description
~✶~ You are invited to Calgary Tantric Speed Dating ~✶~
This is an opportunity for you to meet like-minded, open-hearted people and create deep fulfilling connections with others who are open to dating or exploring the possibility of forming a relationship.

Tantric speed dating is a unique approach to dating that bypasses the typical humdrum and cuts straight to what matters: making meaningful connections with people who see us for who we truly are - beyond the job titles and the superficiality of typical dating events.

Carefully crafted using Tantric Principles of energy, presence, and the 5 senses - Tantric Speed Dating allows you to experience the pleasure of meeting someone for real, without masks and without games. All In a safe space where your essences are gently brought to the surface and celebrated.

The evening is a unique fully facilitated experience – a light and playful blend of Tantra class & speed dating event, done in a puja-style. It's a wonderful place to start if you're new to Tantra. And a great place to network with resonant folks if you're a long-time traveler on the path.

There's no comparison between Tantric Speed Dating and a regular speed dating event. People often tell us that getting dating matches is a bonus - and the experience itself is more than worth it!

This event doesn't involve any nudity or sexual activity. You don't need any experience or knowledge of Tantra to attend. All are welcome.

Please bring an open heart, playful mind, and a healthy dose of curiosity :)

~✶~ CONSCIOUS INVESTMENT ~✶~

$40 Early Bird - First 5 tickets
$45 Regular
$55 Cash at the door (tickets at the door are not guaranteed)

Please note: Limited Space available, and we often reach full capacity - get your ticket early! ♥

Save your spot here: https://calgary-tsd.eventbrite.com

To save on fees you can send E-transfer/Paypal ($45):

✶ E-transfer: angela.bladon@gmail.com
✶ Paypal: https://www.paypal.me/AngelaBladon (send as friend/family, or add 3% to cover the fee)

Please add a comment to the e-transfer stating your name, the date of the event you plan to attend, and your email address (I will send you a confirmation email).
-----------------------------------------------

~✶~ DETAILS ~✶~

TIME: Doors open at 6:30pm, registration is complete by 7. The event starts at 7:00pm sharp.

** ARRIVE ON TIME **
Make sure to arrive by at least 6:45! If you haven't been to the Scarboro Community Centre before check it on google and map your your trip in advance.

Why? This event almost always sells out and there will be people waiting to take your spot. IF YOU ARE NOT THERE BY 7:00 YOUR SPOT MAY BE GIVEN TO SOMEONE ELSE. That's because for this to work, we need to have an even number of men and women in the room. It breaks our heart when people miss out because they didn't plan well.

LOCATION: The event is happening at Scarboro Community Centre, 1727 14 Ave SW, Calgary, AB. The doors and a large parking lot are located on the South side, beside the tennis courts - which is accessible via 15th Avenue. Please use the parking lot, as we don't want to take up the residential parking spaces on the street.

DATER CHECKLIST:

* Wear comfortable clothes that you can move freely in
* Bring a Water bottle (to stay deliciously hydrated)
* Bring a pen (so you can keep track of your dates!)
* Bring a cushion to sit on (for your comfort, of course)

Because we are exploring presence and authentic communication and subtle energies, it is important to be your au naturale self - no drugs or alcohol before the event please!

This is a scent free event, please be mindful and avoid strong scents/perfumes.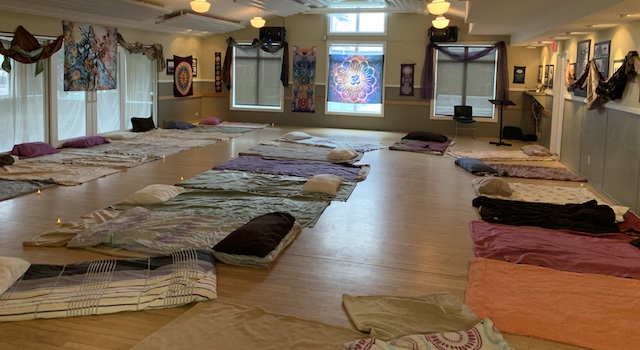 -----------------------------------------------

~✶~ FAQ ~✶~

WHAT IS TANTRA?
Tantra is a way of living. It is a set of tools, practices and perspectives that you can apply to all areas of life. The Tantric path is a spiritual journey that worships and honours all aspects of being: A unity of polarities, a practice of non-duality. Tantra is a path of presence, deep awareness and mindful living that recognizes pleasure as the gateway to our true essence and power. Those who feel called to practice Tantric living are those who choose to do relationships and life in a new, more conscious, way.

WHAT IS THE AGE RANGE?
Tantric speed dating has been designed for people between the ages of 25 and up. The range is broad because the focus of the event is to reveal the inner levels of maturity and evolution, which is rarely reflected by calendar age. We do find the average age range for Tantric Speed Dating tends to fall between 30 – 50 with some people coming in higher and some lower. Generally, people have to get to a certain point of maturity before they are even interested in connecting in these deeper more meaningful ways.

HOW IS THE EVENT RUN?
Tantric Speed Dating is like a cross between a speed dating event and a Tantric Puja. Each date is a fully facilitated experience. You will learn fun new ways to perceive people and determine compatibility. The exercises we will do are designed to bring you into presence with yourself, your heart and the person you are connecting with. The exercises are non-sexual in nature and will leave you in a beautiful, heartwarming space.

WHAT IF I DON'T WANT TO DO AN EXERCISE?
At the very beginning we will establish intention, guidelines and boundaries so that every person feels fully honoured and supported in moving only as fast and as far as their own sense of safety permits. No one is required to do anything they don't want to do. Personal boundaries are honoured and respected. Each person is encouraged to only participate at the level that feels most nourishing to them.

DO YOU ACCEPT PAYMENT AT THE DOOR?
We will accept cash at the door ($55) but in order to guarantee your spot you'll need to register in advance. This is because we need to ensure that we have an equal number of men and women to balance the dates.

WHAT HAPPENS IF I CANCEL, DON'T SHOW UP, ARRIVE LATE, OR LEAVE THE EVENT EARLY?
Please be advised that just like any event ticket purchase, there are NO refunds or credits of any kind if choose not to attend or leave the event early. All registrations are final. *Please appreciate that last minute cancellations, leaving in the middle of an event and "no shows" impact others' participation.

IS THIS EVENT SUITABLE FOR THOSE IN A POLYAMOROUS RELATIONSHIP?
Yes! the event is open to both single and poly people. :) Transparency is part of the night and daters will have a chance to share their relationship status.

IS THE EVENT LGBT+ FRIENDLY?
This is a totally inclusive event - just be aware that in this version, women will be matched with men and men with women. We have plans to host a LGBT+ friendly dating event in the near future! Join the mailing list by emailing angela.bladon@gmail.com to be kept in the loop.

CLICK HERE FORE MORE DETAILS & FAQ'S

-----------------------------------------------

~✶~ About the Facilitator ~✶~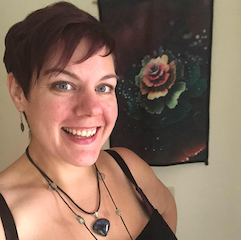 Angela Bladon is an Empowerment Practitioner: A Life & Relationship Coach, Community Builder, Tantra Facilitator and mom of 3 children from Calgary, Alberta. She offers guidance and support to people who want to live fully and love deeply from a place of pleasure, power, and ease. Angela builds conscious loving communities, and is known for her ability to hold space for authenticity and vulnerability.

Angela's educational background is in Psychology and Philosophy. She has over a decade of experience in Mental Health, Social Work, and Crisis Counselling. Angela has also been trained and mentored by expert/master level Relationship Coaches, Sex Educators, Energy Practitioners, and Tantra Teachers from all over the world.

As a leader in the Calgary Tantra community, Angela has spent the last 5 years inspiring and empowering people by teaching skills, tools, and insights that make room for healing, connection, and growth. She does this in her everyday life, through the transformative experiential group workshops and events she facilitates, and in the one-on-one sessions she offers to individuals and couples.

Angela offers Cuddle Party workshops, Embodied Bliss Tantric Cacao Journeys, Tantric Temple Pujas, Tantric Speed Dating, Meet, Connect & Mingle community gatherings, Coaching sessions, Therapeutic Cuddle sessions, Energy work, and high vibrational jewelry.

To schedule a free 30 minute exploration session with Angela:
http://numinouscreations.setmore.com

Stay connected with Angela through her Facebook page: Numinous Creations

See all upcoming events here:
https://www.facebook.com/NuminousCreations/events

Meetup Pages:
* https://www.meetup.com/Calgary-Cuddle-Party
* https://www.meetup.com/Calgary-Connections
* https://www.meetup.com/Journey-Into-Tantra

-----------------------------------------------
~✶~ Testimonials ~✶~

"Angela has a very warm, welcoming, and inclusive presence. Via the work of her and her team, they are able to create a warm and loving space. This space allows great transformation and beauty to flourish. ~ Carmen

"Lots of personal insight, great exercises for discovery, and connections with people. Angela and Heidi did an awesome job & really lead by example. Thank you!"

"Angela is such a beautiful spirit. She has opened my eyes to see the beauty in everyone"

"Very nice event, expertly hosted. Lots of interesting people and some challenging and fun games."

"Sooo impressed with Angela as a facilitator and space holder... so very genuine and heartfelt and magical!!"

"Angela is a gifted facilitator who embodies and practices what she teaches and is amazing at holding space for others in their transformational process." ~ Candice