Description
You are invited to a Cuddle Party! Join us!
Cuddle Party is a 3 hour workshop experience where participants engage in communication exercises, explore touch in a non-sexual space, experience personal exploration and intimacy, and have fun with like minded friends from the community.

Nurturing and consensual loving touch is good for maintaing healthy blood pressure, a strong nervous system and a balanced emotional health. One's ability to connect with and develop greater trust in others is emphasized during the group exchanges during the Cuddle Party. Self-care is a cornerstone of Cuddle Party experience.
Cuddle Party is a formal, non-sexual event. It is a holistic, social environment, that attracts fascinating people from all walks of life. It provides a special and unique opportunity for connection, learning and growth. Cuddle Party creates a safe place to give and receive non-sexual touch in a fun and affectionate setting.
You can come to a Cuddle Party to meet new people, to enjoy amazing conversations, to touch, to be touched, to have fun, to practice asking for what you want, to practice saying "no" to what you don't want — all in a setting structured to be a safe place for exploration and enjoyment. Shucks, you can even come to a Cuddle Party just to cuddle!
Cuddle Party lets you:
* Learn clear and easy ways to communicate
* Set limits simply and straightforwardly
* Give and receive enjoyable non-sexual touch in a safe setting, where your boundaries are respected.
At a Cuddle Party you gain:
* Clarity and confidence
* Boundary and communication skills
* Comfort, support and encouragement
* The secrets to welcome, relaxed, non-sexual touch
The skills you learn at Cuddle Party translate into every day life, right from the start. When boundaries and consent are clear, every relationship is easier.
We open with a Welcome Circle - about 1 hour for everyone to introduce themselves, to go over the 11 cuddle party rules, and to participant in a few ice-breaker exercises to help everyone get comfortable. We teach communication and boundary skills in ways that are lighthearted and fun.
Then we open up for 'free-style' cuddling. You have plenty of time to relax, share a hug, give or recieve a back rub, have a conversation, snuggle up with friends new and old, draw, journal, laugh, practice saying 'No', or just unwind after a long day.
Typically, people enjoy foot-rubs, back rubs, spooning, nuzzling, and just generally snuggling up together. Some people like to settle in for a period of time, others like to try shorter times with a variety of people.
At the end, we close with a short closing circle.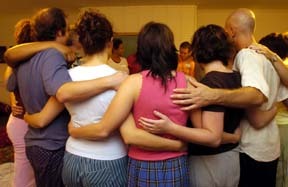 ---
Want to join us? Awesome! Here are the event details:
This cuddle party is being facilitated by Angela and Amber, who is mentored by Rovena.
TIME: Doors open at 6:30pm, registration is complete by 6:50. The doors are locked and event starts at 7:00pm sharp. The cuddle party comes to a close at 10pm.

ARRIVE ON TIME: The opening Welcome Circle is for introductions and to go over the rules of Cuddle Party. This is an important aspect of the Cuddle Party experience and creates a safe container for all participants. It is essential that everyone be on time.

LOCATION: Unitarian Church: 1703 1st Street N.W. We are holding the event downstairs, in Room 1. There is an accessibility ramp for wheel chairs. Please use the side door (off of 1st street). You will see a "Cuddle Party" sign on the door.
PRE-PAY ONLINE: $25 +fees
PAY AT THE DOOR: $35 (if spots still available)
WHAT TO WEAR: Pajamas (Think less lace, more flannel. No lingerie.), onsies, comfy clothes, or yoga wear. There are large private bathrooms that you can use to change in at the location.

WHAT TO BRING: Please bring a pillows, and blankets/mats to contribute to our cuddle space for the evening! The floors are linoleum, but if everyone brings something soft to lay on, we will be very comfortable! Please also bring a water bottle, and a snack for yourself (or to share with the group) if you would like. :)
---
For more information please visit http://www.cuddleparty.com/
---
Angela Bladon is a Community Organizer, Cuddle Party facilitator and a mom of 3 children. She is educated in Psychology (with a thesis in social cognition), and has experience in Mental Health, Research, Social Work, and Crisis Counselling. Angela became part of the Calgary Tantra community in 2014, where she started working with and became mentored by its founder: Rovena Skye. Since joining, Angela has attended and assisted in the planning, organization and facilitation of more than 100 workshops on vulnerability, managing emotional triggers, fearless relating (with self, others, and the world), conscious relationships, compassionate communication, and sacred sexuality. Through these experiences, Angela has also had the pleasure of meeting and learning from expert and master level Relationship Coaches, Sex Educators and Tantra teachers from all over the world. Angela is passionate about supporting people, and creating positive and meaningful social changes in society. One of her favourite ways to do this is by facilitating Cuddle Parties, where people are offered an opportunity to connect with others and become empowered by learning about and practicing boundary setting, communication skills, and self-care.
Amber is a (mostly) happy-go-lucky nugget of light and love. As warm and translucent as the colour, she is an authentic and enthusiastic creator who is in love with life and humanity. Amber is hopelessly optimistic, an entrepreneur who doesn't believe in the word "cannot." An avid knitter of sweaters and lover of her gorgeous cat, Abby, Amber is a former world traveler who's seen her share of war zones - both literal and self created.
A self-professed Cuddle Monster, Amber has been attending Cuddle Parties since they first came to Calgary. She is thrilled to be now facilitating these monthly with co-facilitator, Angela Bladon. Amber hopes to always bring her playful energy, compassionate heart, and genuine compassion to helping others by creating safe learning spaces for all. Though high on life, Amber can often be found at the bottom of a Cuddle Party 'puppy pile.'
To learn more about these communities and the workshops offered:
https://www.meetup.com/Calgary-Cuddle-Party/
https://www.meetup.com/Calgary-Tantra/
https://www.facebook.com/CalgaryTantra/
https://www.facebook.com/CalgaryCuddles/
---
Testimonials from others who have attended:

"Thank you so much for the chance to attend the cuddle party. I have been in a state of bliss ever since. The human contact, the respectful people in the group it was all amazing. The comfort for a man going through a divorce was amazing. Being able to approach women when your nervous about dating was awsome too. No stress, no pressure just approach anyone for a cuddle or hug. I hope to attend as often as possible."- anonymous

"I had the opportunity to go to a cuddle party hosted my Angela and Amber. At first I wasn't sure what to think, but as the evening progressed I was relieved to feel as safe as I did. Both Angela and Amber provided the best experience of feeling truly nurtured in the safe container of sacred space. There was no obligations or judgments from anyone and I felt very comfortable to laugh, cry and just be held safely. It was a beautiful experience that I would recommend to anyone!! Thanks again to you both for creating this space of compassionate energy! Much love." - anonymous