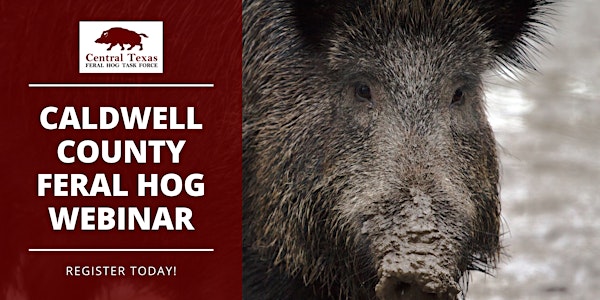 Caldwell County Feral Hog Webinar
Join the Central Texas Feral Hog Task Force for the latest on feral hog management in Caldwell County and across the state!
About this event
Join us on Tuesday, July 28th at 12:00 PM for an informational webinar covering the latest information on feral hog regulations, management measures, and resources in both Caldwell County and across the State of Texas.
To attend, register for this free event and check your email inbox for the link to join.
Agenda
1. Introduction - Nick Dornak, Director of Watershed Services - The Meadows Center for Water and the Environment
2. Feral Hog Impacts and Abatement Along with the Latest Updates on Research and Regulations - Josh Helcel, Project Coordinator TAMU – Natural Resources Institute
3. Local Updates and the Virtual Bounty Program – Nick
4. Your Local and Statewide Questions Answered – Nick and Josh
5. An Insider Guide to NRI's Latest Online Tools and Resources - Josh
To submit your questions ahead of the webinar and be sure they get answered by the expert, send your email to feralhog@txstate.edu with the subject line "Caldwell Co. Webinar."
Funding
Caldwell County has pledged $5,000 and received $20,000 through a grant program from Texas A&M AgriLife Extension Service, Wildlife Services to continue countywide feral hog abatement efforts. Caldwell County's feral hog program for 2020 will include a five-dollar feral hog bounty, educational programming, 14.25 hours of aerial control, a countywide damage assessment and free coral trapping equipment for three local participants. The Caldwell Co. bounty program is budgeted to cover 2,000 wild pigs.
Partners
Central Texas Feral Hog Task Force
Plum Creek Watershed Partnership
Texas A&M Natural Resources Institute