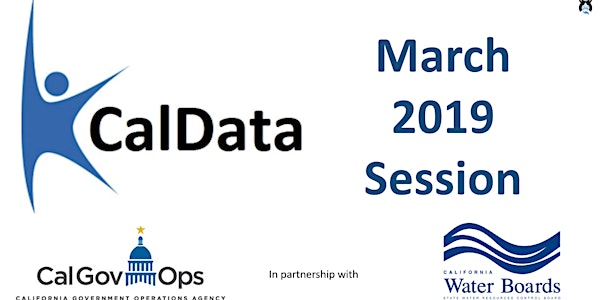 CalData Quarterly- March Session
When and where
Location
CA Library and Courts Building 914 Capitol Mall, Room 500 Sacramento, CA 95814
Description
Welcome and Updates
Stuart Drown and Angelica Quirarte from CA Government Operations Agency
You will hear updates on items such as the draft Open Data Handbook, the Open Data Policy, and updates on projects that have been introduced previously in this forum.
Data Science Success Stories from Southern California
Special guests: Patrick Atwater, Vyki Englert and Hunter Owens
This presentation will feature case studies on how data has been used to modernize government operations from the City and County of Los Angeles along with the Southern California water community.


CalEnviroScreen Enahncement Project Overview
Walker Weiland -Community Assessment and Research Section at OEHHA
Walker Wieland with the Office of Environmental Health Hazard Assessment (OEHHA) will give an overview of the National Environmental Information Exchange Network Grant Project that is being led by OEHHA and CalEPA, with support from the CalEPA Open Data Steering Committee. The Grant project will provide data accessibility and usability enhancements to their existing CalEnviroScreen system.


Updates to CalEPA's Regulated Site Portal
Manoj Beeravelli, manager for the CalEPA Technology Services Unit
Manoj Beeravelli with CalEPA will highlight recent changes to the Regulated Site Portal. This system displays data from a number of databases housed within CalEPA boards and departments. The recent changes allow data from the portal to be served via a geo server.


Break & Networking


Making Water Data Open
Debbie Franco, Governor's Office of Planning and Research
Water Board, Making Water Data Flow Uphill, State Water Resources Control Board
Greg Gearheart, Deputy Director, lead of the Office of Information Management and Analysis
Rafael Maestu - Economist and Chief Data Scientist in the Office of Information Management and Analysis
Rasik Hussain- Executive Fellow

Open Data Principles, Inventory, Interviews, strategy for Inventory and Interviews

WB Data Innovation Team
Dept. Of Water Resources
Chris McCready, DWR AB1755 Program Manager
Update on AB1755

Water Balances / Use Cases


Department of Toxic Substance Control (DTSC) Fire Related Data
Billy Ferguson, Solutions Manager in the Application Development and Support Unit at DTSC.


Air Resources Board's Community Monitoring Web Mapping Application
Taylor Helgestad, Air Resources Engineer and lead for the AQView project


Wrap Up and Q&A