Description
CalConnect : The Calendaring and Scheduling Consortium
This workshop will take place during this prestigious confernece on Wednesday afternoon 14 June 2017, from 2:00 to 6:00 p.m. with a break from 3:30 to 4:00 p.m.
The venue will be the conference room at Galvanize where the CalConnect Conference is taking place; see CalConnect XXXIX for general information and location.
Please register in advance by e-mail to the Executive Director specifying the number of people, names, and organizational affiliation, at Dave.Thewlis@calconnect.org
The workshop will be open-format with plenty of time for Q&A, discussion, etc. The general format and possible topics are noted below.
Please note that it is our intent to focus on calendaring and on scheduling from a functional perspective in the context of what customers want, and what suppliers need to offer.
Workshop Topics
Overview: Why are calendars and scheduling so important and much more than just organizing business meetings?

The distinction between calendaring and scheduling
Why are calendaring and scheduling important to your business?
Some areas of calendaring and scheduling of particular significance
Events/ics/VCARD: digital representation of Calendaring and Scheduling and usual ways to exchange information
Date & Time: fallacies about Date & Time - importance of timezones
Non-Gregorian calendars: leap days, leap months, negative days, recurring events
QR Codes: Other ways to provide calendaring information to customers/users.
Location-enabled events: Alarms firing on leaving or entering areas
Recurring events: frequencies, start of week, overrides
Availability versus freebusy; consensus scheduling
Marketing through Calendaring and Scheduling
Examples from members
General Q&A panel - questions, work issues, business possibilities for discussion by group
Following the close of the workshop, attendees are invited to stay for a Welcome Reception on premises.
If you have any questions, please feel free to contact Dave Thewlis or our host, Bryan Otis, for more information.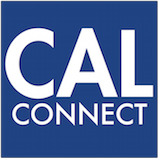 About our Sponsors
Your Organization's Master Calendar
Tandem is used by organizations to schedule rooms, groups, teams, events and equipment, all in one place. It's the central calendar that your entire staff can use to make sure every event is scheduled and nothing is double-booked.
Galvanize is the premiere dynamic learning community for technology. With campuses located in booming technology sectors throughout the country, Galvanize provides a community for each the following:
Education - part-time and full-time training in web development, data science, and data engineering

Workspace - whether you're a freelancer, startup, or established business, we provide beautiful spaces with a community dedicated to support your company's growth

Networking - events in the tech industry happen constantly in our campuses, ranging from popular Meetups to multi-day international conferences
To learn more about Galvanize, visit galvanize.com.