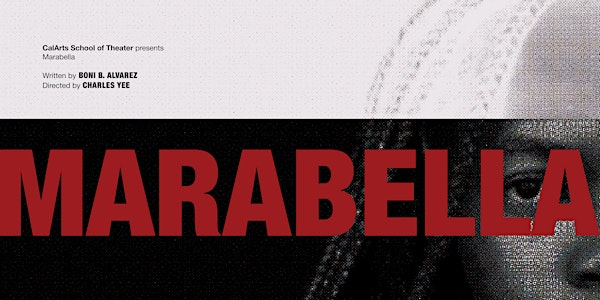 CalArts School of Theater presents: Marabella
California Institute of the Arts School of Theater Presents: Marabella
When and where
Location
E407 24700 McBean Parkway Valencia, CA 91355
About this event
Marabella
Written by Boni B. Alvarez
Directed by Charles Yee
A modern-day adaptation of Euripides' seminal tragedy, the titular character of Medea is transformed into Marabella Puro, an immigrant nanny stowed away by her boss in an apartment in Pacoima after becoming pregnant with his child. Marabella explores what it means to be a female immigrant in the U.S. today: the hardships, sacrifices, and concessions that must be made to survive, be accepted, and be loved, all while being made invisible in plain sight.
Performances
Friday, December 3rd, 8:00 PM
Saturday, December 4th, 2:00 PM
Saturday, December 4th, 8:00 PM
Tuesday, December 7th, 8:00 PM
Wednesday, December 8th, 8:00 PM
Thursday, December 9th, 8:00 PM
Friday, December 10th, 8:00 PM
Saturday, December 11th, 8:00PM
Location
E407
California Institute of the Arts
24700 McBean Pkwy
Valencia, CA, 91355
Running Time
1 hour 30 min
Cast
Marabella: Chisom Diana Dimiri
Jason: Lucas Brahme
Gordon: Jake Olson
Leighton: Clay Hollander
Dolly: Chloe Le Lievre
Regina: Krystal Gem
Fina: Alejandra Jaime
Valentina: Alexandra Tejada
Galina: Gala Nikolic
Creative Team
DIRECTOR: Charles Yee
DRAMATURG: Grace Leneghan
DRAMATURG: Ruth Johnson
SCENIC DESIGNER: Qingyun Zhang
COSTUME DESIGNER: Emerson Bualat
LIGHTING DESIGNER: Grady Schleuder
SOUND DESIGNER: Jack Weiss
ASST. SCENIC DESIGNER: Manasa H M
ASST. COSTUME DESIGNER: Nishtha Tyagi
ASST. LIGHTING DESIGNER: Robert G. Hill-Guarino
INTIMACY DIRECTOR: Emily Barasch
FIGHT CHOREOGRAPHER: Edward Monaghan
GRAPHIC DESIGNER: Rafael A. López
STAGE MANAGER: Irene Dong-hee Lee
ASSISTANT STAGE MANAGER: Lanae Wilks
ASSISTANT STAGE MANAGER: Clara King
PRODUCTION MANAGER: Chris Swetcky
PRODUCER: Brooke Harbaugh
ASSOCIATE PRODUCER: Alexa Orovitz
ASSOCIATE PRODUCTION SUPERVISOR: Katherine Paez Froehlich
TECHNICAL DIRECTOR: Michael Darling
TECHNICAL DIRECTOR: Shaurjya Banerjee
Please Note
There will be no intermission, no late seating, and no re-entry.
Please arrive 30 minutes before showtime for COVID check-in process before proceeding to the venue.
Unclaimed tickets will be released to the rush list 15 minutes prior to curtain.
This production contains the use of haze and vape pens.
The Box Office is located just inside the 3rd-floor entrance of the main building.
No filming or photography of any kind is allowed in the theater.
No food or drink is allowed in the theater, with the exception of bottled water.
Content Warning
This production contains sexual violence and violence against BIWOC (Black, Indigenous, Women of Color). It depicts the intersectional oppression from misogyny, racism, and abuse of power related to immigration and economic statuses. Recommended for mature audiences only.
Allergy Warning
This show contains GLYCOL based aerosol haze. If you have a GLYCOL allergy it is strongly recommended that you do not attend this performance.
COVID Policy
Masks are required at all times inside the building.
In order to create an artistic and learning environment that is as safe as possible, General Visitors (such as event and exhibition participants, audiences and others) are asked to be vaccinated before coming on campus. General Visitors are also asked to check in when arriving on campus, show their proof of vaccination, obtain and wear a visitor badge, and wear a mask at all times.
Proof of full COVID vaccination or proof of a negative test result within the last 72 hours before the performance is required.
CalArts Students, Faculty and Staff must present their current CalArts ID along with their ticket reservation for admission to the theater.