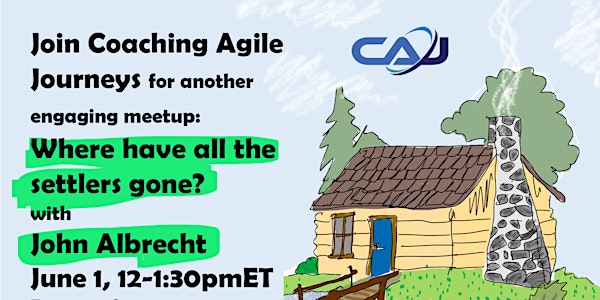 CAJ 048-John Albrecht-Where have all the settlers gone?
Where have all the settlers gone?
By Coaching Agile Journeys
Date and time
Monday, June 1, 2020 · 9 - 10:30am PDT
About this event
A Talk/Workshop to explore different motivations within organisations. What are the motivations behind individuals' actions and what can we do to better understand and work with all the people in our organisations?
Working with teams in a variety of organisations I have noticed repeating patterns, behaviours and outcomes. People are so often pulling in different directions creating frustration rather than collaboration. A dive into shadow, projection transactional analysis, ego states, drama triangles and how there is an interplay with the scripts and games within our organisations and an exploration of the biggest game of all
What roles do we play and what options do we have to move forward and away from drama?
About John:
I'm an independent coach and scrum master who started out my professional journey as a software developer. What I enjoy the most is working with people, exploring different ways of working that works best for team and situation. It feels like I have travelled an incredible journey and I continue to travel a little further each day. I get excited about the opportunity of what can be and find surprise in how much more is possible when we step back a little.
About the organizer
We are a group committed to living our agile journey to the fullest. We are dedicated to finding highly focused topics that help escalate development in each of our Agile Coaching journeys.  The focus is strictly, Agile Coaching.  We are interested in Transparency, Inspection and Adaption. Our goal is to find topics that Agile Coaches tend to be routinely challenged with and open up questions, answers and discussions that can help provide new perspectives to these often difficult or intriguing scenarios and/or thought processes.  We also want to surface budding Agile Gurus and give them a forum to present topics or coaching methods or new ways of thinking so we can discuss and evolve these philosophies. We grow as a strong, tight-knit community of agile practitioners who have a drive to excel at our craft of coaching others in the artform that is agile excellence. Come and join us in our agile journeys and take an active part in writing your own.
Visit coachingagilejourneys.com for more information and to register to receive updates from us.