Event Information
Location
National Cultural Complex
Cairo Opera House grounds
Cairo, Al Qahirah
Egypt
Description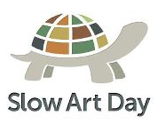 National Cultural Complex
(Grounds of the Cairo Opera House)
Meeting point: Fountain in front of museum at 10:30 AM
Art viewing: 10:45 AM - 11:45 AM
(Free)
Lunch: 11:45 AM - 12:45 PM at Bocelli
(drinks 10-20LE; sandwiches 25-30LE; meals ~50LE)
Host: Luiz Mello and Peter Duckett
mello.luiz@gmail.com
Slow Art Day is a worldwide celebration of art that encourages people to look at art SLOWLY – and thereby experience art in a new way. You can see more about Slow Art Day and the mission behind it on our website: http://SlowArtDay.com.
As Slow Art Day approaches, you'll hear from your host with more information, as well as instructions about what to do when you arrive for Slow Art Day.
More info about Slow Art Day movement: facebook | twitter | tumblr
DIRECTIONS FROM MA'ADI:
By metro: take the metro on Road 9 towards downtown (use the overpass) and get off at Sadat station. It's the second station after the metro goes underground. Surface at Tahrir Square and walk across the bridge. You'll see a gate that leads into the grounds of the National Cultural Center, with the Opera House directly in front of you. 1LE each way, 30-40 minutes.
By taxi: Take a taxi to the Opera House. 20-30LE each way, 30-40 minutes.
Date and Time
Location
National Cultural Complex
Cairo Opera House grounds
Cairo, Al Qahirah
Egypt