Event Information
Location
205 Metcalf Street
Conroe, TX 77301
Description
Caiden's Hope Foundation had so much fun at the Inagural Road Rally For Preemies in October, 2018, we decided to have another Road Rally Fundraiser Saturday, May 4, 2019.
The Road Rally will depart from 205 Metcalf Street, Conroe, Texas at 12:00pm and you should be enjoying the party no later than 3:00 pm. This year's event will be much shorter, but twice the fun! Grab your friends and join Caiden's Hope Foundation at this years Road Rally!
And this year Caiden's Hope Foundation is telling you where the Finish Line will be! So just in case you can't make the Road Rally you can still enjoy the afternoon and evening with family and friends at B 52 Brewery in Conroe, Texas. Now don't get any ideas that you can just find your own way out to B52. If you do, you won't be able to answer all the questions - or even some of the questions - and you certainly won't win the grand prize!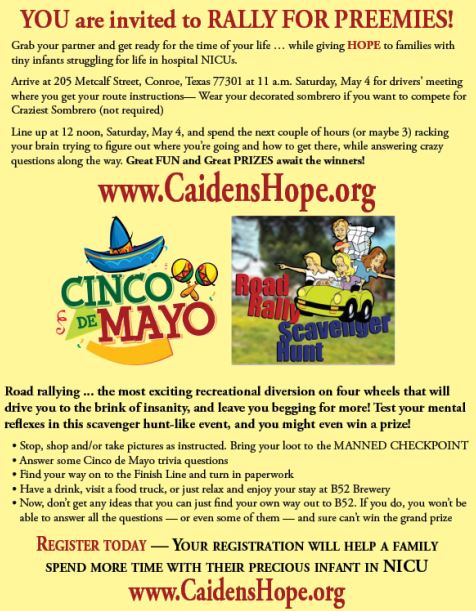 Date and Time
Location
205 Metcalf Street
Conroe, TX 77301