Sales Have Ended
Ticket sales have ended
Sales have ended for this event. Visit www.columbusahu.org for more information. Join Our Facebook Group; https://www.facebook.com/groups/1514839588824888/ Join Our Linkedn Group: https://www.linkedin.com/groups/7033476 Follow us on Twitter: @ColumbusCAHU Please spread the word and share information about our event, use #cahuexpo2018 #cahuexpo2018
Sales Have Ended
Ticket sales have ended
Sales have ended for this event. Visit www.columbusahu.org for more information. Join Our Facebook Group; https://www.facebook.com/groups/1514839588824888/ Join Our Linkedn Group: https://www.linkedin.com/groups/7033476 Follow us on Twitter: @ColumbusCAHU Please spread the word and share information about our event, use #cahuexpo2018 #cahuexpo2018
Description


Join us as the Columbus Association of Health Underwriters charts a course for our Annual Expo on March 6th, 2018. We have curated a list of the best speakers and change leaders in our industry to deliver practical solutions to the ever changing problems that our members face.
Employee benefit firms are facing unprescented uncertainty, rapid and frequent disruption, increasing competition, and more client demands than ever before. Your ability to navigate change in these murky waters will be the difference between those who thrive and those who perish.
Attendees will benefit from a 4 CE master course that will help your firm;
Increase Revenue

Neutralize Competition

Accelerate Profitability

Deliver Unparalleled Value
AGENDA
8:30am Registration with Continental Breakfast & Booth Vendor Visits
9:00am-10:00am Matthew Byrne President of Sprialight Group (Member of OH AHU)
(Topic: The Future is Now: CRM Workflow, Automation and Integration Are Agency Game Changers)
10:00am-10:30am Booth Vendor Scavenger Hunt & Silent Auction to benefit Pink Ribbon Girls.
10:30-11:30am Reid Rasmussen CoFounder & CEO freshbenies (Member of TX AHU)
(Topic: Alexa the Broker: How Artificial Intelligence Will Change Healthcare) (1CE Pending)
11:30-12:30pm Major Sponsor Speed Networking Lunch
12:30-1:30pm Chad P. Schneider Director of Jellyvision (Member of IL AHU)
(Topic: Benefits Communication & Enagement) (1CE Pending)
1:30-2:30pm David Contorno President of Lake Norman Benefits
(Topic: Meet the Bernie Madoff of Healthcare: Provider Networks) (1CE Pending)
2:30-3:00pm Booth Vendor Scavenger Hunt & Digital Giving + 50/50 Raffle to benefit Pink Ribbon Girls.
3:00-4:00pm KeyNote: Mr. Kevin Trokey, Founder of Q4intelligence (Member of MO AHU)
(Topic: Keynote Address) (1CE Pending)
4:00-4:30pm Chapter Awards Ceremony
---
Free Admission with New CAHU Membership!
Your colleagues at CAHU are giving FREE EXPO admission to anyone who joins CAHU/NAHU. This is an $89 value! ONE MEMBERSHIP gets you into THREE ORGANIZATIONS! This is a no-brainer, folks!
Once your new membership is confirmed, we will send you a discount code that will get your registration at no charge.
---
Speaker Bios:
Matthew Byrne has made a career helping people find affordable health insurance.
He is the founder of Spiralight Group Benefits (https://www.grouphealthohio.com/), a Dublin Ohio-based brokerage providing comprehensive insurance, HR consulting and compliance solutions for small- to mid-size businesses. Mr. Byrne is also the President of MyHealthQuoter.com (http://www.myhealthquoter.com/) a website catering to individual and family insurance coverages. Matt has a Bachelor of Arts degree from Boston University and holds a life and health insurance license. He serves as Treasurer on the executive board of Columbus chapter of the National Association Health Underwriters. Mr. Byrne is a subject matter expert speaking frequently about Health Care Reform, Employer Health Plan Affordability Programs, Self-Funded Solutions and is frequently quoted in national publications such as CNN Money Magazine, Kasier Health News, U.S. News and World Report and The Wall Street Journal.
Reid Rasmussen is a 25-year healthcare veteran. Free-market health reform advocate. Innovator. Writer. Coffee addict. Ex-Canadian & now a proud American! Reid grew up in Canada, where he received a Health Administration degree and formed his opinions about government-run health care. In 1991, he escaped to America and worked in both sales and management for two medical insurance companies (Group Health Cooperative and Regence BlueShield) and two general agencies (BenefitPort and BenefitMall). Reid saw some of the Canadian trends find their way into American healthcare. He so believed the industry would need new solutions that in 2009 he launched his company freshbenies (https://www.freshbenies.com/) just as Health Reform was ramping up.
Chad Schneider is an insurance industry veteran of 15 years. He is currently a Director of Channel Sales at ALEX by Jellyvision (https://www.jellyvision.com/), Jellyvision is an award-winning technology company whose interactive software talks people through important, complex, and potentially snooze-inducing life decisions - like choosing a healthcare insurance plan, saving for retirement, or navigating a leave of absence - in simple, fun, and engaging ways. He is based in Chicago, IL. Chad previously worked with Aflac for 13 years and was a pioneer of their broker strategy. Chad was the president of the Southern Arizona AHU chapter as well as sat on the Arizona State board for a number of years. He was the NAHU region 7 RVP and sat on the National Board of Trustees. Chad was a co-founder of NAHU's Vanguard Council on a national basis and is the immediate past NAHU national media chair. He is currently re-launching a new NAHU Downtown Chicago chapter in 2017.
Kevin Trokey is the Founding Partner of Q4intelligence (https://www.q4intel.com/), a marketing and sales enablement firm committed to the preservation and transformation of the independent agency system. He writes prolifically regarding the many challenges being faced by today's agencies, providing guidance to overcome those challenges. He is a frequent industry speaker and was recognized by the National Association of Health Underwriters as their speaker of the year in 2016. Kevin is currently serving as the National Membership Manager for NAHU and is a past president of both St. Louis and Missouri chapters., Inc. (Member of NC AHU)
David Contorno is President of Lake Norman Benefits (https://lakenormanbenefits.com/wp/), now part of the Hilb Group and one of the employee benefit practice leaders inside this now top 40 largest insurance agency. As a native of New York, David began his career in the insurance industry at the age of 14, and has since become a leading expert in the realm of employee benefits over the last 21 years. The Hilb Group continues to grow organically by ensuring all management is handled locally, providing top notch solutions and supports, and through strategic acquisitions. Among his many accolades, David received a Broker Spotlight in 2004 and was recognized as an outstanding Broker of Service in 2005 through 2014 by Blue Cross Blue Shield. He has continually received the Echelon Award by United Healthcare since 2003, reserved for the top 1% of agents nationally, and was a 2015 "40 Under 40" Award Winner presented by Charlotte Business Journal. Most recently, David was Benefits Selling Magazine's 2015 Broker of the Year and, in March 2016, Forbes deemed him "One of America's Most Innovative Benefits Leaders."
EVENT FLYER: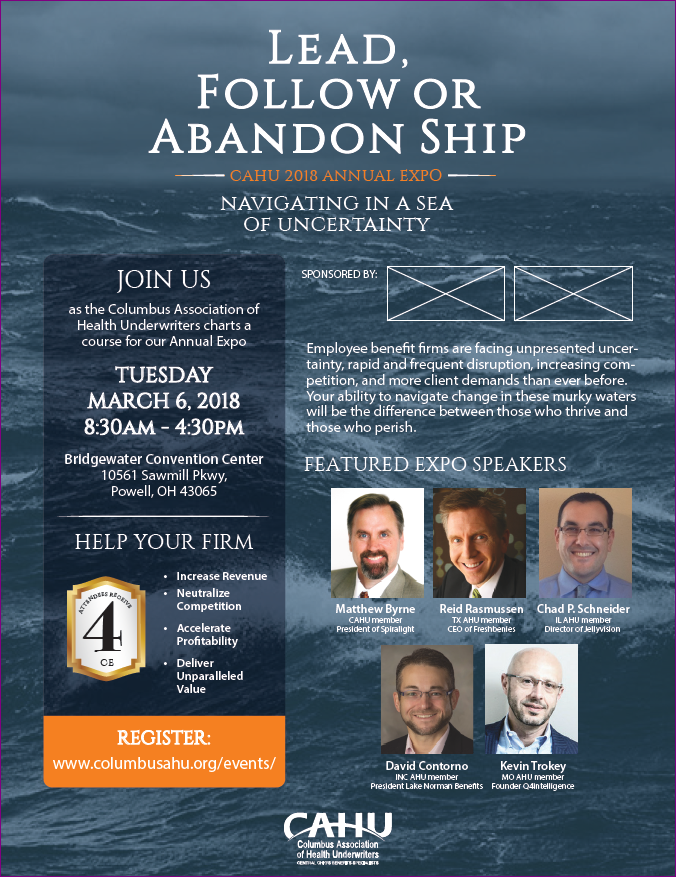 SPONSOR INFO: