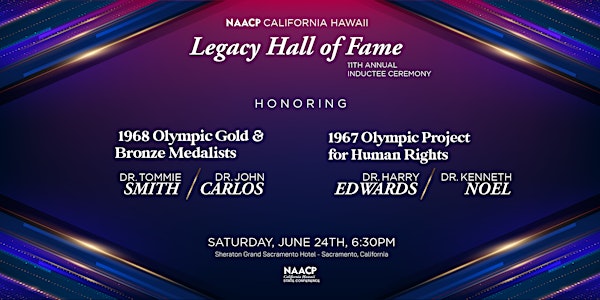 CA/HI NAACP 11th Annual Legacy Hall of Fame Gala honoring '68 Olympians
CA/HI NAACP Honors the Co-Organizers of the 1968 Olympic Project for Human Rights and Olympians at 11th Annual Legacy Hall of Fame Gala
By CA-HI State Conference NAACP
Date and time
Saturday, June 24 · 6:30 - 9pm PDT
Location
Sheraton Grand Sacramento Hotel 1230 J Street Sacramento, CA 95814
About this event
2 hours 30 minutes

Mobile eTicket
11th annual CA/HI NAACP Legacy Hall of Fame
Honoring 1968 Olympic Medalists Dr. Tommie Smith & Dr. John Carlos and the Co-Organizers for the 1967 Olympic Project for Human Rights Dr. Harry Edwards and Dr. Kenneth Noel
Saturday, June 24th 2023 - 6:30 pm - 9 pm
Sheraton Grand Sacramento Hotel - Sacramento, California
Join us in Sacramento, CA on Saturday, June 24 from 6:30 pm to 9 pm to celebrate the 11th annual NAACP California Hawaii State Conference Legacy Hall of Fame! We would be honored for you to join us in honoring the 2023 CA/HI NAACP Legacy Hall of Fame inductees 1968 Olympic Medalists Dr. Tommie Smith and Dr. John Carlos and 1967 Olympic Project for Human Rights co-organizers Dr. Harry Edwards and Dr. Kenneth Noel.
The sacrifices and contributions made in the honor of equity and inclusion took the world stage at the '68 Olympics medal ceremony, where Olympic Gold medalist Dr. Tommie Smith and Bronze medalist Dr. John Carlos raised their fists during the National Anthem in anger of the continued failure of rights, respect and representation for Black people on a global scale, including in the US and South Africa. Both men were stripped of their medals, vilified for their stance and suspended from the US Olympic team. Dr. Tommie Smith and Dr. John Carlos to this day remain unapologetic for their actions.
Dr. Harry Edwards and Dr. Kenneth Noel were co-organizers of the 1967 Olympic Project which was created in response to the civil rights movement and the ongoing struggle for equal rights for Black Americans. Through their activism, they helped spark a national conversation about racial injustice.
Bold actions translate to historic movement in the fight for civil rights and are why we, the CA/HI NAACP, along with our branch leaders, corporate partners and Youth & College Division are honored to ensure the sacrifice and legacy of Dr. Tommie Smith, Dr. John Carlos, Dr. Harry Edwards, and Dr. Kenneth Noel are forever remembered and honored through their induction as the 2023 CA/HI NAACP Legacy Hall of Fame members.
This exclusive event includes: Welcome Reception for Sponsors, Dinner, Legacy Hall of Fame Ceremony hosted by Honorable Roderick D. Wright, CA/HI NAACP ACT-SO Performances.
Legacy Hall of Fame honors outstanding community leaders who have fought tirelessly to advance the civil rights movement. While also creating vital funding for local unit capacity building, youth leadership programs, and NextGen Leadership programs and initiatives.
Event Sponsorship Opportunities
Please contact Executive Director Salena Pryor at spryor@cahinaacp.org for Sponsorship opportunities.
TICKETS
Tables are for 8 guests.
Branch table: An entire table must be purchased by a branch
Non-Branch table: An entire table purchased by others not a part of a branch
Early Bird
Individual: $250
Branch Table: $1250
Non-Branch Table: $1800
Late Registration (starting Monday, June 5)
Individual: $350
Branch Table: $2000
Non-Branch Table: $2500
HONOREES
Dr. Tommie Smith and Dr. John Carlos
Dr. Harry Edwards and Dr. Kenneth Noel
ATTIRE
Cocktail
SCHEDULE
5:30PM - 6:30PM VIP Reception for Sponsors
6:30PM - 9:00PM Legacy Hall of Fame Induction Ceremony
ABOUT CA/HI NAACP
The NAACP's principal objective is to ensure the political, educational, social and economic equality of minority citizens of the United States and eliminate race prejudice. The NAACP seeks to remove all barriers of racial discrimination through democratic processes. This mission is accomplished by seeking the enactment and enforcement of federal, state and local laws securing civil rights, and by informing the public of the adverse effects of racial discrimination. From school desegregation, fair housing, employment and voter registration, top health and equal economic opportunity, the NAACP is working successfully with allies of all races, and plays a significant role in establishing legal precedents in order to improve the quality of life of America's downtrodden.
JOIN THE FIGHT
Our fight for democracy will not stop, especially during unprecedented times like these. To ensure the lives of African Americans and other communities of color remain a priority in the State of California and Hawaii, we need your help. Make a difference that will allow us to continue our work throughout 2023 and beyond. Click here to join the NAACP today.