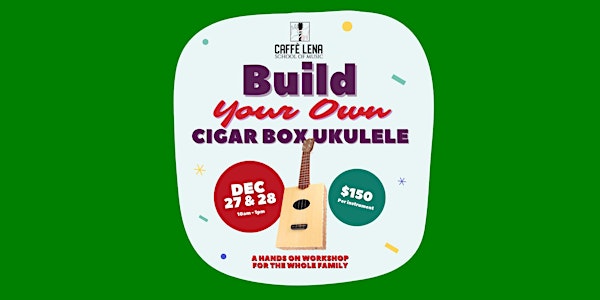 Caffe Lena School of Music: Build A Cigar Box Ukulele!
ALL AGES
a hands on workshop for the whole family
Build your own Ukulele and learn to play at Caffe Lena.
When and where
Location
Caffe Lena 47 Phila Street Saratoga Springs, NY 12866
About this event
In this two-part workshop you will select a box and decorate it to suit your fancy, then assemble all the parts, string it up and learn a few chords and strums.
This workshop will be great for an adult and child, working together to create an instrument that sounds good and is easy to play.
Workshop fee includes:
Ukulele kit (next, bridge, saddle, strings and tuners)
Paint, stickers, decorations, glue
Lessons
A Lot of FUN.
This workshop is lead by Alan Mapes, a longtime supporter of Caffe Lena, volunteer and musician. Alan took up building guitars in his retirement and shares his love of music with the Caffe Lena School of Music where his granddaughter is a student. She plays a Cigar box uke they built together!
"I can guarantee you'll have fun! It's a really neat process and so creative. I enjoyed every minute of it and LOVE my custom made Ukulele!" - Vivian Nesbitt, program coordinator Caffe Lena School of Music