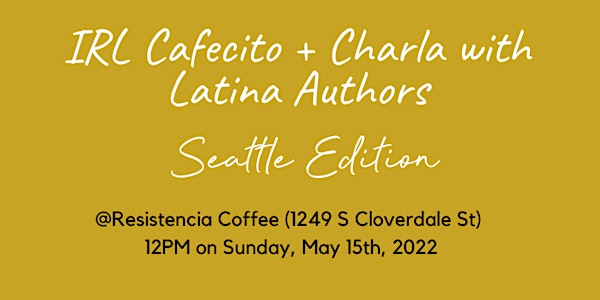 Cafecito + Charla with Latina Authors
Event Information
Location
Resistencia Coffee
1249 South Cloverdale Street
Seattle, WA 98108
Join us for a fireside chat with top-selling PNW-based Latina authors to celebrate the release of their new books at Resistencia Coffee.
About this event
Join us for a very special event celebrating the release of "I Never Thought of it That Way" by Monica Guzman and "Jefa in Training" by Ashley K. Stoyanov Ojeda.
Learn about their writing + publishing journeys, what they hope their books can do for the Latino community and what's next for them! Signed books will be available for purchase!
Here's a bit more about their books:
"Jefa in Training is .a much-needed guide for all of us who need a blueprint to becoming a successful entrepreneur." —Eva Longoria, actress and founder of Casa del Sol Tequila
#1 New Release in Hispanic American Demographic Studies
Women, now is the time to build your enterprise. Jefa in Training is the only Spanglish project-launching toolkit and female entrepreneur planner specially made for a new generation of boss women.
A solopreneur and small business guide. A business startup planner and toolkit for women in leadership, business, and beyond, Jefa in Training offers women entrepreneurs the female empowerment needed to take a side hustle to the next level. Whether it's learning to define your brand, set up a beta test group, or draft an LLC operating agreement, this compendium of lessons, anecdotes, worksheets, templates, and quotes teaches the next generation of women in business how to work for yourself and turn your ideas into something much bigger.
A Latina book by Latinas, for Latinas. Solopreneurs and creatives, you are invited to let go of your fears and finally launch your blog, project, or platform. Jefa in Training isn't your typical small business book. Part Latinx book, it is a conversation with a special tribe of Latina immigrants, Hispanic American generations, and women of color in financial, media, entrepreneurial, and creative spaces. Explore a more complex view of Latinidad, covering everything from imposter syndrome to micro-aggressions and bilingualism.
Inside find:
Author's first-hand experiences
Guest stories from successful business-women in Latinx companies
Worksheets and more!
If you're looking for Hispanic books, women entrepreneur books, women leadership books, or women of color gifts―like Mind Your Business, The Memo, In the Company of Women, or De Colores Means All of Us―then you'll love Jefa in Training.
I Never Thought of it That Way by Monica Guzman
"I can see this book helping estranged parties who are equally invested in bridging a gap—it could be assigned reading for fractured families aspiring to a harmonious Thanksgiving dinner." —New York Times
Journalist Mónica Guzmán is the loving liberal daughter of Mexican immigrants who voted—twice—for Donald Trump. When the country could no longer see straight across the political divide, Mónica set out to find what was blinding us and discovered the most eye-opening tool we're not using: our own built-in curiosity. Partisanship is up, trust is down, and our social media feeds make us sure we're right and everyone else is ignorant (or worse). But avoiding one another is hurting our relationships and our society. In this timely, personal guide, Mónica, the chief storyteller for the national cross-partisan depolarization organization Braver Angels, takes you to the real front lines of a crisis that threatens to grind America to a halt—broken conversations among confounded people. She shows you how to overcome the fear and certainty that surround us to finally do what only seems impossible: understand and even learn from people in your life whose whole worldview is different from or even opposed to yours. Drawing from cross-partisan conversations she's had, organized, or witnessed everywhere from the echo chambers on social media to the wheat fields in Oregon to raw, unfiltered fights with her own family on election night, Mónica shows how you can put your natural sense of wonder to work for you immediately, finding the answers you need by talking with people—rather than about them—and asking the questions you want, curiously. In these pages, you'll learn: • How to ask what you really want to know (even if you're afraid to) • How to grow smarter from even the most tense interactions, online or off • How to cross boundaries and find common ground—with anyone Whether you're left, right, center, or not a fan of labels: If you're ready to fight back against the confusion, heartbreak, and madness of our dangerously divided times—in your own life, at least—Mónica's got the tools and fresh, surprising insights to prove that seeing where people are coming from isn't just possible. It's easier than you think.
Date and time
Location
Resistencia Coffee
1249 South Cloverdale Street
Seattle, WA 98108