Café Fuerte Mujeres Fuerte Writing Workshops When Elders Speak Stories of Resilience and Strength During COVID-19
About this event
Elders have survived many challenges, deaths, and have lived through decades of change and perseverance. the voices of the Elders must be heard and documented for future generations to understand and learn about the longevity of living life under duress.
We invite you to tell a story of resilience strength and hope and how did your Elders give of themselves for you. These are intergenerational workshops. Once you confirm attendance the facilitators will reach out you with materials needed for that day.
Workshop Facilitator for Saturday March 6, 2021 Carmen Bardeguez-Brown
Carmen Bardeguez-Brown's work was showcased in the award-winning documentary: Latino Poets in the United States. She has been featured in many well- known cultural institutions such as: The Nuyorican Poets Café, Mad Alex Foundation, Smoke, The Soho Arts Festival, Long Wood Gallery, The Kitchen, La Casa Azul, New Year's Alternative Poetry Marathon, The Capicu Cultural Series, The New York Poetry Festival at Governors Island, the Bowery Poetry Club, Caribbean Theater Words Festival, Caribbean Theater Panel on Afro-Latino writers among others. Some of her work has been performed by Felipe Luciano's Poets' Choir, Butch Morris Conduction series #27 at The Whitney Museum and at Art in Progress Cantieri Del Contemporaneo at Cosenza Italy. Her work has been anthologized in Aloud: Voices from the Nuyorican Poets Café (Henry Holt) and published in magazines such as: Tribes, Long Shot, Fuse, Phati'tude, School Voices, and Woman Writers in Bloom; an on line magazine. Bardeguez-Brown produced a poetry CD title: "Straight From the Drum," an assortment of poems that encapsulate her Afro-Caribbean poetic rhythm. She is the author of a poetry collection titled, Straight from the Drums: Al Ritmo Del Tambor.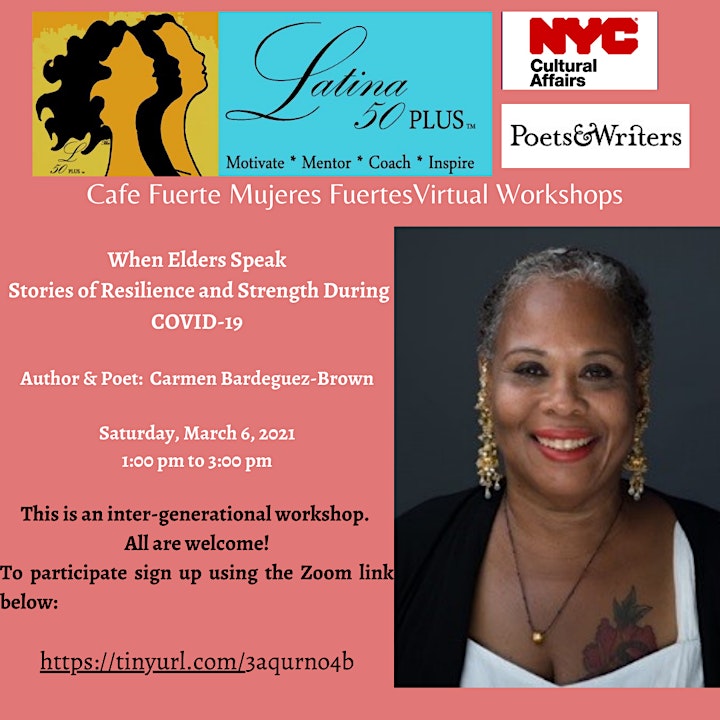 Facilitator for Saturday March 13, 2020 Workshop Wendy Angulo
Wendy Angulo writer and essayist currently working on her Memoir "Rebirth: Where it all Begins". Wendy has read her work at several venues throughout New York City, including Nuyorican Poets Cafe, East Harlem Cafe, Sankofa Sisterhood, Camaradas online journal Mom Egg Review and The Kenyon Review. Venues include: More Than Latina, Sofrito for your Soul, the Nasty Women Unite Festival, Bowery Poetry Club the Richmond Hill Love Letter. Creator/curator and producer of Canvas of Words, an art, and poetry showcase that birthed of Wendy's desire to bring the arts back to her beloved borough of Queens.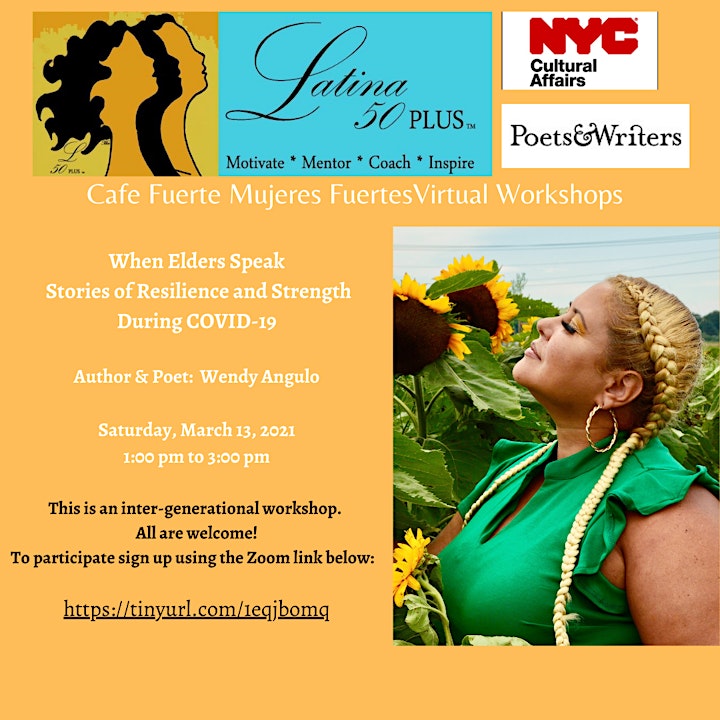 Facilitator for Saturday March 20, 2021 Bonafide Rojas
Poet and musician Bonafide Rojas was born and raised in the Bronx. He is the author of four collections of poetry: Pelo Bueno: A Day in the Life of a Nuyorican Poet (Dark Souls Press, 2004), When the City Sleeps (Grand Concourse Press, 2012), Renovatio (Grand Concourse Press, 2012), and Notes on the Return to the Island (Grand Concourse Press, 2017). He founded Grand Concourse Press, named after the thoroughfare he grew up on, in 2012.