Multiple Dates
CAFÉ FLAMENCO at Plaza Las Tradiciones
Description
CAFÉ FLAMENCO has expanded!!! Dress your best and join us either Saturday, January 28th from 8pm-11pm or Sunday, January 29th from 3pm-6pm at the beautiful Paza Las Tradiciones, located on the NE corner of 16th St and Roosevelt, next door to Ranch Market (1602 E Roosevelt St, PHX, AZ 85006), and indulge in the richness of Southern Spain! Enjoy authentic Paella, tapas, and artisan drinks, as we take you into the very bosom of Andalucia, SPAIN, with amazing artists from all around the world! The LIVE guitar, singing and dancing will not only mesmerize, but inspire you-Come be part of the FLAMENCO EXPERIENCE!!!
CUISINE SERVED
Tapas consist of pork sausage and cheese***
Paella Valenciana ***contains seafood *** (mussels, shrimp, clam juice) or
Vegetarian Paella (for those with seafood and meat allergies only)
Green Salad
Dinner roll
**NON-ALCOHOLIC BEVERAGES- water and aguas frescas (fresh juices)
ITINERARY
Saturday, January 28th, 2017 - 8PM DOORS OPEN / 9PM SHOW
Sunday, Januray 29th, 2017 - 3PM DOORS OPEN/ 4PM SHOW
ARTISTS
Host- Liliana De Leon-Torsiello
Guitar- Misael Barraza
Singers- Macarena Giraldez and Chayito Champion
Dancers- Carlos Montufar with special guests Alexa Miton and Lydia Gallegos
***NOTE-Flamenco Workshops will be provided by both singer Chayito Champion and dancer Alexa Miton during this weekend. If interested, please contact Carlos Montufar at montufar.worlddance@gmail.com.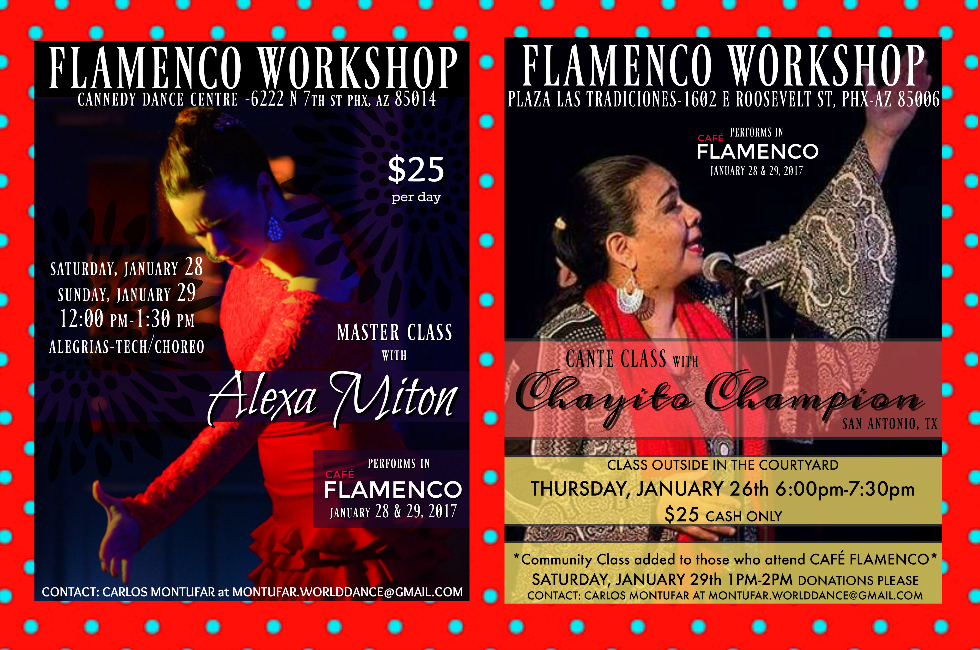 Special thanks to all of the artists, Jim Colleti of The Listening Room for providing sound, Maite Lemon Caler of the Tucson Club de España for preparing the delicious food along with Lupita Medina Villa CEO of the Arizona Latino Arts and Cultural Center, Tony Verdugo and Dora Zamora, owner of Las Tradiciones, for sponsoring and providing a home for my vision. Como los quiero!! ~Carlos Montufar

---
*Official Poster for Café Flamenco JAN 2017
Thank You Luis Medina of Noble Candy/noblecandy.com for sponsoring the design!!!