Café des Sciences #57 - 06 September 2013

Friday, September 6, 2013 from 6:00 PM to 8:30 PM (EDT)
Event Details
CSI ou les experts: de la fiction 

à la réalité
Présentation en français suivie de rafraîchissements
Le crime est un phénomène humain dont les motifs sont obscurs. La science forensique (police scientifique, criminalistique, criminologie) propose des méthodes qui permettent d'éclairer ce phénomène sous divers aspects allant de la prévention, la détection, l'investigation, jusqu'à la preuve matérielle, au tribunal.

Un extrait de la série « les experts- CSI » permettra d'explorer les aspects techniques de la révélation des empreintes digitales ainsi que quelques développements récents sur les mécanismes sous-jacents. L'utilisation de la trace détectée permettra d'aborder la question de l'identification et des difficultés récentes rencontrées dans le cadre de ce processus. La trace peut ensuite être exploitée pour déterminer l'activité qui est associée à son dépôt.
 
Ces trois paramètres : détection/identification/activité constituent les paramètres classiques de la police scientifique. La trace est pourtant un vecteur d'information dont la qualité à elle seule justifie son intégration dans l'analyse du renseignement criminel, l'action de sécurité voire la prévention.
L'Université de Lausanne, depuis de nombreuses années, est à la tête de développements particulièrement avancés dans l'exploitation de ces données en matière d'action de sécurité. Quelques illustrations montreront certaines pistes qui s'avèrent très riches dans l'approche de certains phénomènes criminels
 
La présentation fera un survol des enjeux scientifiques et se terminera par le jeu des questions-réponses.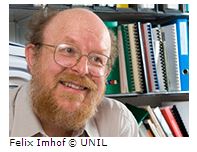 Pierre Margot est un chercheur passionné par la détection de traces. Sa carrière dans le domaine des sciences forensiques a commencé avec l'obtention de son premier diplôme en police scientifique et criminologie à l'Université de Lausanne où il est aujourd'hui Professeur ordinaire.  
 
Il obtient un master, puis un Doctorat à l'Université de Strathclyde (Glasgow, UK) en travaillant sur les champignons toxiques et hallucinogènes puis poursuit ses recherches en toxicologie forensique à Salt Lake City (USA). Il s'intéresse alors à l'analyse des poisons et drogues dans les viscères. Ses travaux le mèneront ensuite à l'EPFL (chimie analytique) puis à Canberra (Australie). C'est là qu'il met au point de nouvelles techniques de détection des empreintes digitales dont la lampe « Polilight » au succès mondial et souvent visible dans les films.
 
En 1986, il est nommé directeur de l'Ecole des Sciences Criminelles à l'Université de Lausanne créée en 1909. Il y développe avec son équipe de nouvelles méthodes d'investigation, de détection et d'analyse dans des domaines aussi variés que les traces de souliers, les incendies, le profilage des stupéfiants, l'analyse criminelle ou encore l'ADN. Selon Pierre Margot l'exploitation des traces matérielles doit sortir du domaine de la preuve pour viser à comprendre les phénomènes criminels à grande échelle et à améliorer la prévention.
 
En 2011, the American Academy of Forensic Sciences lui remet la prestigieuse Médaille Douglas M. Lucas pour ses contributions au développement des sciences forensiques au niveau international et l'Université du Québec à Trois-Rivières lui attribue le doctorat honoris causa en septembre 2013.
Le Café des Sciences de Boston est un événement mensuel regroupant la communauté scientifique et technologique francophone ou francophile de Nouvelle Angleterre autour d'un thème particulier en lien avec la science, la recherche, l'innovation ou l'entreprenariat. Pour plus d'information sur nos activités et notre agenda : http://cafesciences.org
Les partenaires du Café des Sciences
Attendee List
Sort by:

Date

|

First Name

|

Last Name
When & Where

swissnex Boston
420 Broadway
Cambridge, MA 02138


Friday, September 6, 2013 from 6:00 PM to 8:30 PM (EDT)
Add to my calendar