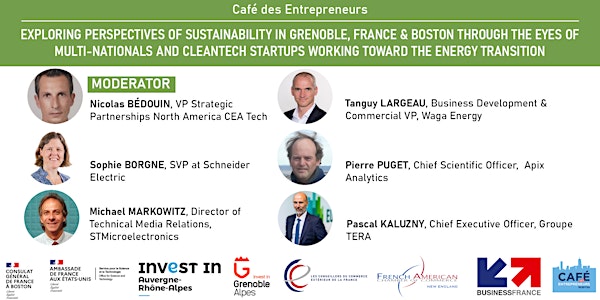 Café des entrepreneurs: Green Technologies towards Energy Transition
Location
194 Brattle St
194 Brattle Street
Cambridge, MA 02138
Exploring perspectives of sustainability in Grenoble (FR) & Boston (USA) through the eyes of multinationals and cleantech startups
About this event
The Consulate General of France in Boston is hosting a special edition of the Café des Entrepreneurs, in partnership with Invest in Grenoble Alpes, Invest in Auvergne-Rhône-Alpes, the FACCNE (the French-American Chamber of Commerce, New England), the Office for Science and Technology of the Embassy of France in the US and the CCEF (French Foreign Trade Advisors).
Join us in a fireside chat to discover how Grenoble-based startups and Boston-based multi-nationals are taking on the issue of sustainability. The panel will offer a rich diversity of perspectives on green technologies & best practices for a sustainable future. The panel will be interviewed by Nicolas Bedouin from CEA Tech, the division of France's powerhouse R&D institution dedicated to technology transfer.
Panel
• Schneider Electric, Sophie Borgne, SVP
Digital Power Line of Business named as the world's most sustainable corporation 2021 by the Corporate Knights Global 100 Index, Schneider Electric is a leader in the digital transformation of energy management and automation.
• STMicroelectronics, Michael Markowitz, Dir. Technical Media Relations
The focus of ST's innovation and the evolution of their technology (Smart Mobility; Power & Energy; IoT & Connectivity) stems from long-term trends, reshaping industries and societies as well as the need to support a more sustainable world. For over 25 years, sustainability has been an integral part of everything they do.
• Waga Energy, Tanguy LARGEAU, Business Dev. & Commercial VP
Waga Energy has developed a breakthrough technology to recover landfill gas into biomethane, also called Renewable Natural Gas (RNG). The WAGABOX® is a landfill gas upgrading unit that delivers high-quality biomethane, regardless of the quality of the raw biogas. The biomethane produced by the WAGABOX® can be injected directly into the gas grid or used as fuel for vehicles. Waga Energy builds, owns, operates, and maintains the WAGABOX® units under long-term contracts with landfill owners in which biomethane sales revenue is shared.
• Apix Analytics, Pierre PUGET, Chief Scientific Officer
APIX has developed a miniaturized technology on silicon to analyze and detect gases and liquids. It is called NGD as for Nano Gravimetric Detector. It is protected by more than 25 patents and was developed in partnership with the CEA and Caltech. It is based on NEMS (Nano Electro Mechanical System) technology.
• Groupe TERA, Pascal Kaluzny, Chief Executive Officer
Groupe TERA has become a major player in the chemical pollutant air analysis industry, capitalizing on leadership built over years in the semiconductor industry. In the particularly demanding market of high tech, Groupe TERA has quickly become a standout player, proposing highly controlled environmental analysis (in clean rooms), in order to address one of the big challenges facing the industry: the heightened risk of molecular contamination following the miniaturization of components.
/!\ IN PERSON ONLY /!\
This Café des Entrepreneurs will be in English – The presentations will be followed by networking with Refreshments and Flavored aperitif from Grenoble region.
Don't miss this special edition of the Café des Entrepreneurs at the Résidence de France, 194 Brattle Street, Cambridge, MA 02138, on June 28, 2022 at 5:30 pm