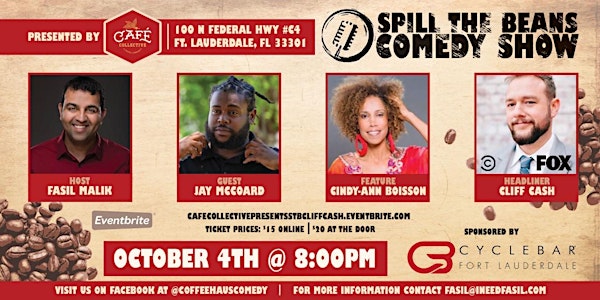 Cafe Collective presents STB Stand Up Comedy starring Cliff Cash (FOX, SiriusXM & Comedy Central)
Date and time
Friday, October 4, 2019 · 8 - 9:30pm EDT
Location
Café Collective 100 North Federal Highway Fort Lauderdale, FL 33301
Description
Please purchase your tickets in advance (They are $15 online and $20 at the door)! This venue is perfect for an intimate comedy club feel, however, there is a limited seating of just 80 per show!
---
Our Headliner Cliff Cash is a NC native whose comedic style often navigates the fallacies of the deeply southern, conservative and religious ties he was raised with. He tours nationally full time and is on a mission to see #everynationalpark from his #millionmilemercedes that he essentially lives in. He's been featured on Comedy Central's UpNext, Sirius XM radio, Laughs on Fox and Rooftop Comedy.
His fun fact was that before comedy he had careers in sales, real estate investment and the recycling industry and burned his whole life to the ground to pursue this ridiculous dream.
Click here to catch a glimpse of Cliff's style of comedy (This video was filmed at the Spill The Beans Comedy Show in Undergrounds Coffeehaus).
.Café Collective is located in the Waverly Building on the Northeast corner of Broward and US 1. The entrance is on the outside of the building toward the back on Broward Blvd. Wonderful coffee, teas, beverages, beers and wines are available.
Enjoy FREE parking anywhere on the first floor of the underground garage. Park in any of the merchant spaces (Café Collective, Jenny Craig, Mercantil Bank, etc). Feel free to ask the valet for some guidance. Once you've found a good spot, walk to the SE corner of the building (Intersection of NE 7th Ave and Broward Blvd). Street parking is also available.
What is Spill the Beans Comedy? Click here to read about the Broward Palm Beach New Times article about Spill The Beans Comedy.
Enjoy great coffee? Like to laugh? Perhaps a craft beer or glass of wine? Perfect, sounds like we just figured out your Friday night plans. Join some of the funniest comedians in South Florida as they spill the beans AND the laughs, at Cafe Collective for another Spill the Beans Comedy Show.
As coffee brews, an eclectic mix of comedians are presented to ensure a little something for everyone – no matter their palate. Like your coffee strong and bold? There's a comedian just for that. Maybe you prefer a smooth roast with understated hints of flavor... We've got laughs to match that too.
The Spill the Beans Comedy Show is produced by the award-winning comedian, Fasil Malik. Fasil is known for his one-liners and deadpan delivery. He is a three-time Ultimate Miami Comedian finalist (Placed 3rd out of 60+ comics in 2019), a Florida's Funniest Comedian semifinalist, and the winner of the Coconut Grove Comedy Festival and Coral Gables Comedy Festival. He's funny, he's quick, and he's a huge fan of people who don't heckle comedians.
Be sure to get your tickets now as these shows tend to sell-out!
*Show contains adult content