Description
Following the success of our webinar series Laban – History, Applications and Frontiers​, which was launched in 2017 and which has attracted a worldwide audience, we will present a second series titled "Creative Arts Education and Therapy – History, Applications and Frontiers​". We invite some of the most influential and promising educators and therapists to deliver online presentations. This year-long program aims at bringing professionals in the field of arts education and therapy together throughout the world, to stimulate a critical dialogue, and facilitate networking to strengthen our profession, in line with the mission of the Inspirees​ and CAET​.
The whole series has 7 modules in education and therapy, related to different art forms of music, drama, dance, expressive art, poetry, and play. Each module consists of 4-8 seminars. Every seminar is of one hour duration, including 40-45 minutes of lecture plus a 15-20 minutes long Q&A session. All sessions are recorded (live), so as to be available for future instruction and learning. Towards this end, we have recruited a team to support the technical and logistic aspects of the sessions.
In the meantime, with our Laban series​'s finale at Dec 2018. The CAET series​, consisting of 30 plus webinars, launched in December 2018 and will run through 2021. From these webinar presenters, we will eventually select the speakers for the CAET World Forum, held live in Europe and China. In addition, the revenues from this webinar series will be used to sponsor open access publishing of our CAET journal ​and the academic conferences in China and Europe。
Click here to see the full program of CAET Webinar Series
Click here to download the full schedule of CAET Webinar Series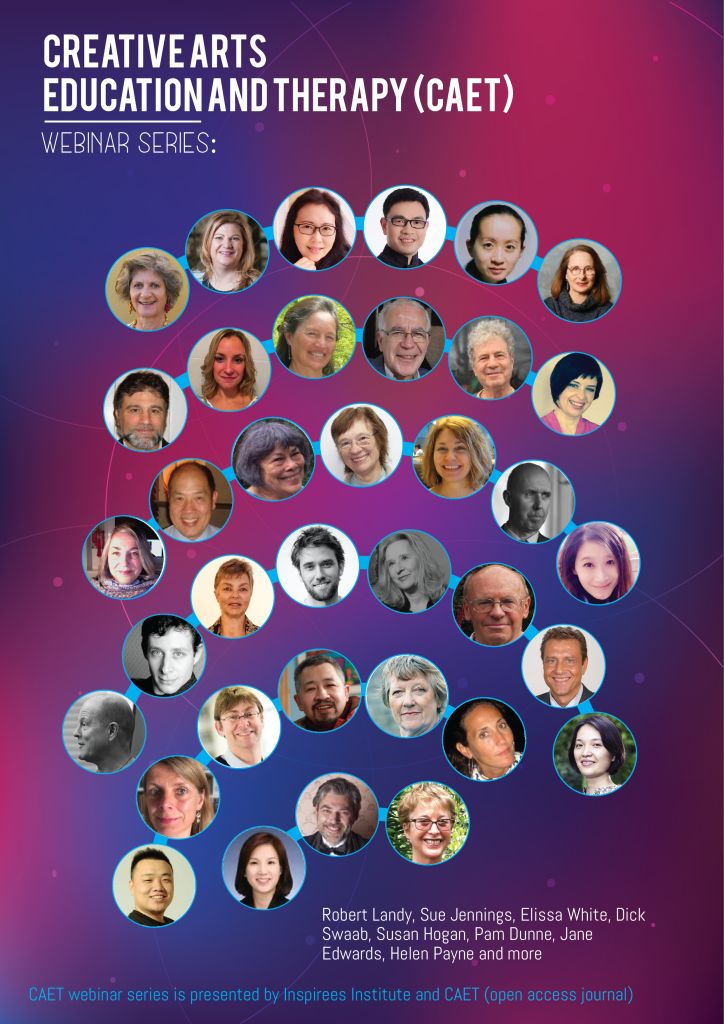 ---
Seminar 11: BodyMind Approach for medically unexplained symptoms
2019/7/17 Professor Helen Payne, PhD
This webinar introduces an innovative, new intervention derived from dance movement psychotherapy and the arts called The BodyMind Approach specifically designed for supporting people with medically unexplained symptoms (MUS) to learn to self-manage. MUS are very common worldwide, affecting women, young people and non-native speakers mainly. Symptoms are persistent and do not fit into any known diagnosis. There are few treatments available. Symptoms include fibromyalgia, IBS, chronic fatigue, shortness of breath, chest pain, abdominal pain, dizziness, numbness, swelling, insomnia, backache, headache etc. in this webinar we will explore a definition, the scale of the problem, the costs and the patient profile. TBMA works with lived body - a perspective informed by experience, non-linear and unpredictable, in this approach the individual's experience of the physical symptom acts as gateway to the mind or "Playing with the symptom so it does not play on you" as one participant said. TBMA promotes wellbeing, self-regulation and resilience leading towards 'recovery' – always in recovery. Sensation, perception, emotion, cognition are all integrated through the various experiments and practices. The patient mind-set is reflected in the design of The BodyMind Approach as a group intervention to promote learning for the self-management of symptoms. Reliable change clinical outcomes are also presented.
Professor Helen Payne, PhD; UKCP; Fellow ADMP Reg. dance movement psychotherapist pioneered DMP in the UK leading the professional association, first post graduate accredited training, research and publications. She is trained in Laban Movement Analysis, Person-Centered Counselling, Group Analysis and Authentic Movement, works with children, adolescents and adults, conducts research, supervises PhDs, teaches and examines at doctorate level nationally/internationally. She is the founding editor-in-chief for the international peer reviewed journal 'Body, Movement and Dance in Psychotherapy' published by Taylor and Francis. Trained in the discipline of authentic movement since 1994 she has been facilitating circles as a form of group psychotherapy ever since. She is clinical manager for the University of Hertfordshire's service which supports people with persistent bodily symptoms for which tests and scans come back negative. She has recently been honoured to have been invited to join the Therapies Task Force for Medically Unexplained Symptoms. Her current publication is entitled 'Essentials in dance movement psychotherapy: International perspectives on theory, research and practice' published by Routledge.
Seminar 12: Multi modal dance therapy
2019/8/7 Dr. Fran J. Levy, Ed. D., BC-DMT, LCSW
While we search for ways to express ourselves and to be as genuine as we can, there are often aspects of our lives that are ambiguous, conflicting and seemingly out of our control. We may experience parts of ourselves that are at odds with other parts, creating frustration, anger and feelings of depersonalization.
The expressive arts can open pathways to a deeper understanding and acceptance of one's self. This Webinar will illustrate the combined use of art, dance, writing, drama, imagery and verbalization for self revelation.
Each art medium is used for its unique expressive properties. In combination, the arts are a powerful tool that must be used intelligently and with a broad understanding of personality.
Case material and exercises will be presented to help illustrate the work.

Dr. Fran J. Levy has her Doctorate in the Integration of the Arts in Psychotherapy. She is a Board Certified Dance Movement Therapist, Psychodramatist and a Diplomate in the New York State Society for Clinical Social Work. Fran is also a protege of Sydney Levy, PH.D. in his pioneering work in Projective Drawing and Psychodynamic Psychotherapy. Fran Levy has been creatively interweaving the arts into a cohesive form of psychotherapy for over 30 years. She is the author of Dance Movement Therapy: A Healing Art (AAHPERD, 2005) and senior editor of Dance and Other Expressive Art Therapies: When Words Are Not Enough (Routledge Press, 1995). Her books have been translated into Korean and Chinese and are used as text books for graduate and undergraduate programs in the US and abroad. Dr. Levy teaches internationally and has her private practice in Brooklyn, New York.
Seminar 13:Neuro-Dramatic-Play: The Joyous Development
2019/8/28 Prof. Sue Jennings
Neuro-Dramatic-Play creates the core of playful attachment with babies and infants. Research shows (Jennings 2011) that mothers often become playful with their unborn child, and continue the process after birth. This underpins the development of attachment, empathy and later resilience. Dramatic play which includes sensory play, messy play, rhythmic play and interactive play makes an impact on brain building Cozolino (2013) as well as body growth. The presentation charts the development of the social brain in relation to play and attachment.
Sue Jennings has been a pioneer of Dramatherapy in the UK, Greece, Czech Republic and Malaysia. Her many books also have international translations.
Her academic appointments include Senior Lecturer at Hertfordshire University, Visiting Professor NYU, and currently Visiting Professor at University of Derby. In 2017 she was made Professor of Play by the European Dramatherapy Federation.
Sue's doctoral fieldwork was conducted with the Temiar people in the Malaysian rain forest, which has influenced all her subsequent work.
For more information:
About the SPEAKERS
About the AGENDA