Description
Come and enjoy the beautiful wine country of Arizona with other hygienists for the 1st Annual CADHA Wine Retreat and CE! During this overnight event, you will be inspired by the amazing education provided by our Keynote Speaker, Katrina Sanders, RDH, BSDH, M.Ed, RF. Limited rooms are available, so a shared space will make this even more fun with your closest hygiene buddies! Please note prices on each ticket type that detail sleeping arrangements. To save each attendee some finacial expenses, payment will be done separately thru Venmo and directions will be given in a separate email. THIS IS NOT A FREE EVENT. The cost has been dramatically defrayed as our event is generously sponsored by Dr. B Dental Solutions and Forward Science. Attendees will receive 6 CEU's (including 1 CEU Ethics and 2 CEU Cessation requirements), be provided coach transportation roundtrip from Phoenix to Cottonwood, as well as touring 3 tasting rooms, a light lunch and your overnight accomodations at the Iron Horse Inn. Please register early (before 9/18/18) for this event. We really want this to be a huge success! **Each person to sign up for the event and advise via seperate email who your request for a roommate.**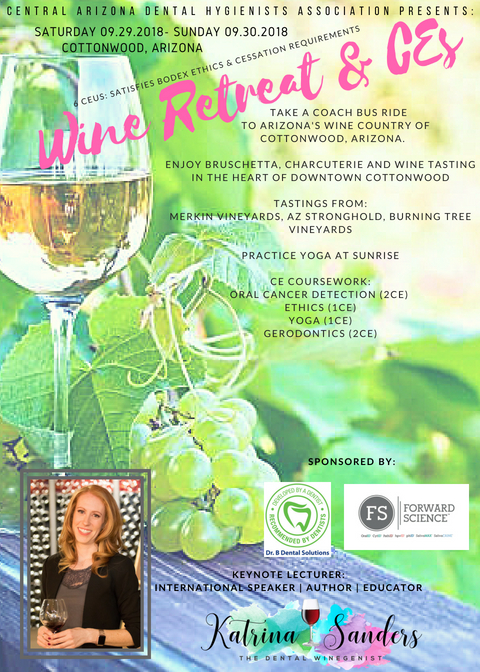 09.29.2018 9:45am Meet at the Parking lot at 22500 N. Aviano Way Phoenix, AZ 85050


Course #1: Early Detection on an Early Bus Ride
09.29.2018 10:00am-12:00pm
2 CE Units : Satisfies Tobacco Cessation CE for BODEX
Presented on Coach Bus en route to Cottonwood
Sponsored by: Forward Science
Course Objectives:
Discuss oral and oropharyngeal cancer risk factors

Identify early detection techniques for oral cancer

Evaluate current tobacco cessation and chemical dependency counseling & services

Implement new clinical techniques for the supportive therapy of oral cancer prevention
Course #2: Wine About It
09.29.2018 12:00-1:00pm
1 CE Unit: Satisfies Ethics CE for BODEX
Presented at Merkin Osteria
Course includes: "Tarzan & Jane" wine flight, charcuterie
Course Objectives:
Review common ethical dilemmas experienced by the dental professional

Discuss techniques for ethically and empathetically approaching dilemmas

Implement new techniques into clinical and ethical approaches to the dental care setting
Course #3: YOGA
09.30.2018 8:00am-9:00am
1 CE Unit
Presented at Riverfront Park
Course #4: Patients & Wine: Getting Better with Age
09.30.2018 10:30am-12:30pm
2 CE Units
Presented on Coach Bus en route to Phoenix
Sponsored by: Dr B Dental Solutions
Course Objectives:
Discuss characteristics, risk factors and unique trends in the provision of patient care in Gerodontics.

Understand special care considerations when providing dental care to a geriatric patient

Identify products to aide in effective dental therapy for geriatric patients
***To save each attendee money, payment for this event will be thru Venmo--THIS IS NOT A FREE EVENT!!***
Our Keynote Speaker:

Katrina is a graduate of the University of Minnesota School of Dentistry Division of Dental Hygiene and Northern Arizona University M.Ed Graduate Program in Educational Leadership.
Her career includes over a decade of clinical dental hygiene in a variety of private, hospital, pediatric, periodontal and public health practices. She continues to refine her skills in laser therapy, local anesthesia delivery and the provision of care for special needs patients as a clinical dental hygienist in Phoenix, Arizona. Katrina also educates and performs periodontal procedures as the Clinical Liaison for AZPerio, the country's largest periodontal practice.
Katrina's professional career emerged as a faculty member for a dental hygiene career college in Phoenix, Arizona where she published three editions of her textbook, developed programmatic competencies, spearheaded curriculum design and served as a faculty representative for community partnerships. She is the founder and keynote speaker for Sanders Board Preparatory, Arizona's #1 dental hygiene board preparatory course.
As a thought leader and passionately energetic international speaker, Katrina currently lectures as a key content expert in various areas of dentistry, the oral-systemic link and the provision of preventive dental care. She is also a columnist for Modern Hygienist, Today's RDH and Dentaltown. Known as the Dental WINEgenist, Katrina is a level 1 sommelier whose passion and knowledge of wine is infused throughout her coursework in tandem with her zest for dental hygiene.
Wonderfully and Generously Sponsored By: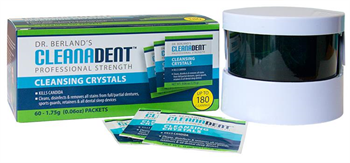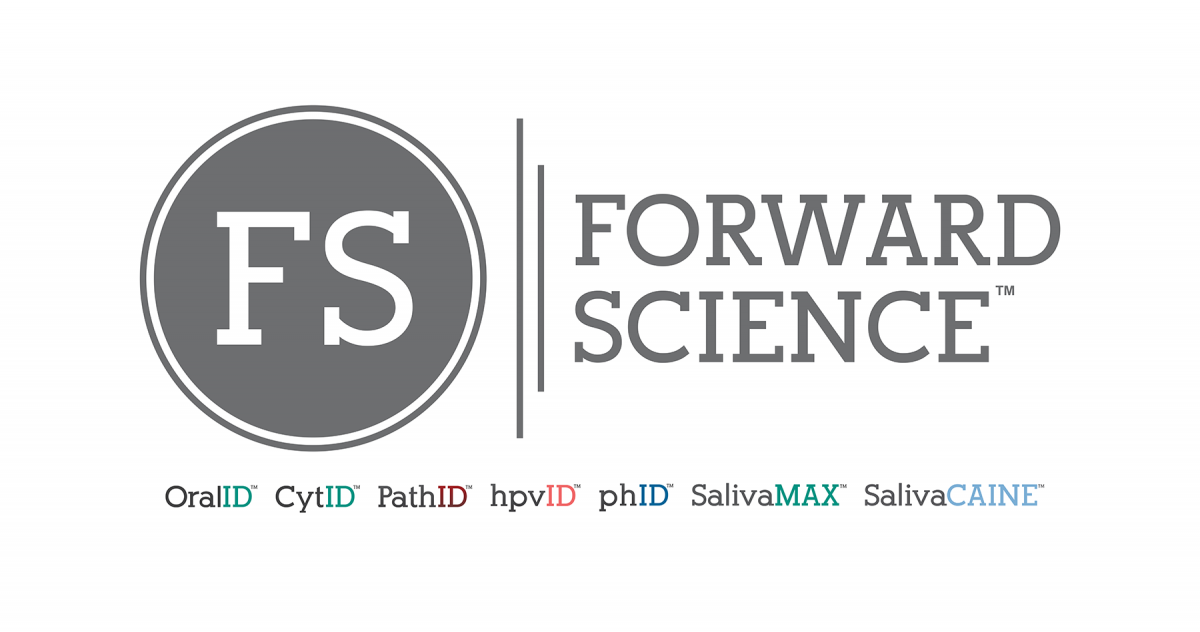 Organizer of CADHA 1st Annual Wine Retreat and CE