CACCF Business Growth Expo

Saturday, June 23, 2012 from 10:00 AM to 4:00 PM (EDT)
Event Details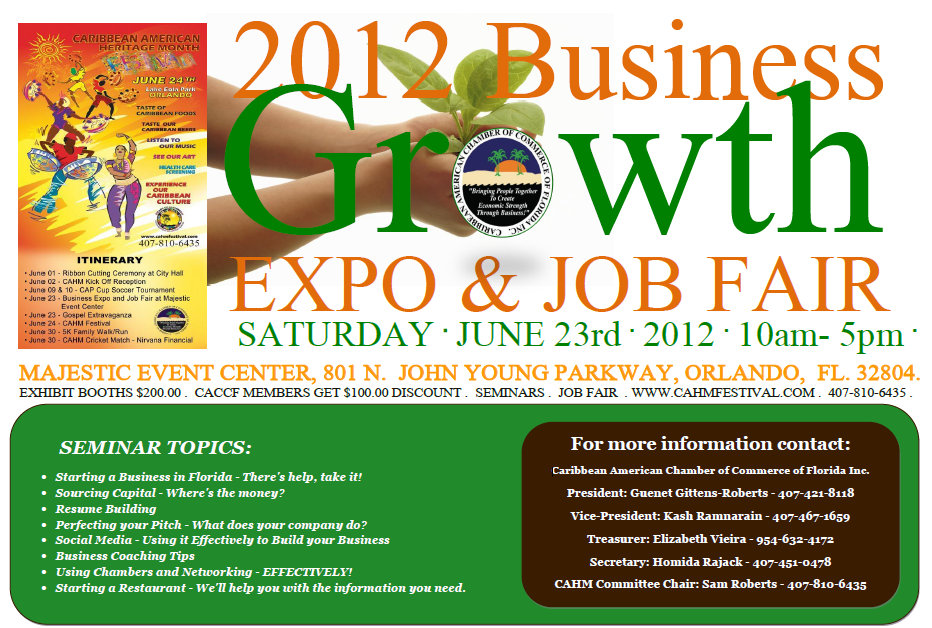 Just Added a new Seminar to the  Lineup for CACCF Growth Expo: 
Straight out of Florida, the Documentary
By Lyma Dunbar
Straight out of Florida, A West Indian Perspective, is a short documentary series, filmed by Geesmooth Multimedia TV and narrated by Lyma Dunbar of Oildown Productions in association with WACKRadio901fm of Trinidad and Tobago.  The documentary takes a look at the new Caribbean Diaspora, as it relates to Central Florida; giving a visual into the daily lives of Caribbean American people, as we make a life for ourselves and our families, while simultaneously maintaining our collective cultures. It seeks to show that we as a people are many and growing daily, and that we should consider that it may be time to integrate and use our collective strengths and potential for a common cause, that will strengthen us politically and financially. 
 Take a peek at the documentary, following Caribbean Businesses in Central Florida -
Click the link  to view - Straight Out of Florida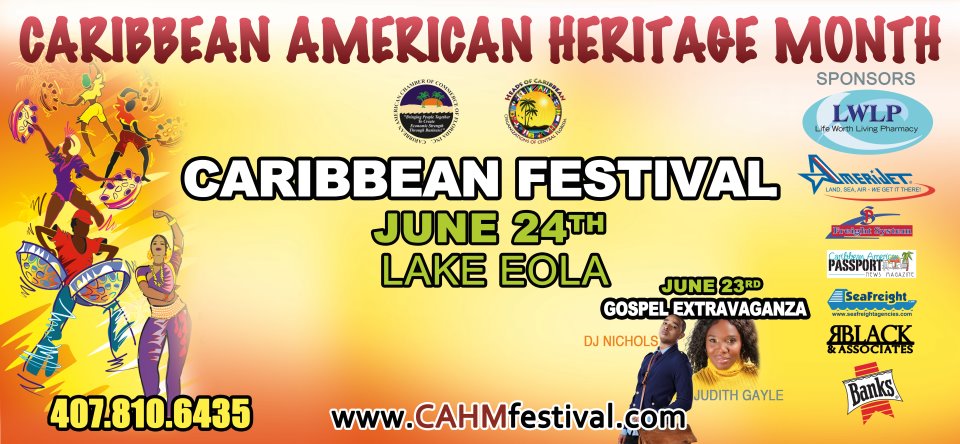 June 23rd - CAHM Business Expo and Job Fair at Majestic Banquet Hall - Purchase a booth for ($200) to showcase your products and services to the Greater Orlando community. There will be Business Seminars and presentation by Chamber members  and we encourage Associations to reach out to their Tourist Boards to purchase a booth or provide promotional material to showcase their homeland.  Join us at Majestic Banquet Hall this Saturday from 10:00am to 4:00pm with a speed networking event from 4pm - 5pm.
June 23rd - CAHM supports the Caribbean Gospel Extravaganza at Hope Church from 6:00 pm to 10:00pm at the Hope Church of Orlando, all Associations are encouraged to come out and support ($20) showcasing Judith Gayle and DJ Nicholas.

June 24th - CAHM Festival at Lake Eola in Downtown Orlando - This is our Showcase event and you will hear music, experience Cultural presentations that portray our unique Island Culture and Heritage. Chinese Dragon dances, Indian dancing - both traditional and chutney styled, african dance performances, drumming, live steel band performances and live bands.  A treat for everyone and every age.  This is a true showcase of the Caribbean Culture. 
FOOD - experience caribbean food from Trinidad, Jamaica, Guyana, Haiti and much more.  Join us on June 24th from 10am to 8pm.  The entertainment starts at 2pm and runs straight through to 8pm. 
BEERS - Experience the unique beers of the Caribbean - Kalik, Carib, Banks, Red Stripe, Prestige and Presidente.
 To share this email by facebook or linked in go to http://cahmfestival.eventbrite.com/
June 30th - CAHM supports TTAC with their "Back-In-Time" Dance at Ship Wrek - This event is part of the TTAC fund raising efforts and all Associations are encouraged to come out and support from 8:00pm to ?? at Ship Wrek (De Hut Location)

June 30th & July 1st - CAHM Supports IIC T20 Cricket West Indies vs. New Zealand - everybody who loves cricket needs to head down to Fort Lauderdale to support this effort to bring international level West Indies cricket to the USA and Florida. This is the first time that the West Indies Cricket Board have ever launched and/or played cricket at this level in the USA/Florida. We need to show our support if we want more cricket played in USA/Florida - the Islands are watching and measuring our support - ICC Cricket West Indies vs. New Zealand 1st T20 - Broward Cricket Stadium Lauderhill, Fla
July 7th- CAHM 5K Family Walk/Run at Harbor Park in Baldwin Park - This is our Healthy Life Style event that promotes a healthy life style thru exercise and better nutrition. Each participant ($25) will receive a CAHM T-Shirt and water bottle, there will be CAHM manned (or wo-manned) water stations along the route with live steel pan music. Trophies will be presented to the fastest runner (male and female - open category) and the fastest CAHM member (male and female). We encourage all associations to come out with the family and join the fun walk/run for health.
We look forward to your support this month as we celebrate Caribbean American Heritage Month. If you would like to sponsor an event or for your event to be a CAHM supported event, please contact Sam Roberts at 407-810-6435. 
Thank you to our Sponsors - Life Worth Living Pharmacy, Amerijet Agencies, Seafreight, PS Freight/Laparkan, Caribbean American Passport NewsMagazine, Banks Beer, Rich Black & Associates.
Thank you to Majestic Event Center - the event space sponsor of Caribbean American Heritage Month Celebrations.
When & Where

Majestic Event Center
801 N John Young Pkwy
Orlando, FL 32804


Saturday, June 23, 2012 from 10:00 AM to 4:00 PM (EDT)
Add to my calendar