Description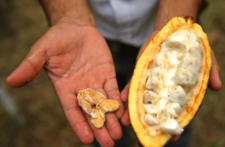 Cacao growers are encouraged to submit entries into the Big Island Chocolate Festival competition for growing and fermentation of Hawaiian cacao. Each entry must be accompanied by an entrance fee of $20. This fee will cover judging of the cacao, materials and award. Numerous submissions can be made for Criollo, Forastero and Trinitario, but each submission needs to have an addtional submission fee.
All entries must be received by Wednesday May 11th. The judging will take place at the Hapuna Beach Prince Hotel with the winner being announced to the public during the Festival Gala on May 14th at 7:30 pm.
Competitors need to provide a pound of fermented cacao, with a geo referenced photo of themselves with the Hawaiian cacao tree, and a short bio on yourself, your farm and your cacao variety.
We will be doing a cut test to determine fermentation percentage, as well as tasting by an expert panel of judges.
After we receive your payment for entry, you will receive shipping instructions.