Cabrio Taxi San Francisco Pedicab Tour

Daily Event: 11:00 AM to 7:00 PM (PST)
Event Details
Your guided "The Best of SF Tour" will feature spectacular views of the city and San Francisco Bay. Your 1.5 hour tour will include:
Views of the Bay Bridge and Yuerba Beuna Island

Ferry Building and Justin Herman Plaza

Commerical St - the first pier of the city

Union Square and Madian Lane

Go through the gates of Chinatown

Visit a Fortune Cookie Factory

Hear stories of the Barbary Coast

Ride by Washington Square and Lombard St

Check out Fisherman's Wharf and street entertainment

Amazing views of Alcatraz and the Golden Gate Bridge

Learn about the original San Francisco treat, Ghiradelli Square
Tour  Overview:
You'll explore San Francisco landmarks and hidden gems with a fully guilded tour by our experienced pedicab operators. Tours are limited to 2 regular riders per pedicab (maximum of 4 riders per pedicab) and 12 riders per tour. 
RESERVE YOUR PEDICAB TODAY!
New for 2014!!! PICK WHEN YOU WANT YOUR TOUR TO START! In the comments section of your order, let us know when you want to be picked up from the Ferry Building. It is as easy as that!
1 hour tour:
 $49 per adult (age 13 and up) 
 $29 per child (age 4-12)
 FREE for infant/toddler rider (age 0-3)
1.5 hour tour:
$74 per adult (age 13 and up) 
$44 per child (age 4-12)
FREE for infant/toddler rider (age 0-3)
Departure Dates and Times:
April through October - Fridays 10:30am - 12:00pm, November through March - Monday -Friday 11:00am - 7:00pm (pick your start time). All tours start on time, so please arrive 10 minutes early to check in.
Tour Length:
Tours are 1 hour or 1.5 hours in length. 
Departure and Drop-off Location:
Tours depart from the Starbucks at pier 1, just west of the Ferry Building. Please click here for information on parking and getting to the departure location. Tour drop off will be at the Fisherman's Wharf sign at the intersection of Taylor and Jefferson. Alternate drop off locations can be requested, consult your tour guide before departing.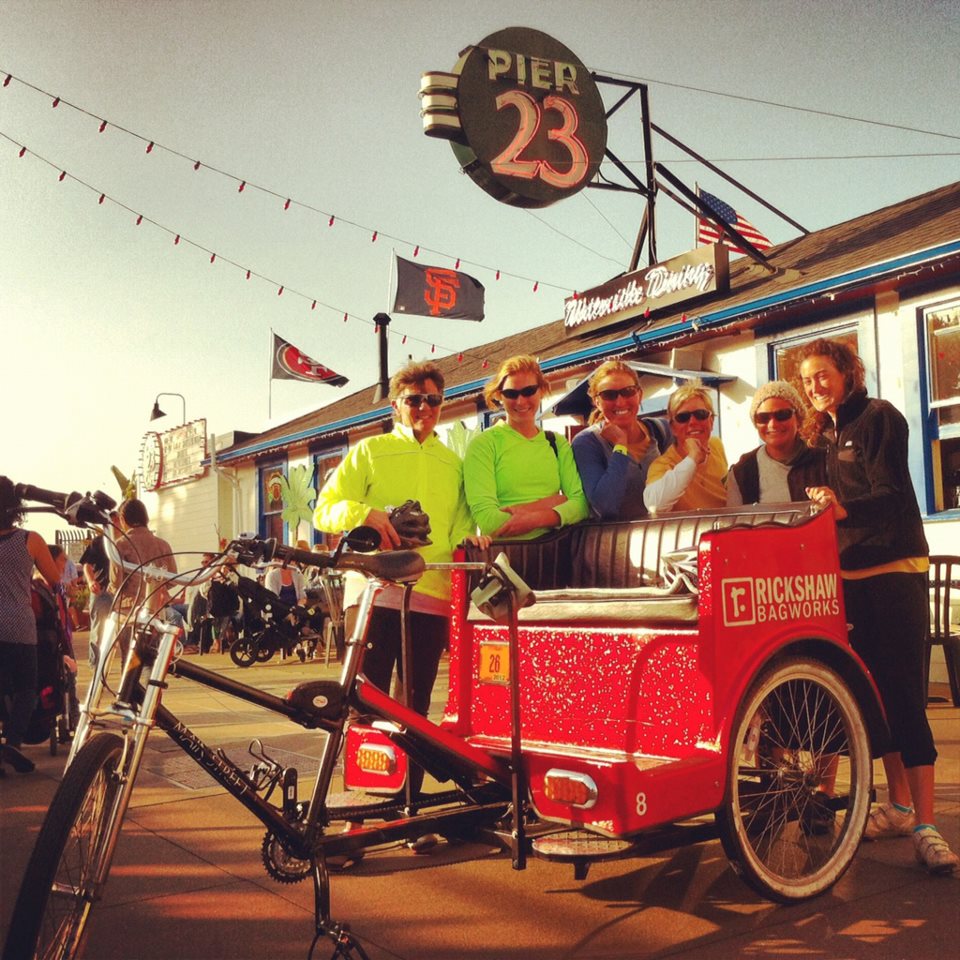 Contact:
Email: hello@cabriotaxi.com
Phone: 415-735-3700
Additional Information & Terms:
Liability Agreement:
All customer will be required to review and sign our tour agreement and liability waiver before starting their tour. Cabrio Taxi assumes no responsibility for delays caused by accidents, breakdown, bad conditions of the road and other conditions beyond control, in addition to insufficient number of guests. Not responsibile for loss or damage to property.
Changes to a Reservation, Cancellation, and No Show Policy:
Reservations require a full advance payment via Credit Card. EventBrite will send an e-mail confirmation with the date and time of your tour. You will be on a guest list so a print out is not required. Payment is fully refundable if reservation is canceled 2 days (48 hours) prior to scheduled tour. 
Check your e-mail confirmation for correct date and time. It is your responsibility to be at the designated tour location on the correct date. No refund for no - shows.
Tour Size, Routing and Weather:
We reserve the right to change the size or routing of the tour to meet the needs for the specific day. We always suggest multiple layers of warm clothing for any San Francisco activity.Tours will be cancelled and refunded in the event of heavy rain.

Where

Ferry Building
Ferry Bldg Marketplace
San Francisco, CA 94105


Daily Event: 11:00 AM to 7:00 PM (PST)
Add to my calendar
Organizer
Cabrio Taxi Pedicabs
Founded in 2011, Cabrio Taxi is the premier pedicab company in San Francisco. We offer the boldest, most stylish pedicabs, which are driven by the most professional drivers anywhere. As our company continues to grow, we hope to continue to be a positive force in shaping our community.
We provide our passengers, advertisers, and partners with an unparalleled pedicab experience. Responsibility, reliability, and safety are our mantras. Our reputation as a full service pedicab company is unsurpassed. We use American made Main Street Pedicabs that we customize for the best ride San Francisco has to offer.
Cabrio Pedicab professionals can handle the job. Whether you need our pedicab advertising services, an organized tour or just a pleasant ride on the thoroughfares of San Francisco, we would love to have the opportunity to help you with your transportation needs.
Cabrio Taxi San Francisco Pedicab Tour