Description
Saturday Night's Show is nearly Sold Out!
There will be Waiting List at the Box Office.
Seats will be released for unclaimed reservations before curtain time.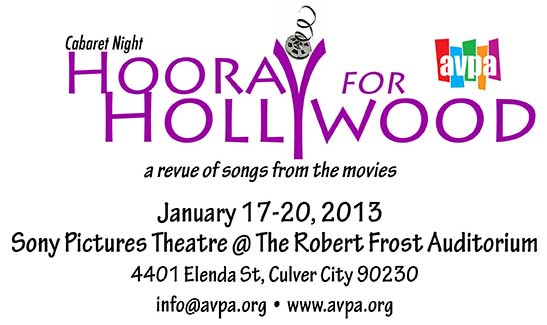 Enjoy an entertaining revue of memorable songs from Hollywood - from the Talkies, to MGM's Golden Age, to today's hits...
The Cast
Paxton Amor, Mikaela Barocio, Reno Benhken, Desiree Benson, Oliver Berliner, Chris Clark, Sibyl Courey, Sarah Dolan, Lizzy Ferreira, Olivia Finnegan, Krist FLetcher, Georgia Funnell, Ryan Gacula, Raegan Harris, MacKenzie Holcomb, Samantha Kim, Carrie Moses, Samuel Petersen, Claire Skelley, Khamiya Terrell, Lilah Wally, Evan Wilson
and featuring the AVPA Jazz Ensemble and Jazz Combo
Some of the music . . .
Singin' in the Rain, Blue Skies, Evergreen, The Man That Got Away, Smile, I've Got You Under My Skin, Mr. Cellophane, Maybe This Time, And I Am Telling You, Puttin' on the Ritz, Charade, Moon River, Nobody Does it Better, and many more!
Some of the movies . . .
Cabaret, An American in Paris, Skyfall, Dreamgirls, Les Miserables, The Muppet Movie, Chicago, The Jazz Singer, Breakfast at Tiffany's, Frida, A Star is Born, and some of Disney's musical gems!
Showtimes
Thursday, Friday, Saturday, January 17, 18, 19 at 7pm
Saturday and Sunday, January 19 and 20 at 1pm
Tickets
$25 VIP reserved seating
(best seats in the house and a special gift!)
$15 general admission
$10 CCHS ASB / children / seniors / faculty & staff
Season Pass - because of limited seating, please use season pass once during the run.
Organizer of Cabaret Night: Hooray for Hollywood!