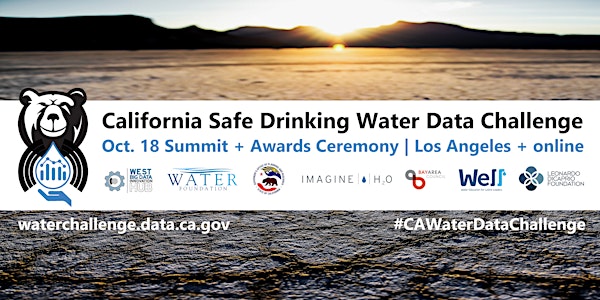 CA Water Data Challenge Summit + Awards Ceremony
Location
Los Angeles River Center & Gardens
570 W Ave 26 #100
http://bit.ly/water18live
Los Angeles, CA 90065
Description
Join us in person or via livecast on Thursday October 18th to celebrate and recognize the efforts of California Safe Drinking Water Data Challenge participants. Throughout the summer, teams and individuals have worked to develop resources and tools to help ensure every Californian has access to safe and sufficient clean drinking water. Engage in discussion, share insights, announce commitments, and be part of the awards voting in LA!
Have a commitment to share about next steps? Fill out the form at https://bit.ly/Water18Commitment by Oct 10! Select commitments will be highlighted at the Oct. 18 event.
NEW Livecast link: http://bit.ly/water18live

---
AGENDA
9:30am Registration
10:00am Welcome
Reflections and New Commitments
10:45am Keynote: The Honorable Mike Eng, Former California State Assembly Member and Author of the Human Right to Water Bill
11:15am Lightning Project Previews
12:00pm Outdoor Lunch + Project Viewing + Voting
*note: lunch will not be livestreamed
1:30pm Award Announcements
2:30pm Closing + Next Steps
2:45pm Outdoor Reception
---
Special Thanks to Water Foundation & Leonardo DiCaprio Foundation for sponsoring this event
and our venue hosts, the Mountains Recreation & Conservation Authority


---
About #CAWaterDataChallenge
Annually, up to 1 million Californians lack access to clean, safe drinking water. The Governor's Office of Planning and Research and the West Big Data Innovation Hub along with many other partners launched this Data Challenge to demonstrate the power of open data to address one of California's most pressing issues. This summit and award ceremony will showcase contributions from innovators from multiple sectors.
Each of the 7 General Awards above will now also include a $1,500 cash prize thanks to Cal Water. The new Cal Water contributions raise the total prizes available to $12,000 that will be awarded directly to the California Safe Drinking Water Data Challenge teams.

Rising Innovator Award
Ready-to-Go
Most Engaging by Design
Moonshot Award
Most Data-licious
Team Spirit and Collaboration
People's Choice (voting on site)
Imagine H2O will award $1,500 and select accelerator services to a team that best demonstrates Impact, Scalability, Innovation in their solution. More information and terms and conditions available on the Imagine H2O website.
Join the conversation on social media with #CAWaterDataChallenge and find details at waterchallenge.data.ca.gov