Sales Have Ended
Registrations are closed
Sales have ended for the CAICF 2019 CA Day Trade Show. Please contact the Executive Director, Reini Marsh, for more information at 407-850-0106 or exdir@caicf.org.
Sales Have Ended
Registrations are closed
Sales have ended for the CAICF 2019 CA Day Trade Show. Please contact the Executive Director, Reini Marsh, for more information at 407-850-0106 or exdir@caicf.org.
Description
TRADE SHOW BOOTHS ARE SOLD OUT!
CA Day is an annual trade show bridging the gap between Homeowner Leaders (board members), Community Managers, and the Business Partners that support them. The trade show is no ordinary trade show. Every year we choose a theme and immerse ourselves producing a truly exceptional trade show experience, with this year's theme being "Movie Night - Honoring the Stars of the Association." Each booth will be participating in best booth designs and visitor engagement competitions. All of this is aimed at bringing a movie viewing type of experience to our annual trade show.
There will be FREE Education Classes available to registered attendees from 9am-3:30pm, 129 vendor expo booths to visit from 1:30pm-5:30pm, thousands of dollars in raffle prize giveaways, and the After Party from 5:30pm-9pm.
Each registered CAM and HOA Board Member will receive one free drink ticket (soft drink or select alcoholic beverage).
PARKING
HOA Board Members park for FREE (no valet).
CAMs can purchase discounted parking for $15.
Please park in the self-parking garage on or close to the 3rd floor. Take the pedestrian bridge on the 3rd floor into the convention center and take the escalator down to the first floor. There is no entrance on the back of the hall to the convention hall unless you walk around the building. Do not take the shuttle to the lobby.
---
TRADE SHOW ENTRANCE
The trade show is free to HOA Board Members and Managers, but companies/businesses and CAI Business Partners not purchasing a booth, will pay a $35 entrance fee. Please review the suitcasing policy below.

Business Partner Attendee Registration
---
EDUCATION CLASSES
9am-11am: Board Certification Class
9:30am-11am: CEU Class for CAMs
11:30am-1:30pm: Legal Panel
2:30pm-3:30pm: CEU for CAMs and Class for Homeowner Leaders - Perfect Rules Parliamentary Procedures
Community Association Manager (CAM) Attendee Registration

Homeowner Leader (HOA Board Member) Attendee Registration


---
TRADE SHOW BOOTHS & SPONSORSHIPS
Please contact the Executive Director, Reini Marsh for more information at exdir@caicf.org or 407-913-3777.
Click here to download a PDF of the Trade Show Brochure. ***Sponsorship Items are Subject to Change without Notice***
Education Classroom Sponsors will be required to pay a $800-$1,300 fee, depending on the class.
To register for a booth or sponsorship, please click the links below:
Please note that Premium Booths are for 2020 CAICF Medallion Members only. If you have not yet signed up to be a 2020 Medallion Sponsor, please click here.

*Refund Policy on Booth Sales:
Each year Trade Show Booths sell out in advance, so if a Booth purchase needs to be cancelled, the request can ONLY be accommodated up to 30 DAYS PRIOR to the event date -- no refunds after January 8, 2020 -- as Booths will need to be re-sold.
---
AFTER PARTY

Don't wait to purchase your tickets for the Trade Show After Party! Tickets are available online for $35. Tickets will still be available the day of the Trade Show, but the price will increase to $45 – so don't delay!
After Party Ticket Bundle: $175
Pre-purchase After Party Tickets for You and Six Friends and Save BIG! ($245 value)
Drink Ticket: $13
Pre-purchase drink tickets - choice of beer, well liquor, wine or soft drink


---
HOTEL ROOMS
To make a room reservation at the Marriott Orlando World Center for the Trade Show, please call 855-999-0496 and mention "CAI 2020 Annual Trade Show" or book online at book.passkey.com/go/CAITradeshow.
---

NON-EXHIBITING BUSINESSES ATTENDING TRADE SHOW: SUITCASING POLICY
CAI has a no tolerance policy regarding "suitcasing," which describes the practice of non-sponsoring companies or individuals of soliciting sales or sales leads in the lobbies and/or representing their services or soliciting tradeshow participants for conflicting social activities. Violators of these policies will be ejected from the tradeshow if applicable, and charged $3,000 which must be paid prior to registering as an attendee, exhibitor or sponsor at any future CAI events.

Businesses participating as Trade Show attendees are permitted to leave their contact information at the registration desk to be added to the chapter's database; visit the CAICF membership table to gather information about the chapter and its programs; view the exhibit area to determine future participation; and to attend educational programs. However, under NO circumstances are they allowed to solicit their company and/or business to any attendees, exhibitors, speakers, etc. Trade Show participants and exhibitors are instructed to contact security if there are any violations of this policy and the violator(s) will then be escorted out and removed from the Trade Show. Exhibitors and Sponsors have paid for the opportunity to promote their business to prospective clients and do not appreciate being solicited by vendors or undermined by competitors. This conduct is disrespectful and does not make a good impression with CAICF members, especially property managers. Therefore the CAICF Chapter expects all business attendees to respect its policies, so that the Trade Show participants can focus on their purpose for attending and not be put in an uncomfortable situation.
---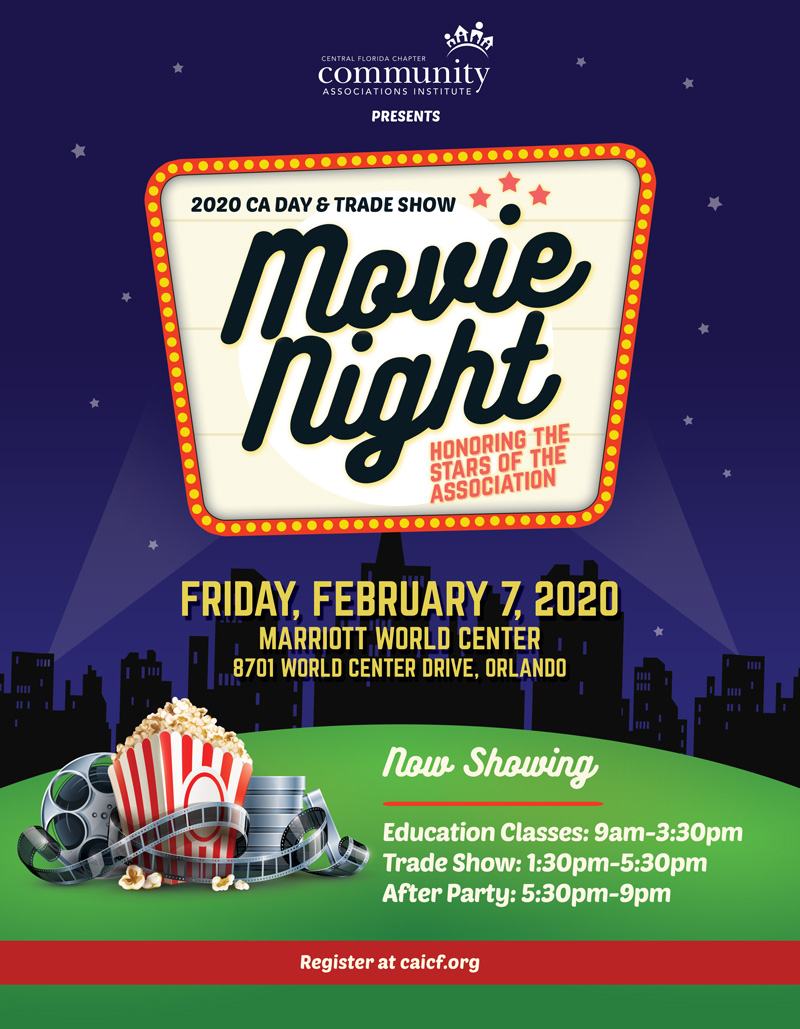 ---

Photo Release Waiver
By agreeing, you authorize CAI Central Florida Chapter to use photographs or video images of you or your property and authorize them, licensees, legal representatives and transferees to use and publish (with or without my name, company name, or with a ficticious name) photographs, pictures, portraits, video, or images herein described in any and all forms and media and in all manners including composite images or distorted representations, for the purposes of publicity, illustration, commercial art, advertising, publishing (including publishing in electronic form on CDs or internet websites), for any product or services, or other lawful uses as may be determined by CAI Central Florida Chapter. You further waive any and all rights to review or approve any uses of the images, any written copy or finished product.