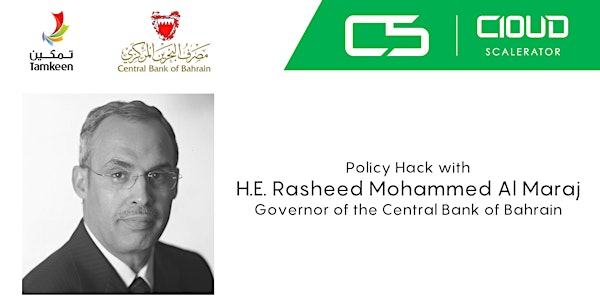 C5's Policy Hack with H.E. Rasheed Mohammed Al Maraj
Location
Fakhro Tower
10th Floor
Sanabis, Capital Governorate
Bahrain
Description
Join us for the second Policy Hack event with H. E. Rasheed Mohammed Al Maraj the Governor of the Central Bank of Bahrain (CBB) on Monday 5th of March, 2018 from 6:00 to 8:00 PM at C5 office in Fakhro Tower.
The fireside chat will discuss how technological innovation in finance, combined with effective regulation and supervision, can expand the scope, scale, and reach of financial services. Highlighting:
Regulatory reform and liberalization and strengthening Bahrain's financial sector

Mega economic trends – "FinTech" and the future of Bahrain's financial sector

Regulatory reform - is Bahrain ready to lead in the region?

CBB's FinTech Sandbox and the Bank's role in encouraging SMEs and the startup ecosystem

Leveraging Fintech to promote economic empowerment and deliver sustainable financial inclusion

Potential risks and vulnerabilities in FinTech
Agenda
5:45 – 6:00 Registration
6:00 - 6:05 Welcome & introduction of HE Rasheed Mohamed Al Maraj
6:05 - 6:30 Informal conversation with His Excellency
6:30 – 7:00 Q&A from the audience
7:00 – 8:00 Networking
---
H. E. Rasheed Mohammed Al Maraj has been Governor of the Central Bank of Bahrain (CBB), previously the Bahrain Monetary Agency (BMA), since January 2005. As Governor, Mr. Al Maraj carries ministerial ranking and is the chief executive of the CBB, which is responsible for ensuring monetary and financial stability in Bahrain. The CBB is also the single regulator of Bahrain's financial services industry.
Mr. Al Maraj has a wealth of experience in finance, engineering and management and has served with the Government and the private sector. His career highlights include senior positions with Government, having served as Assistant Under-Secretary at the then Finance and National Economy Ministry and Under-Secretary at the Ministry of Transportation.
Prior to his appointment as CBB Governor, Mr. Al Maraj was General Manager and Chief Executive Officer of the Arab Petroleum Investments Corporation (Apicorp), which is based in Dammam, Saudi Arabia. Currently, Mr. Al Maraj is on the Boards of the Economic Development Board (EDB), National Oil and Gas Authority (NOGA) and member of the Board of Trustees of the Oxford Institute for Energy Studies, UK. He has previously served as Chairman of the Bahrain Telecommunications Company, as a member of the Consultation Council of the Co-operation Council for the Arab States of the Gulf and the Telecommunications Regulatory Authority (TRA) of Bahrain.