Description
Science surrounds us. Even when we don't notice it, science touches almost every part of our lives. At the Story Collider, we believe that everyone has a story about science—a story about how science made a difference, affected them, or changed them on a personal and emotional level. We find those stories and share them in live shows and on our podcast.
When the Deepwater Horizon well exploded, it changed the stories of those affected. Through response and recovery efforts, ongoing impact studies, and lessons from the past, this Story Collider will explain how the oil spill has changed our path and the stories we have to share.
Stories to be told by: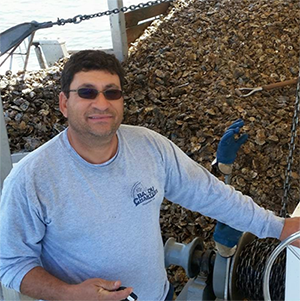 Robert Campo is the owner of Campo's Marina located in Shell Beach, Louisiana. He's a fourth generation commercial fisherman and the great-grandson of the late Celestino Campo, the founder of Campo's Marina started in 1903. He's the grandson of the late Frank Blackie Campo (a true legend) and the son of Frank J. Campo Jr. Campo's Marina is the oldest family-owned business in St.Bernard parish and it's one of the top ten oldest family owned businesses that still exists today in Louisiana. He owns and operates his oyster business with two oyster boats and a farm of nearly 1500 acres of oyster grounds.
John W. Farrington is Dean Emeritus at Woods Hole Oceanographic Institution (WHOI). John's research includes organic chemical pollutant movement through the marine environment. For forty-five years he has studied chronic inputs of oil and oil spills. This included a research cruise to the large 1979 Ixtoc I oil spill off Mexico. John has been involved with U. S. National Academies' Committees assessing oil pollution in the marine environment, testified before the U. S. Congress, and published many scientific papers on the subject of oil pollution. He is a Member of the Research Board of the Gulf of Mexico Research Initiative.
Charlie Henry is the Director for NOAA's new Gulf of Mexico Disaster Response Center (DRC). Prior to his current position, Henry served as the NOAA Scientific Support Coordinator (SSC) for the Lower Mississippi River and the Western Gulf of Mexico. As a Scientific Support Coordinator, Henry was responsible for managing scientific issues that arose during emergency events and providing direct technical expertise and consultation to the lead Federal On-Scene Commander (FOSC) and managing scientific support teams deployed to such incidents. Henry has thirty years of environmental assessment and spill response experience beginning with the 1985 Arco Anchorage incident near Anacortes, Washington. The first thirteen of those years were at Louisiana State University as a Research Associate providing chemistry support during emergency events and research on the fate of environmental pollution in marine and coastal environments. Henry has responded to more than 200 hundred oil and chemical spill events including the 1989 Exxon Valdez Oil Spill, the 1991 Kuwait Oil Fires, the 2000 Tanker Jessica Oil Spill in the Galapagos Islands off Ecuador, the hundreds of oil and chemical spills in the aftermath of Hurricanes Katrina and Rita on the Northern Gulf of Mexico Coast in 2005, and the 2010 Deepwater Horizon Oil Spill. During the Deepwater Horizon Oil incident, Henry was the first NOAA employee to respond just a few hours after the initial explosion and served as the lead NOAA Scientific Support Coordinator to the Unified Area Command. Henry also serves as the DOC/NOAA trustee representative to Regional Response Team VI for oil and hazardous material incidents.
Estelle Robichaux, a native Louisianian, is a senior restoration project analyst at Environmental Defense Fund. A broadly-trained scientist with a passion for wetlands conservation and restoration, Estelle has a background in natural and social sciences as well as extensive experience in science education. Her field and research background spans wetlands, marine environments and wildlife, from Costa Rica to South Africa to South Caicos. Estelle advocates for the implementation of science-based restoration projects and leads project-related efforts for Restore the Mississippi River Delta. Estelle also works on science communication and tracking the development of scientific and research programs in the wake of the Gulf oil disaster.
Elva Escobar-Briones is director of Instituto de Ciencias del Mar y Limnología at the Universidad Nacional Autónoma de México, and previously served as professor and Head of Department Ocean and Coastal Systems ICML, UNAM-CU.
---
The Story Collider brings together people from all walks of life to share true, personal stories of how science has affected their lives. Some of funny; some are dramatic. All are about the transformative power of science.
"The tones balanced stand-up funny and powerfully confessional... The crowd's reactions veered from belly laughs to pin-drop silence." -- The Wall Street Journal
Story Collider: http://www.storycollider.org/
---
Oil Spill Research: http://www.marine.usf.edu/c-image
Organizer of C-IMAGE Story Collider-New Orleans