Event Information
Location
Hinckley Center, BYU Campus
Third Floor Assembly Hall
Provo, Utah 94602
Description
**This event is exclusively for alumni of BYU's School of Family Life Major and their spouses**
Friday, April 14th
7:00 p.m. - 8:30 p.m. Refreshments will be served.
Third Floor Assembly Hall, Hinckley Center, BYU Campus
Marriage contains our most important earthly relationship. On your date night you'll learn 6 steps to help you create a more connected, passionate and mutually fulfilling intimate relationship.
Men and women are often mysteries to each other. Marriage counselor and sex therapist, Laura M. Brotherson will: 1) shine a light on some of the differences between male and female sexuality, 2) highlight 12 T's to better understand the intricacies of female sexual wiring, and 3) provide simple suggestions to help you turn your relationship into what Laura calls a "sextraordinary marriage."
About Laura M. Brotherson, LMFT, CST, CFLE
Licensed Marriage and Family Therapist (LMFT) and Certified Sex Therapist (CST), Laura M. Brotherson, is the author of the best-selling book, And They Were Not Ashamed: Strengthening Marriage through Sexual Fulfillment, and her latest book Knowing HER Intimately: 12 Keys for Creating a Sextraordinary Marriage.
Laura and her husband, Kevin, of 25 years are the founders of StrengtheningMarriage.com. She counsels with individuals, couples and families in private practice (and online), and is the host of "The Marital Intimacy Show" podcast. Laura received her bachelor's degree in Family Science from Brigham Young University in 1991.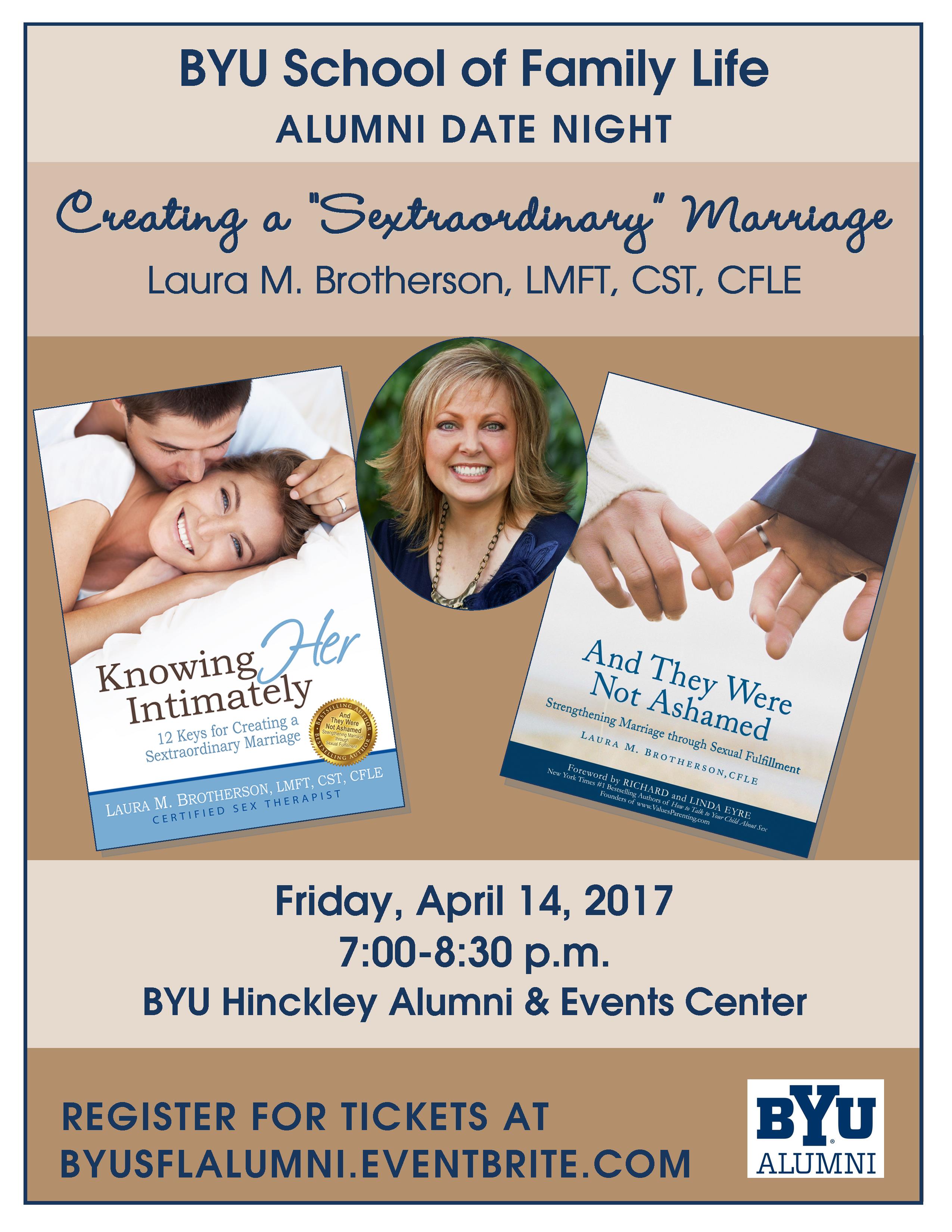 Date and Time
Location
Hinckley Center, BYU Campus
Third Floor Assembly Hall
Provo, Utah 94602