Event Information
Location
BYU Hinckley Center
Provo, UT 84602
Description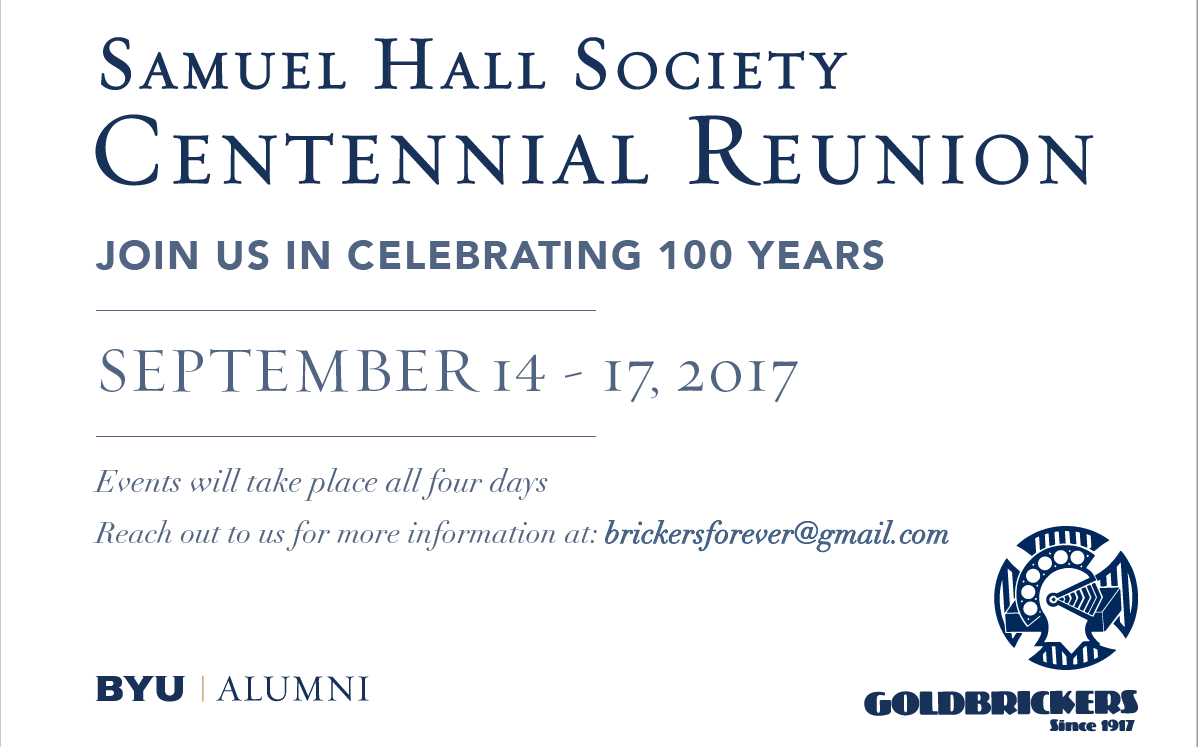 Celebrating 100 years since the founding of the Goldbrickers! Come enjoy a weekend of events.
*To forego EventBrite administrative service fees, feel free to pay over the phone with BYU Alumni Association at 801-422-2164.
Thursday, September 14, 2017
**If you are attending Clam Bake, please come pick up your welcome package at the Alumni House at 1pm on the second floor, room 217**
● Water Ski/Swim - Noon til dusk. Dale Christiansen ('79) is hosting a lake party at Last Chance Lakes in Vernon - wakeboard, swimming, volleyball, pickle ball... BYO your own food and drink. For questions please contact Dale Christiansen at donnerspring@gmail.com.
● Tour de Castle Blue and White Cycling Event: Bish Christensen ('81) is leading a challenging ride for cycling enthusiasts - think Alpine Loop. Please contact Bish Christiansen at Bish.christensen@gmail.com for details.
Friday, September 15, 2017
● Sports Day! 10:00 a.m. - 2:00 p.m. Neal Dastrup ('66) and Randy Oveson ('82) are sporting a Sports Day like no other at Dastrup's Provo Canyon Ranch (1601 East Provo Canyon Road in Provo). Softball, tug of war with close access to the Provo River. BYO you own food and drink to share. Bricker attire encouraged! No Tau Sigs welcome! Please contact Randy at randy.oveson@gmail.com if interested.
● Golf Tourney! Sleepy Ridge Golf Course (730 Sleepy Ridge, Orem) First Tee time: 9:00 a.m. $48 per person with cart. Organized by Scott Berryessa ('72), Bruce Collett ('70) and Roger Judd ('70) This is on your own 'zero' dime. Contact Scott for details at batzz2@yahoo.com.
● 5:30 p.m. "THE CENNTENIAL SAMUEL HALL SOCIETY GOLDBRICKERS CLAM BAKE" at Riverside Country Club in Provo: $110 Brickers and $90 for guest. Sorry, this is a Bricker only event, no kiddos or CDU guys. Dress: Semi-formal/Formal (Navy Blazer or TUX recommended with your new Silk Bricker bow tie and pin that were included in Clambake purchase!). A no host full bar is available. Bring Bricker memorabilia! Display tables will be there to show Bricker History in each era.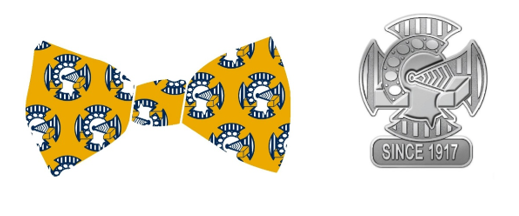 A no-host full bar is available. Bring Bricker Memorabilia! Display tables will be there to show your Bricker Memorabilia.
● Oh and have a great photo? Send in advance to: brickersforever@gmail.com – Digitally please for inclusion in the show. Discretion is advised, but not mandated – We all need a good "dump".
Saturday, September 16, 2017
● Zero Muster: 8:00 a.m. at Dastrup Provo Canyon Ranch. "The Secrets of Sam Hall musters", revealed! Prepare for full muster if attending, families invited.
● Tailgate BBQ: 11:00am-1:00pm, BYU vs Wisconsin at BYU Alumni Hinckley Center. $20 per person for BBQ. No restrictions even CDU and Tau Sigs can attend….
● GAME TICKETS!!! TICKETS GO ON SALE AUG 30 @ 12:00 p.m.. Kickoff 1:30pm, The Bricker section is available for purchase! Our own Bricker progeny Tanner Mangum will lead the Cougars! Purchase Football tickets at www.byutickets.com/promo - use "GOLDBRICKERS" as the promo code to sit in the same section. Any tickets not purchased by two weeks before will be released for re-sale. (Tickets available mid-June)
● Postgame "Cowboy Party": 7:30pm-10:30pm at Tom Taylor's ('79) Startup Center 111 W 600 S, Provo, snacks and soft drinks provided along with a DJ. Friends, Bricker Memorabilia, oh and family welcome! $10 per adult and kiddos free.
Sunday, September 17, 2017
● 10:30 AM - Founder's Grill at Sundance. Brickerhaven Brunch with Bricker Stories organized by "Brother" Murphy. Please submit your stories prior as we will be profiling the best 15-20 Stories! Going Dutch, pay at the restaurant.
● Sunday Evening Fireside: 7:00 p.m. - Our distinguished speaker will be Steve Carlston, Samuel Hall Class of 1974. He has titled his remarks for that evening, "Live Connected". Since his years at BYU where he served as an officer for Samuel Hall Society and graduated with a B.A. in Broadcast Communications, Steve has led an exciting life and career.
THE OFFICIAL SAMUEL HALL SOCIETY GOLDBRICKER STORE IS OPEN FOR BUSINESS
The www.brickersforever.com is up and live! We have plenty of Bricker Memorabilia to buy – Hats, Sweatshirts, Tee-shirts, cufflinks and more!
We are looking for Bricker Stories/Dumps over the years! Please send any Bricker stories, no matter how racy to brickersforever@gmail.com as we are working to compile them for Sundays Brunch.
Submit your Bricker photos for the Clambake slide show to brickersforever@gmail.com
All events are casual except the Fireside (Business Casual) and Clambake (formal/semiformal)
Your Bricker Brothers have worked hard to rock this event – 100 Years! Amazing!!!!! BUT - We need email addresses! We are missing many of our Bricker Brothers and need emails! If you have adds please contact us at: brickersforever@gmail.com or on Facebook and submit your email addresses or update via alumni.byu.edu.
We need volunteers! Feel free to email us if interested and we will try to include all, please remember we are a lay ministry so we are just working hard to make this happen.
Please share this letter with your Bricker Brothers (join our pages on Facebook for more frequent updates!!). You can reach us at: brickersforever@gmail.com for any questions on ANY of the above.
Date and Time
Location
BYU Hinckley Center
Provo, UT 84602