Event Information
Location
BYU Hinckley Center
Provo, Utah
Description
Dear Emeriti Alumni*,
BYU Alumni and the Emeriti Alumni Chapter welcome you back to campus May 19th for, "Evening with Friends" dinner and speaker. The program will include a welcome and announcements will be followed by the college song and prayer. Dinner will be served and then we will hear from our speaker, Elder Spencer J. Condie. He will be speaking on, "Humor in High Places."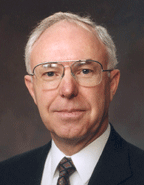 Spencer Joel Condie was born August 27, 1940, and has been a general authority of the church since 1989. Condie previously worked as a professor at BYU and also served as a mission president in Eastern Europe (Mediterranean Area). In 2010, he was designated as an emeritus general authority.
*Please RSVP by Friday, May 12, 2017*
*Emeriti Alumni are both BYU Alumni who have been graduated for over 40 years and retired BYU employees.
Date and Time
Location
BYU Hinckley Center
Provo, Utah