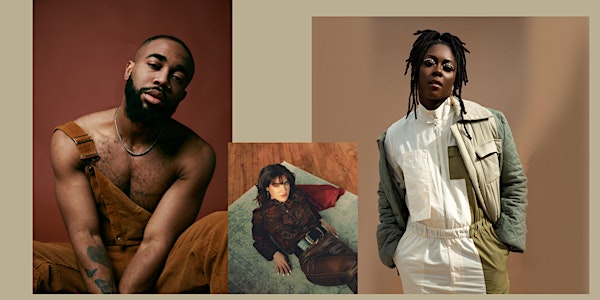 Byron Juane Presents A Little Crazy Tour with Cyanca and Danielle Apicella
Three rising stars with an eclectic background and wide range of styles.
When and where
Location
The Evening Muse 3227 N. Davidson Street Charlotte, NC 28205
Performers
Headliners
More Performers
About this event
The music industry is full of artists who lack authenticity. But North Carolina native, Byron Juane is nothing BUT authentic, transparent, and honest. Starting his career at the young age of 4, Byron is a musical genius in Jazz, Classical, Hip-Hop, and R&B. His ability to play drums, guitar, trumpet, and keys also puts him ahead of the game. And that all has shown through his music including through his debut in 2015 under the moniker, K¥NG. Continuing on the path of creating meaningful music, Byron has done nothing but show the world that they need his music. From his start to now, Byron has continued to grow as an artist; every time he releases something new, he reaches a new height. Byron's goal is to continue to make music that makes people say "Dang, don't this remind you of that time…?" and leaves them with an unforgettable impact. And though new to the game, Bryon's sound is one that music has been yearning for a very long time.
Facebook | Instagram | Spotify
****************
A smooth and cheerful aura combined with unique style and therapeutic vocals, Cyanca is gaining momentum with some of music's best critics such as Revolt, Lyrical Lemonade, RnB Radar, and OkayPlayer. Her personality and eccentric style capture your attention, but her voice commands it. The honesty in her music stems from personal experiences and Cyanca believes packaging and delivering her heart to listeners will provide them comfort, energy, and a heightened self love.
Facebook | Instagram | Spotify
**************
With heavy inspiration from a wide range of music, such as Motown, Jazz, and eclectic R&B, the New York native has blended the old with the new to create her unique sound and lyricism. Music has always been a love of hers, and she hopes to bring a piece of that to the world. Mixed with her deep love of reading, she often pushes the lyrical boundaries to make thought-provoking and deep music presented in a receivable way.After many years of musically experimenting and perfecting her craft, she is excited to share her new sound and projects with the world.