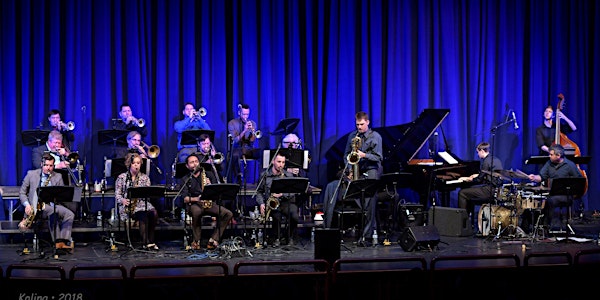 BYRON COLBORN BIG BAND!!!
When and where
Location
The Auditorium at CLARA 1425 24th Street SACRAMENTO, CALIFORNIA 95816
Description
MIDTOWN VANGUARD JAZZ SERIES at CLARA PROUDLY PRESENTS:
THE BYRON COLBORN BIG BAND!!!
The Byron Colborn Big Band is deeply rooted in the jazz tradition. Bandleader and baritone saxophonist Byron Colborn has been leading his own Big Band since 2017. This hard swinging Big Band is comprised of 18 of Sacramento's finest musicians including pianist Dave Bass, saxophonist Cooper Nelson, trombonist Brandon Au, and vocalist Elizabeth Unpingco. The band's repertoire includes works by Duke Ellington, Thad Jones, Count Basie, Bennie Moten, Sammy Nestico and many others. This concert at CLARA will feature many new pieces never performed by the band. A recording of the band's debut performance from 2018 will also be on sale at the concert.

Personnel:
Byron Colborn - Bandleader, Saxophone
Cooper Nelson - Saxophone
Megan Spurlock - Saxophone
Lucas Bere - Saxophone
Marti Sarigul-Klijn - Saxophone
Brandon Au - Trombone
Brandon Mathew - Trombone
Bob Williams - Trombone
Fritz Heilbron - Trombone
Forrest Powell - Trumpet
Justin Au - Trumpet
Nick Niebank - Trumpet
Aaron Smith - Trumpet
Joshua Wisterman - Guitar
Dave Bass - Piano
Ben Kopf - Bass
Jim Frink - Drums
Elizabeth Unpingco - Vocals

SUNDAY: JUNE 9, 2019
DOORS AT 6:00PM, SHOW STARTS AT 6:30PM

---
More About Midtown Vanguard Jazz Series at CLARA
Drawing its title from The Village Vanguard in (NYC), who booked jazz legends like
Miles Davis
, Horace Silver, Thelonious Monk, Gerry Mulligan, the Modern Jazz Quartet, Jimmy Giuffre,
Sonny Rollins, Anita O'Day, Charlie Mingus, Bill Evans (a regular), & Stan Getz...
The term "Vanguard," represents a group of people leading the way in new developments or ideas. The Music presented at MVJ reflects these legends and this concept.
Hosted by:
Sacramento Preparatory Music Academy (SPMA)
A 501C3 Nonprofit Organization
Sac Prep Music Academy
MISSION is to support and advance access to lifelong learning opportunities in music arts education.
VISION is To create an environment where students and performing artists can meet for the study of music arts education, performance and related art forms.
PURPOSE is to present public performances and recitals of music and related art forms; To sponsor lecture-demonstrations of topics related to music education and related art forms & To increase community awareness of the importance of artistic expression for individual satisfaction and growth, and the wide variety of expression available through music arts.
The Auditorium at CLARA
1425 24th St, Sacramento, CA 95816
MVJ operates on 2nd and 4th Sundays of the month, year round.
BECOME A SPONSOR AT MVJ
Midtown Vanguard Jazz Series prints Full-Color Playbills four times during the year; one for each quarter of the year. Ad space in the Playbill is awarded to MVJ Sponsors. MVJ Artists and patrons can help in getting the word out to local business owners & other patrons of the arts, who support the concept of Midtown Vanguard Jazz Series. It is very essential for the continuation and sustainability of Sac Prep Music Academy's efforts towards maintaining MVJ as the Artist Series it is intended to be.
Thank you for your support!