Description
B.Y.O.M (Bring Your Own Mat)
Guided Meditation, Visualization & Yoga
Twice a week we will be hosting a specialize class in meditation and basic yoga; we require that you bring your own yoga mat during your sessions. Sessions are 90 mins long.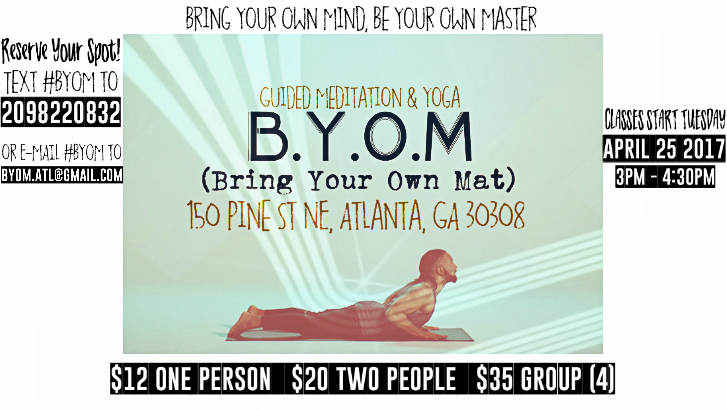 20 mins of Refreshments, Settling, Mixing and Mingling
15 mins of Guidance & Attraction
30 mins of Visualization and Meditation
15 mins of Yoga
10 mins of Stretching
Weekly Sessions held at 150 Pine St NE, Atlanta, Ga 30308
Relaxed Lighting
Subtle Music
Clean Refreshments
By Reservation Only! Bring a Buddy and get the discount! If Classes are full there will be limits on walk-in attendees. Please save yourself time and book in advance!
Punch Cards Will Be Available For Chances to have Free Sessions!
Bring Your Own Mind, Be Your Own Master...