BYOB Talk: Getting Email Done | Andrea Cannavina

Tuesday, July 16, 2013 from 1:00 PM to 2:00 PM (EDT)
Event Details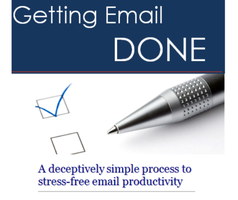 Getting Email Done!
Andrea Cannavina

Are you and your staff constantly churning through email after email - jumping from one to the next or having to stop all the time to try to locate some detail, document or file transmitted via email?

THERE IS A PROVEN SOLUTION

Getting Email Done takes a practical look at how busy professionals can streamline and eliminate the single greatest time-waster of modern business life - email.

If your inbox is controlling your life, use this proven system to quickly eliminate overload, stop things from falling through the cracks and reduce the stress of getting it all done.

All using one easy to remember system created by someone with more than 20 years' experience helping stressed out professionals get and stay at the top of their game!
Today's BYOB Talk with:
Andrea Cannavina, CEO
LegalTypist, Inc.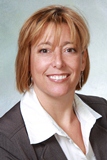 Andrea Cannavina is the CEO of a bustling legal transcription, administrative and secretarial outsoucing company based in New York.  Andrea spent the better part of her career helping busy legal professionals stay organized and get the paying work done, on time. For the past 13 years, Andrea has specialized in helping attorneys and law firm administrators understand their options when upgrading common business processes to digital in order to get more done with less – less time, less resources and less stress.

**ALL REGISTERED ATTENDEES** receive a free copy of Andrea's book: Getting Email Done! <-a $29.95 value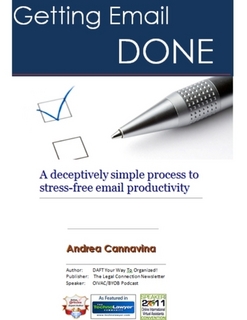 This month's BYOB talk is perfect for busy attorneys, managers, assistants and business owners alike -- so please share the link with your contacts; or with anyone you know who is overloaded by email, can't stay on top of it all, or who always seems to miss deadlines.  But hurry!! BYOBs fill up fast and seats are limited!

Not sure if this class is for you?  No worries! 
LegalTypist stands behind the quality of the content produced with a 100% money back guarantee.  If you are not fully satisfied with this class, simply email support @legaltypist .com immediately after the webinar and let us know why you are not happy and we will issue a prompt and courteous refund.

Would you like a private consult?

The book is a great start, but perhaps you need a little more one on one time with Andrea (or perhaps the book was such a help, you'd like Andrea to present to your group, organization or company) ... to see if she is available to help you tweak your tech or processes, set up a private call here.