Description
ARE YOU READY TO SING SOME MOTOWN? Stevie Wonder , Temptations and all your favorite Motown Hits.
Meet us for some free grub at the Father's and Son pizza, where you will get your Santa hat and gift bag .
Let's visit Lincoln Park ZooLights, Christkindlmarket, The Magnificent Mile, State Street & Macy's Holiday Windows
Free wine and beer but only if you are 21 and older.
Join along and Sing your favorite karaoke Motown songs
feel free to BYOB if you like but must be 21
Come Along And Ride On A BYOB Celebrating Motown Soulful Music Holiday Trolley ride.
Holiday attractions, lot of laughing and singing to your favorite Motown songs, lighting displays and Chicago holiday landmarks.
We can't wait to meet and groove with you at Marcellos Father and Son Restaurant (645 W North Ave,) for check-in. Here we'll get acquainted and you will meet Judy your tour guide and donate a toy or gift for family shelter.
You can bring your favorite beverages for the trolley ride only but we don't mind sharing our wine and beer with you. Cups will be provided on the trolley. As soon as we board the trolley we are off to a fantastic journey.
We'll be dashing off through the snow to the Lincoln Park ZooLights for luminous displays and holiday-season activities throughout the zoo grounds. We'll board the trolley again, and cruise on down the road toThe Magnificent Mile and head for that great street on State Street to see Macy's Holiday Windows. After enjoying Macy's Holiday Windows, we'll head to Christkindlmarket where there's gifts, food and lot's of holiday cheers. Cheers up to you!! Our last stop to Millennium Park for the Christmas tree and lights before heading back to Marcellos Father and Son Restaurant (645 W North Ave,)
Don't forget to bring a toy for charity.
Must be 21 and older, Please bring ticket and photo ID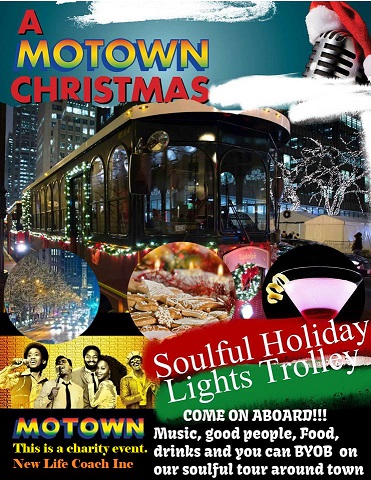 Have questions?

Info@newlifecoachinc.org