Description
BY OUR OWN STARS: NAVIGATING THE STEPMOTHERS JOURNEY
Tuesday, October 24, 2017 thru Tuesday, December 19, 2017 (8 weeks)
10:00am

to

12:00pm in Room 11
---


Wherever you are on the stepmother's path - newly married or 20 years in - you know that your role can be confusing, complicated, and full of unexpected rewards and challenges. In this class, you will learn how to use your journal as a tool for self- discovery so that you may become more resilient, empowered, and clear in your role. We will honor and support one another as traverse the terrain of expectations, insider/outsider dynamics, communication, conflict, self-care, and ultimately, coming home to ourselves in a deeper, richer way than ever before. No previous experience with keeping a journal is necessary. The only requirement is to be a stepmom (or prospective stepmom) willing to undertake the journey with an open heart and mind and to be willing to engage with your fellow stepmoms in an accepting, supportive way. Cost: $195
Note: To preserve the safety and privacy of the group, no new members will be admitted after the second class meeting, except by permission of the instructor.
If any questions, contact Lisa Colburn at education@unityoffairfax.org
REFUND POLICY: Full refund minus the processing fee can be issued before the first class. After the first class, only $160 will be refunded. There will be no refunds at the time of the second class.

---
ABOUT THE INSTRUCTOR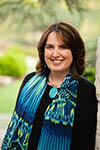 Lisa Colburn is a writing workshop and retreat leader who is certified in both the Journal to the Self (R) and Amherst Writers & Artists methods. Also, she has been a stepmom for 14 years, and credits her lifelong journaling practice with being able to manahe the peaks and valleys of stepmothering with a reasonable degree of sanity and grace. She believes that if stepmothering is approached with intention, it can be a vehicle for personal transformation and growth. To learn more about Lisa, her workshops, and retreats, visit www.marketstreetwriters.com.
Date and Time
Location
Refund Policy